3 to Watch: The 'Sweep a series, make a miracle' edition
When the Phillies swept the Braves in Atlanta last September, they helped the Cardinals to their miracle finish. Now it's the Phillies seeking a miracle, and 3 to Watch says a sweep this weekend in Atlanta sure would help.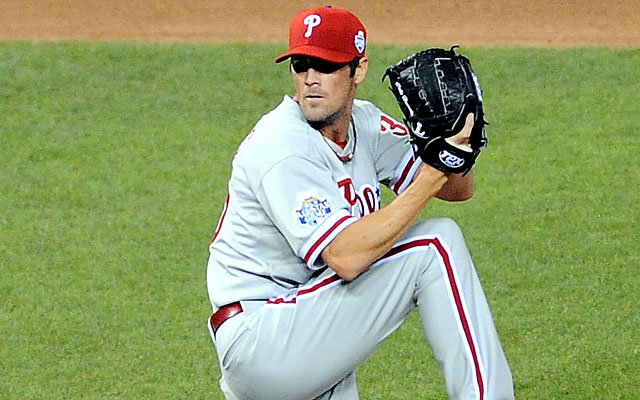 The Phillies' Cole Hamels makes his first start since signing his $144M deal on Friday in Atlanta.
(US Presswire)
When the Phillies went to Atlanta at the end of last season, they didn't need to win a single game.

You could argue that they shouldn't have, if they knew what was good for them. Their three-game sweep helped put the miracle Cardinals into the playoffs, and of course the Cardinals went on to eliminate the Phillies in the first round.

So now it's the Phillies who fancy themselves as the miracle team, and as they go to Atlanta this weekend, you could argue that a sweep is exactly what they need.

Almost everything that happens in baseball in these final days of July is seen through the prism of the fast-approaching non-waiver trade deadline. The dynamics change daily, because of wins and losses.

The Phillies' three-game sweep of the Brewers this week pushed Milwaukee over the edge and ensured that Zack Greinke would be available. It also pushed the Phillies a few steps farther from a sell-off themselves.

But there's still time to go, still three very important games to play before an ultimate decision must be made.

Imagine if the Phillies repeat last September's Atlanta sweep this weekend. All of a sudden, instead of being 9 1/2 games behind the second-place Braves, the Phillies would be a more manageable 6 1/2 games back.

Even catching the Braves wouldn't necessarily put the Phillies in the playoffs. But with two wild-card teams, the second-place finisher in the National League East would have a good shot.

The Phillies are still in last place. But the fourth-place Marlins are giving up, and the third-place Mets are imploding. Finishing second is about catching the Braves, and catching the Braves probably requires beating the Braves.

Yes, it's going to take a miracle. I could give you numbers to prove that, but I'm guessing you understand it already.

Still, as one Phillies person said this week, "Sometimes miracles happen."

Sometimes it takes the Phillies going to Atlanta and sweeping the Braves.

That's what it took for the miracle Cardinals. Perhaps that's what it will take for a Phillies miracle, too.

On to 3 to Watch:

1. One rival executive asked an interesting question Thursday: How will Cole Hamels react in his first start as a $144 million pitcher? My guess is he'll be fine, but we'll find out in Phillies at Braves, Friday night (7:35 ET) at Turner Field. He'd better be good, because the guy he's facing hasn't allowed a run in more than two years. Ben Sheets hasn't pitched much in those two years, but he has thrown 12 scoreless innings in his first two starts for the Braves.

2. The Tigers admit that Anibal Sanchez doesn't project as a top-of-the-rotation starter. "He's more a '3,'" one Tiger person said. "Like [Doug] Fister." If Sanchez pitches the rest of this year anything like Fister did after the Tigers traded for him last year, then the Tigers will no doubt finish where they did last year -- in first place. Sanchez, acquired from the Marlins on Monday, makes his first start in Tigers at Blue Jays, Saturday afternoon (1:07 ET) at Rogers Centre.

3. Remember when the Nationals wanted to trade for Zack Greinke a year and a half ago? If they had, they probably wouldn't have traded for Gio Gonzalez last December. And perhaps Greinke would have been starting for them, instead of Gonzalez, in Nationals at Brewers, Sunday afternoon (2:10 ET) at Miller Park. Greinke is scheduled to start for the Brewers, but there's a better than average chance he's traded before then -- and it won't be to the Nationals.  



There's now a crowded outfield in San Diego

The former Braves star served as a race official for the Daytona 500

He'd be a good fit in the Bronx, but can they make it work and still stay under the luxury...
The slugger had shoulder surgery in November

Tebow reported to spring training with Mets position players on Sunday

Santa Clara senior Jake Brodt did the honors Saturday