Aroldis Chapman move to rotation comes with risks, potentially big rewards
With the news that the Reds have locked up reliever Jonathan Broxton to a three-year contract, it's pretty clear that fireballer Aroldis Chapman is ticketed for Cincinnati's 2013 starting rotation.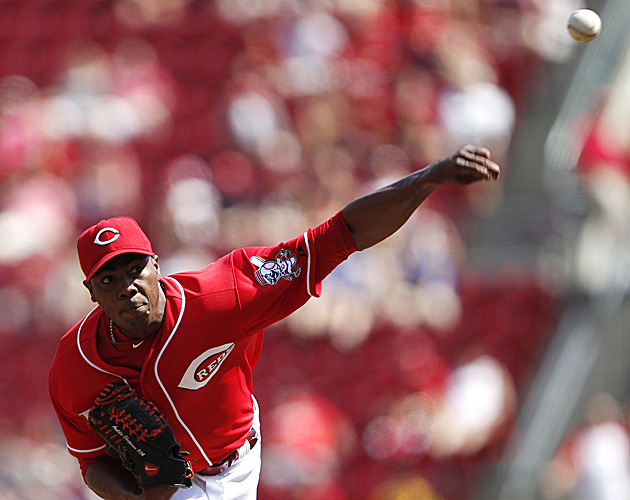 Heading to a rotation near you: Reds flamethrower Aroldis Chapman. (US Presswire)
With the news that the Reds have locked up reliever Jonathan Broxton to a three-year contract, it's pretty clear that fireballer Aroldis Chapman is ticketed for Cincinnati's 2013 starting rotation.
Chapman, a 24-year-old left-hander, was one of the most dominant closers in baseball last season (alongside the likes of Craig Kimbrel and Fernando Rodney, to name two). Chapman saved 38 games in 43 chances with a 1.51 ERA, 0.81 WHIP and 122 strikeouts in just 71 2/3 innings. The 15.32 strikeouts per nine innings (K/9) was the second-highest ever for a pitcher recording at least 70 innings pitched in a season behind only Carlos Marmol's 15.99 in 2010.
More on Reds
Related content
His performance was good enough for his first All-Star berth, an eighth-place finish in NL Cy Young voting and a 12th-place finish in NL MVP voting. Yet the Reds are going to change his role. Didn't Crash Davis teach anyone anything when he said to "never f--- with a winning streak?" That is -- you have a good thing, so why mess with it?
Actually, there is a side of the argument that makes a lot of sense.
Chapman was outstanding in 2012 for the Reds but for only 71 2/3 innings. Four Reds starting pitchers, on the other hand, compiled more than 200 innings. So, in moving Chapman to the rotation, the Reds are counting on great production in about three times as much action. 
Plus, with Sean Marshall in the eighth inning and now Broxton in the ninth, the Reds have a strong back end of the bullpen. Not only that, Chapman gives them a left-hander in the rotation, as all five starters last season were righties.
One flip side to the argument for moving Chapman to the rotation is that he is going to need more than two pitches as a starter. He relies on a four-seam fastball to blow hitters away and a slider to keep them on their toes. But that's it. According to brooksbaseball.net, Chapman has thrown 2,151 fastballs, 366 sliders, three changeups and one splitter in his entire big-league career.
That lack of variety might cut it as a starter if Chapman could throw over 100 miles per hour pretty much throughout the game, but who has that kind of stamina? As a starting pitcher, Chapman can't go all out from the first pitch to the last, as he'll need to find a way to work deep into the game. Use Justin Verlander as an example. He starts most games in the low-to-mid 90s with his fastball. By the time he gets to the seventh or eighth, he's cranking it up to the high-90s and into triple digits at times.
No one knows exactly if the move will be a success, because several recent examples of the conversion point to risk while several others point to reward.
We've seen C.J. Wilson successfully convert from closer to starter, but he wasn't reliant on blowing guys away like Chapman is.
White Sox lefty Chris Sale moved from the bullpen to start in 2012 and was outstanding, finishing the season 17-8 with a 3.05 ERA, 1.14 WHIP and 192 strikeouts in 192 innings. He was an All-Star and finished sixth in Cy Young voting. Cubs starter Jeff Samardzija also made a successful conversion last season. On the other hand, Daniel Bard's move to the Red Sox's rotation was a disaster, as he was demoted to Triple-A in early June after posting a 5.30 ERA and 1.62 WHIP in 10 starts.
Yankees reliever Joba Chamberlain had troubles converting to starter a few years ago, but he was jerked around so much in terms of his role it's hard to tell what happened -- especially in light of all his health issues. Rangers youngster Neftali Feliz was a dominant closer and went 3-1 with a 3.02 ERA last season as a starter (he had one relief appearance) before hitting the disabled list and eventually needing Tommy John surgery.
So, yes, there's upside to Chapman moving into the rotation. But there's also plenty of downside, as we've seen from a few others. Time will tell if this is the correct decision for the Reds, but it's pretty hard to blame them for wanting to get three times as much mileage out of such a dominant arm.
For more baseball news, rumors and analysis, follow @EyeOnBaseball on Twitter, subscribe to the RSS feed and "like" us on Facebook.
Hill was close to perfect across regulation but it turned out to be all for nothing in the...

Plus Hank Aaron weighs in on Colin Kaepernick, Trevor Rosenthal hits the DL, and more

Davis should help fortify the Red Sox outfield
Whether or not Mike Matheny will adjust is to be seen

Hammerin' Hank wants to see Kaepernick get another shot in the NFL

Will Tanaka or Upton try their luck in free agency again in the offseason?