A's get challenged, but show no signs (yet) that they can't handle it
Friday night's 2-1, 10-inning loss at Yankee Stadium provided the young A's with another challenge, but they haven't yet shown any signs that this is all affecting them. Meanwhile, the Yankees could be more than encouraged by what they saw from CC Sabathia.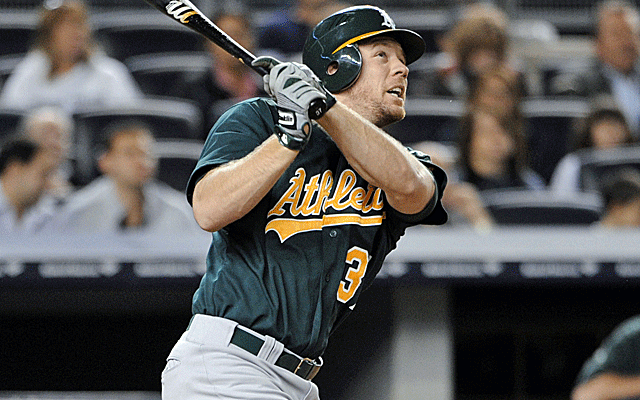 Brandon Moss connects for a game-tying homer in the ninth.
(Getty Images)
NEW YORK -- We watch the A's for signs that all this is affecting them.

So far, we don't see any.

We ask how a loss like the one Friday night will affect the A's. We ask how a road trip like the one they're on will affect them.

"We're not looking at it as some kind of daunting adventure," manager Bob Melvin said Friday.
More on A's
Related links
They're not looking at Friday night at Yankee Stadium as anything other than a heck of a baseball game, fully worthy of being called pennant-race baseball. We may be asking how the A's will handle being walked-off by the Yankees on Russell Martin's 10th-inning home run, but they don't seem to be asking.

"I've seen what seems like season-ending losses, and 24 hours later this team comes out with a clean slate," Jonny Gomes said, in an A's clubhouse that seemed barely affected by Friday's 2-1 loss.

Maybe it will all change by next week. Right now, the A's have lost three of the first four games on this tough-looking trip to Detroit, New York and Texas, but their lead in the race for a playoff spot is still 3 1/2 games over the Angels, who beat the White Sox Friday night in Anaheim.
With just 12 games remaining for the A's (and only 11 for the Angels), the A's aren't really in danger yet. Maybe this young team wouldn't feel it if they were.

They seemed to be able to accept and appreciate Friday's game for what it was.

They were impressed but not surprised by their own rookie starter, Jarrod Parker, who allowed just one run on six hits in eight innings.

They were impressed but not surprised by CC Sabathia, who went a fair way towards answering questions about his health, allowing just three hits and striking out 11 in eight shutout innings.

The Yankees may not have been happy to see Brandon Moss hit a pinch-hit home run off Rafael Soriano, sending Friday's game into extra innings, but they'll be thrilled to hear what Moss said about Sabathia.

Moss was with the Pirates in 2008, when Sabathia spent his outstanding half-season with the Brewers. He faced Sabathia twice that August, and he said that the Sabathia he saw Friday looked just as dominating as the guy he remembered.

"He looked like the same guy," Moss said.

The Yankees still hold just a one-game lead over the Orioles in the American League East. They still have plenty to play for.

But it seems like the questions we ask about them are all playoff-related. The questions we ask are about whether Sabathia can be the ace they need, about whether Soriano can do what he has done all year as Mariano Rivera's stand-in.

We don't ask whether they can handle this month. We do ask that about the A's.
And, well, they're probably right

Supposedly, MLB execs have discussed letting teams hit any three hitters they want in the...

Keep tabs on the top 50 free agents on the market right here
After the departures of Steven Souza and Corey Dickerson, the Rays add a right-handed bat

Rasmus essentially walked away from baseball during last season

Forrest Whitley is the Astros' top pitching prospect and set to work in Double-A this year