It's time for Cubs to lock up Jeff Samardzija
The numbers suggest the Cubs might be wise to sign ace Jeff Samardzija to a long-term extension before the 2014 season begins.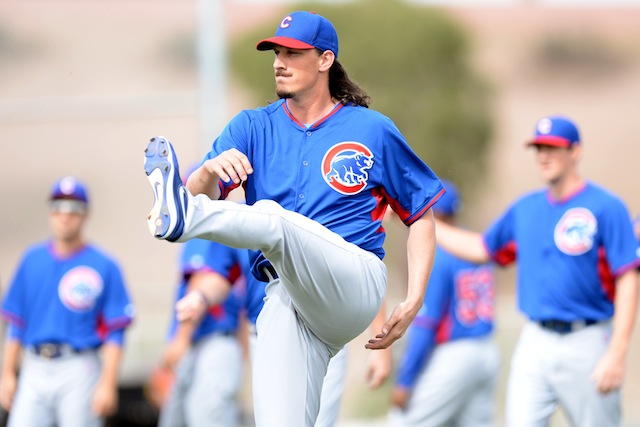 MORE: Spring Training | FA tracker: position players | FA tracker: pitchers
Please indulge me the following extended metaphor ...
The Cubs have been eyeing Jeff Samardzija from across the darkened gymnasium at the eighth grade spring dance. They are costumed in a collared shirt that suggests at once a regard for ceremony and a cool sense of "soft brooding" with regard to said ceremony. On this night, the Cubs trail plumes of Drakkar behind them.
They had a chance earlier in the night, but it was an up-tempo song, and the Cubs know that, when reduced to fast-dancing, they're nothing more than an unfortunate gumbo of overbite, finger-snaps and side-shuffles. But now, though, the umistakable opening strains of "Purple Rain" begin to trickle over the Rent-A-Center speaker stack. Samardzija, for just a moment, is freed from his pack of home-room social climbers. Lo and at last, it is time for the Cubs to ask for this dance ... 
All of this is a long way of suggesting that the Cubs should sign Samardzija, their right-handed ace, to a long-term contract extension. Our own Jon Heyman reported almost a year ago that such talks were on the radar screens of both parties but that the numbers weren't matching up. At this writing, that remains the case. Lately, the talk has been that the Cubs have been gauging trade interest in Samardzija. Really, though, the Cubs should be looking to lock him up. That's because the numbers suggest that Samardzija's near-term value is only going to increase moving forward, and given the state of things, his continued presence matters to this organization. 
For his career, the 29-year-old has pitched to a 97 ERA+ in 189 games, 66 of which have been starts. Since becoming a full-time member of the rotation prior to the 2012 season, Samardzija has logged an ERA of 4.10 in 388 1/3 innings, and he's recorded more than three times as many strikeouts as unintentional walks.
Beyond that, Samardzija last season showed signs of skills growth. To wit, he maintained strong strikeout percentages while also cutting down on fly balls, showing stronger ground-ball tendencies and also increasing his rate of infield pop-ups. In other words, Samardzija is beginning to do what aces do: miss bats while also skewing toward "benign" contact when they don't miss bats. His 4.34 ERA from last season was largely a consequence of spotty defense behind him and simple bad luck. That is, the peripherals -- and, by implication, his abilities -- are much stronger than his ERA would suggest. It says here that the 2014 season will prove that. 
All of this is no accident, as Samardzija boasts a mid-90s fastball and sinker, a hard slider and a splitter that functions as his change-of-pace offering. In other words, he has the full starter's repertoire, his fastball is a weapon, and his slider is a true out pitch. To boot, Samardzija has been a thoroughly clean injury history, seemingly despite his halting transition from reliever to starter, which is a usage pattern that's put many a young hurler under the scalpel. In a related matter, Samardzija last season also flashed the ability to handle a number-one starter's workload. 
Considering that Samardzija is so relatively new to full-time starting, the underlying numbers become even more impressive. All of that is why I expect that in 2014 he'll take The Next StepTM toward ace-dom. That's also why I think the Cubs would do well to secure his services right now rather than when he positions himself as a more expensive frontline starter. 
Samardzija is in his second year of arbitration eligibility, will make $5.35 million for the upcoming season and is slated for free agency following the 2015 season. Given his service time and skills profile and given this offseason's going rates when it comes to buying out free agent years, it's going to cost the Cubs, and any discounts they get will likely reflect the likelihood of future inflation. I expect, though, that it will cost them quite a bit more if they wait another season. 
So why not trade him? If some team offers the Cubs an undeniably generous return package, then of course they should accept. However, the Cubs could probably stand to curry some favor with the fan base. Rank-and-file fans certainly underestimate how long it takes to see a deep rebuild through from start to finish, but their impatience matters, being as they are paying customers. The Cubs almost certainly aren't going to contend before 2016, but Samardzija can still be a very valuable contributor by the time the team is ready to matter. Signing the organizational lifer -- and native of Northwest Indiana and Notre Dame product -- to a long-term extension would be a "dog whistle" of sorts to restless Cubs partisans that says, yes, the Ricketts family is now readying the team to challenge for the NL Central flag in the reasonably near future. It would also suggest that the team's caretakers are invested in making that happen. 
Sure, it's possible that Samardzija's demands will out-strip the Cubs' valuations of his future, but, as Heyman has reported, there's will and willingness on both sides. 
So prick up your ears, Cubs and Jeff Samardzija: For I do believe they're playing your song ... 
CBS Sports HQ Daily Newsletter
Get the best highlights and stories - yeah, just the good stuff handpicked by our team to start your day.
Please check the opt-in box to acknowledge that you would like to subscribe.
Thanks for signing up!
Keep an eye on your inbox for the latest sports news.
Sorry!
There was an error processing your subscription.
Strasburg on Friday didn't look sharp in his first start back from the DL

Keep up with all the latest trade rumors around Major League Baseball

Keep it right here for all of Friday's MLB action
Machado will suit up with the Dodgers on Friday night

Carpenter has been quite the leadoff hitter for the Cardinals this year and in his career

Servais benefited from the Mariners' hot play in one-run games