Jeremy Affeldt repaid the Giants $500,000 after clerical error
Jeremy Affeldt's conscience got the best of him after a Giants clerical error put an extra $500,000 in his pocket in 2010.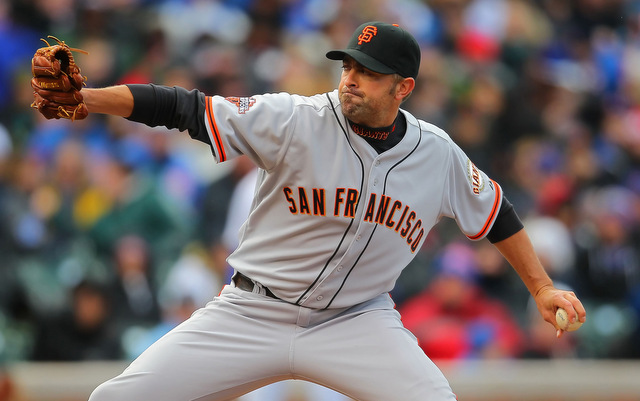 More MLB: Scoreboard | Standings | Probable Pitchers | Sortable Stats | Odds
Plenty of us look at our paycheck every week and hope some kind of mistake puts a few extra bucks in our pockets. Giants left-hander Jeremy Affeldt benefited from such a mistake in 2010, a mistake that put an extra $500,000 in his pocket. Here are the details, courtesy of Hank Schulman of the San Francisco Chronicle:
Affeldt was set to earn $4 million in 2010 under an existing contract with the Giants when they negotiated a two-year, $10 million extension. When the 2010 amount was rewritten into the new contract, someone made a clerical error and typed $4.5 million instead. The Giants and Affeldt signed it without recognizing the mistake.

Affeldt got three opinions saying the contract was ironclad and he could keep the extra $500,000, from the Players Association, agent Michael Moye and even Giants assistant general manager Bobby Evans.

Affeldt recalled Moye telling him, "You know what? As your agent I've got to tell you that legally you can keep it. As a man who represents integrity, I'm saying you should give it back."
Affeldt, 33, discussed the mistake in his recently released book, To Stir A Movement. He ultimately decided he couldn't keep the extra money and sleep well at night. It was one or the other, so the money was returned. They reworked the contract to remove the extra $500,000.
"I talked to Bobby the next day and said, 'I can't take that money,' " Affeldt said. " 'I won't sleep well at night knowing I took that money because every time I open my paycheck I'll know it's not right.' "
Five-hundred grand is a lot of money to anyone, even a millionaire athlete. I can't say I would have made the same decision had someone overpaid me by 12.5 percent one year, but kudos to Affeldt.
He owns a 3.24 ERA in 8 1/3 innings this year while missing time with an oblique strain. He originally signed with the Giants before the 2009 season and has pitched to a 2.75 ERA in the five years since. Affeldt was a key bullpen cog in the team's 2010 and 2012 World Series wins.
Despite an awful month, the Dodgers are again NL West champions

The record of 38 previously belonged to Hall of Famer Frank Robinson

The report also says that Jeter had outgoing president David Samson do the firing
This wasn't a traditional hidden ball trick, but the Blue Jays pulled it off

The Tigers essentially fired Brad Ausmus on Friday, but things are going to be ugly for a...

The club made the announcement on Friday