Large arbitration class at forefront of Braves' offseason plans
The Braves have 13 players eligible for arbitration this winter, including several core players. Most of their money will be spent retaining this own this offseason.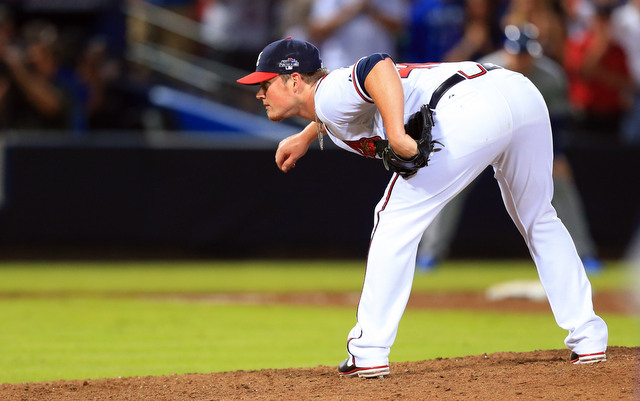 The Braves have lost a major free agent (Brian McCann) and have not yet signed any players, but they're already assured of having a very expensive offseason. The team is facing a large (maybe even historically large) class of arbitration-eligible players, meaning players who have not played long enough to qualify for free agency but have played long enough to earn something considerably more than the league minimum.
GM Frank Wren & Co. started chipping away at this arbitration class a few weeks ago by signing left-hander Jonny Venters to a one-year contract worth $1.625 million, which represents no raise after he missed all of 2013 due to Tommy John surgery. The Braves still have 13 (!) other arbitration-eligible players to deal with in the coming weeks. Some are extremely important players too.
Matt Swartz developed a ridiculously accurate model to project arbitration salaries and his findings have been available at MLB Trade Rumors for a few years now. Here is what his system came up with for Atlanta's crop of arbitration-eligibles:
2013-14 Braves Arbitration Cases
Player
2013 Salary
Projected 2014 Salary
Increase
RHP Craig Kimbrel
$655,000
$7.25 million
$6.959 million
1B Freddie Freeman
$560,000
$4.9 million
$4.34 million
RHP Kris Medlen
$2.6 million
$5.9 million
$3.3 million
LHP Mike Minor
$505,000
$3.5 million
$2.995 million
3B Chris Johnson
$2,875,000
$4.2 million
$1.325 million
RHP Jordan Walden
$541,500
$1.5 million
$958,500
OF Jason Heyward
$3,650,000
$4.5 million
$850,000
OF Jordan Schafer
$512,500
$1 million
$487,500
RHP Brandon Beachy
$510,000
$900,000
$390,000
IF Elliot Johnson
$520,500
$900,000
$379,500
IF Ramiro Pena
$550,000
$600,000
$50,000
RHP Cristhian Martinez
$749,750
$750,000
$250
IF Paul Janish
$725,000
$725,000
$0
TOTAL
$22,003,475
The Braves will spend a little over $22 million this winter just to keep their own players. That's $22 million on top of last year's salaries -- those 13 players are projected to earn a combined $36.625 million in 2014. There is some wiggle room there -- Johnson, Pena and Janish are non-tender candidates, though the savings would be relatively small -- but these are core players for the most part. Guys they want to keep for years to come.
Kimbrel, Freeman, Medlen, Minor and Heyward stand out as long-term contract extension candidates, which could reduce their salaries for the upcoming season. (The whole point of an extension is trading maximum immediate earning potential for long-term security.) Kimbrel is going to set all sorts of arbitration records for a reliever because he's so historically dominant, so signing him long-term sooner rather than later could lead to the most savings. Maybe something like four years and $45 million would work. I'm just spit-balling though.
Luckily for them, the Braves don't have a ton of needs to address this winter. They do need to figure out second base, where Johnson replaced Dan Uggla late in the season, and adding a veteran starter would make sense as well. Both Tim Hudson and Paul Maholm are leaving as free agents and Beachy figures to replace one of them. Using a homegrown arm like Alex Wood or David Hale as the fifth starter is an option, but adding a veteran innings-eater on a short-term deal (Scott Feldman? Joe Saunders?) would be a wise move.
The Braves have a lot of work to do this winter but they don't have many roster holes to fill. Most of their moves will involve retaining their own arbitration-eligible players, possibly on long-term contracts that give the team cost certainty for the next several years. Atlanta is going to spent a ton of cash over the next few weeks like many teams, but unlikely those other teams, that money figures to go to their own players.
The Twins have already fortified the bullpen with Addison Reed, and now they want to address...

The Orioles likely want pitching, and the Indians have plenty of it

Halladay died in a November plane crash off the coast of Florida
The power-hitting outfielder is headed to Toronto

Martinez could add some power to a Boston lineup void of it

It's almost that time of the year again, time for the Tebow madness to return