Looking back at the 2012 trade deadline
As we ready ourselves for the July 31 non-waiver trade deadline, let's take a quick look back at what unfolded last year.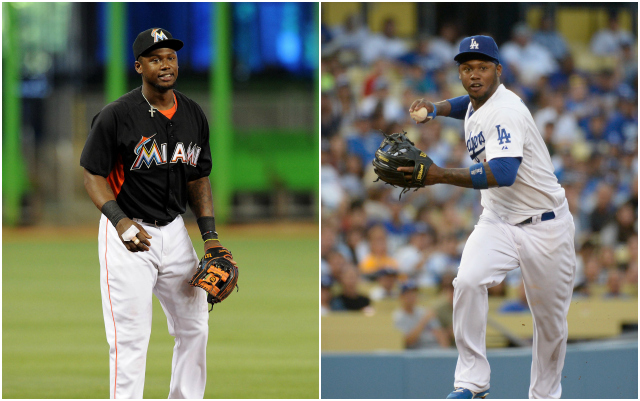 More MLB: Scoreboard | Standings | Probable Pitchers | Sortable Stats | Odds
The July 31 non-waiver trade deadline is mere days away, and to get us in the spirit of the season, let's take a look back at the 2012 deadline and what unfolded. To be sure, it's going to be too soon to pass judgment on some swaps -- especially those involving prospects in the low minors -- but others have taken full shape, for the most part.
Note that we're limiting the discussion to the especially significant deals that took place within the month of July 2012. Onward, fearlessly so ...
July 20, 2012 - Kansas City Royals trade LHP Jonathan Sanchez to Colorado Rockies for RHP Jeremy Guthrie .
In his 223 2/3 innings since the trade, Guthrie has given the Royals a 3.82 ERA. Sanchez is presently struggling in the minors as a member of the Los Angeles Dodgers ' organization.
July 23, 2012 - New York Yankees trade RHPs Danny Farquhar and D.J. Mitchell to Seattle Mariners for OF Ichiro Suzuki and cash.
Ichiro, while a remnant of his former self this season, has at least been a steady presence in the Yankee lineup, and he was quite productive down the stretch in 2012 and in the ALCS.
July 23, 2012 - Detroit Tigers trade LHP Brian Flynn, C Rob Brantly and RHP Jacob Turner to Miami Marlins for RHP Anibal Sanchez and 2B Omar Infante .
Turner has ceiling and has looked outstanding since being called up in late May. Flynn, a Wichita State product, also bears monitoring. Still, the Tigers got what they wanted, as Sanchez has been ace-like since being acquired and is locked up potentially through 2018. Infante, when healthy, has been solid enough, although it's not certain when he'll be back on the active roster.
July 24, 2012 - Pittsburgh Pirates trade LHPs Colton Cain and Rudy Owens and OF Robbie Grossman to Houston Astros for LHP Wandy Rodriguez .
Rodriguez is sidelined with arm problems, but for the Buccos he's posted a 3.66 ERA across 25 outings, 24 of which have been starts.
July 25, 2012 - Dodgers trade RHPs Nathan Eovaldi and Scott McGough to the Marlins for INF Hanley Ramirez and LHP Randy Choate .
To state the obvious, Ramirez is the key here. He was good last season after the trade, but in 2013 he's been of MVP-caliber across a limited sample of 176 plate appearances. He looks like vintage Ramirez at the plate these days, and in many senses he's helmed the Dodgers' rise to first place. Eovaldi has kept runs off the board since being summoned to Miami, but a lack of command remains a concern moving forward.
July 27, 2012 - San Francisco Giants trade 2B Charlie Culberson to Rockies for INF Marco Scutaro .
Scutaro has batted .332/.376/.425 over roughly a full-season's worth of plate appearances for the Giants. He also made this All-Star team this year and was named NLCS MVP last year. So that's worked out nicely. Culberson likely projects as a fringe performer at the highest level.
July 27, 2012 - Los Angeles Angels trade SS Jean Segura and RHPs Johnny Hellweg and Ariel Pena to Milwaukee Brewers for RHP Zack Greinke .
Segura, who's still just 23, has been one of the most productive shortstops in baseball this season and could be a cornerstone talent for the Brewers. The Angels, of course, failed to make the postseason while they had Greinke, who's now a Dodger. Compounding those miseries is the fact that the Angels weren't eligible to receive draft-pick compensation when they lost Greinke because he didn't spend the entire 2013 season with them.
July 30, 2012 - Toronto Blue Jays trade OF Eric Thames to Mariners for RHP Steve Delabar .
Thames? Now an Baltimore Orioles minor-leaguer. Delabar? He's a 2013 All-Star with a pretty inspiring back-story.
July 30, 2012 - Atlanta Braves trade RHPs Jaye Chapman and Arodys Vizcaino to Chicago Cubs for RHP Paul Maholm and OF Reed Johnson .
Across 31 starts with the Braves, Maholm has given them league-average-ish innings and 17 quality starts, and Johnson remains a somewhat useful fourth/fifth outfielder for Atlanta. On the Cubs' side of things, keep an eye on Vizcaino. He's recovering from Tommy John surgery, but the 22-year-old has been on Baseball America's list of top-100 prospects for four years running.
July 31, 2012 - Texas Rangers trade INF Christian Villanueva and RHP Kyle Hendricks to Cubs for RHP Ryan Dempster .
Will the Rangers regret parting with Hendricks? The 23-year-old is thriving in Double-A this season, and he boasts a career ERA of 2.46 and a stellar K/BB ratio of 5.25. Demspter, meantime, pitched ineffectively for Texas before signing with the Boston Red Sox this past offseason.
July 31, 2012 - St. Louis Cardinals trade 3B Zack Cox to Marlins for RHP Edward Mujica .
This one's worked out rather well for the Cardinals. Dig Mujica's numbers since coming to St. Louis: 1.65 ERA, 11.80 K/BB ratio, four unintentional walks in 71 innings. A refined splitter has certainly helped matters. As for Cox, he's got some on-base skills, but his bat doesn't project to flash enough power by corner-defender standards.
July 31, 2012 - Giants trade OF Nate Schierholtz and RHPs Tommy Joseph and Seth Rosin to Philadelphia Phillies for OF Hunter Pence .
The Giants certainly aren't disappointed in Pence, who's authored a solid 110 OPS+ since coming over, but the reality is that Schierholtz has been somewhat more effective since the trade, especially this season for the Cubs.