Walk-off nets Jim Thome an extra $5,000
Jonathan Papelbon offered $5,000 to anyone who would help the Phillies recover from his first blown save of the season on Saturday and Jim Thome collected.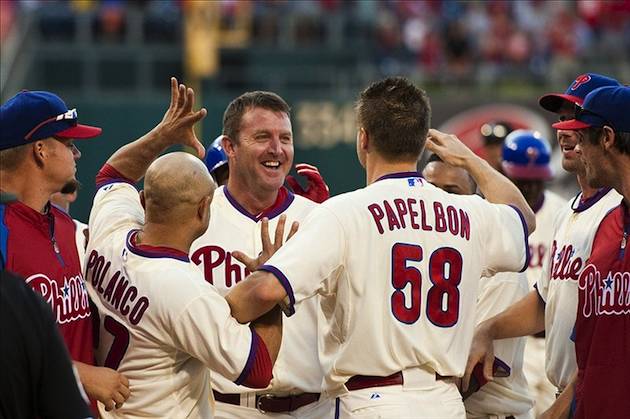 Jim Thome's walk-off home run was not only his MLB-record 13th such homer, but it also netted him $5,000.

After Phillies closer Jonathan Papelbon blew his first save in 18 chances in the top of the ninth to the Rays, he issued a challenge to his teammates.

"I came in the clubhouse, and I said, 'Whoever walks this guy off, I'll give him five grand," Papelbon told reporters (via CSNPhilly.com). "I didn't think Jim would do it right off the bat."
The first batter in the bottom of the ninth, Jim Thome, delivered.

After crossing home plate, you can see Thome hug Papelbon and say to him, "I want that check."


Papelbon noted that he paid up, writing Thome a check for $5,000.

The homer was Thome's first hit as a pinch-hitter this season, going into the at-bat 0 for 12 as a pinch-hitter.

Thome had been tied with Babe Ruth, Frank Robinson, Jimmie Foxx, Mickey Mantle and Stan Musial for the most game-winning home runs before Saturday's blast. It was also the 609th of his career, tying him with Sammy Sosa for seventh on the all-time list. Up next is Ken Griffey Jr. with 630.

Also homering on Saturday for the Phillies was Juan Pierre, who notched his 17th career home run in parts of 13 seasons in the big leagues. Pierre has one home run for every 454.6 plate appearances in his career, while Thome has averaged a home run in every 16.7 plate appearances in his career that has spanned 22 seasons.

Piscotty's mother was diagnosed with ALS earlier this year

From the rebuilding Marlins to the aggressive Angels, here's how the most active teams made...

Plenty of other teams are involved, of course
Where might the Orioles third baseman land?

Kinsler will slot in at second base for the Angels

The Marlins got a better return for Ozuna than Stanton or Gordon