Clippers-Grizzlies Game 7: Where does Memphis go from here?
The Grizzlies' season ended after Game 7 Sunday. Where do they go from here?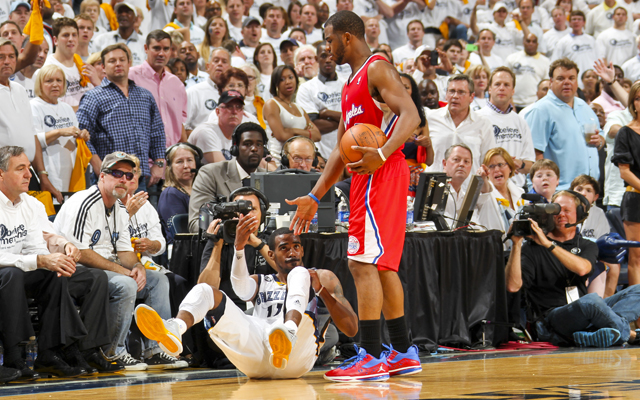 The Grizzlies fell flat against the Clippers.
(Getty Images)
The short answer here is: "right back to work." 
Memphis is not a truly elite team. That much was evident from its abysmal fourth-quarter offense in a seven-games series loss to the Los Angeles Clippers. The
Grizzlies
offense was a disaster from start to finish in this series, and it was ultimately the reason they lost Games 1 and 7, which decided the series.
There's every reason to look at Memphis and challenge whether this roster, which has been provided four massive extensions in the past 24 months to
Rudy Gay
,
Mike Conley
,
Zach Randolph
, and
Marc Gasol
, needs to be radically changed. But unraveling Memphis' 2012 season is a bit more complicated.
Every team has bad luck, inevitable in the
NBA
in most instances. But to get a complete look at the Grizzlies' year, you have to consider several factors. Zach Randolph tore his MCL in January, putting him out for the majority of the season. Randolph was clearly not 100 percent throughout the playoffs, and he was the real core of Memphis' offensive success in last year's run. The loss of
Darrell Arthur
to an Achilles injury for the season necessitated roster moves that sent capable backup point guard Greivis Vasquez to New Orleans for
Quincy Pondexter
(who played well). Memphis badly missed having a backup point guard. 
The Grizzlies never really hit their stride, never really got everything together this season.
And despite all that, they landed the fourth seed and homecourt advantage in the first round. It was a successful season that leaves a bitter taste in the mouth. Where do you go from there?
There will be talk of trading Rudy Gay after a successful run without him last season and a terrible performance vs. the Clippers in his first playoff appearance. Given his contract, that seems unlikely, especially given what Memphis would have to get back for him. Gay was given his deal based on the potential of reaching superstar level. He hasn't come anywhere close. But he also kept the team afloat offensively with Randolph out, and it simply doesn't make sense to trade Gay for what would be more limited role players, even if the Grizzlies were to obtain a shooter.
Marc Gasol is the franchise; he's obviously not going anywhere. Mike Conley honestly played his way to being considered at least near a top-10 point guard in this league this season, and given the talent he's up against, that's pretty absurd. He's not going anywhere, especially on a reasonable deal.
Zach Randolph's deal is a concern. Can he recover fully from a bad wheel? His game presents two sides to the question. He's not reliant upon athleticism at all. So will an injury to impact that take away what little margin of error he's allowed, or will it not affect him because he's not reliant on it in the first place? Given Randolph's age and contract, that question will be huge for Memphis' future.
One thing that is likely is that
O.J. Mayo
has played his last game as a Memphis Grizzly. After a tremendous rookie season, Mayo struggled under Lionel Hollins, and after one of his worst seasons, he responded this year. But a terrrible, awful, no-good first-round series against the Clippers in which he was badly needed means that Memphis, with little room for big long-term contacts, is unlikely to match an offer for him in restricted free agency. Mayo hurt his prospects with this series, but given the weakness at shooting guard in this league, he's still going to get a sizeable offer. Memphis matching would be of monumental surprise. 
Memphis will recognize it needs shooters, will continue to develop young talent, hoping
Josh Selby
can morph into the backup point guard it needs. The Grizzlies will get Darrell Arthur back (unless he's given a huge offer in restricted free agency), will hope Randolph gets healthy, will hope Rudy Gay can take the leap. There's not much they can do with four players making $54 million combined next season, but GM Chris Wallace has shown an ability to get value contributors at discount prices. The draft really needs to be where they should try and improve, however they can, but that'll be difficult with a high draft position. If they were to move any of the Big 4, that would have to be a huge part of the target, a young star they could integrate on the perimeter. It's unlikely anyone would bite.
Memphis wasn't good enough this year, but with its market, the Grizzlies knew that for them to make a run, things had to fall their way. They didn't, from injuries (which everyone deals with), to Reggie Evans being a difference maker, to huge shots from Randy Foye, to a meltdown on offense. But the best thing Memphis can do is stay the course and give it another run. If that doesn't work... that's when things become difficult.
Trevor Ariza and Gerald Green are reportedly both suspended two games

Jonah Keri talks with NFL and NBA broadcaster Ian Eagle

SportsLine simulated Wednesday's Nuggets-Clippers game 10,000 times
Galin Dragiev has his finger on the pulse of the Lakers and just locked in a play for Wedn...

No more McNuggets allowed in the Barnes household

Leonard has played in only nine games this season for San Antonio