Drummond upset with quick hook from Cheeks in loss to Mavs
Pistons center upset with being benched for poor defense.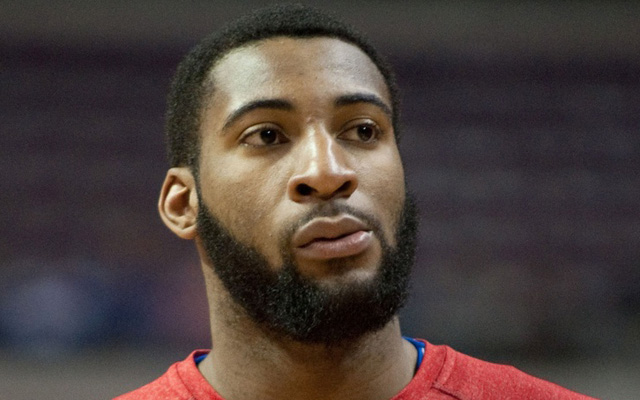 In a game in which the Pistons were hanging with a Western Conference playoff team in the Mavericks, down 10 at halftime but showing signs of life, coach Mo Cheeks made a strong move against one of his young players, Andre Drummond. After the Mavericks put up 30 first-half points in the paint, Cheeks yanked his young center for Josh Harrelson (JORTS!). Drummond wound up playing less than ten minutes in the second half, as the Pistons went on a run... and then fell apart again in the fourth quarter defensively, thanks mostly to a 4-for-7 barrage from the outside. 
Drummond didn't take the action all that well. From MLive.com: 
Andre Drummond is young and figures to get over it, but as the Detroit Pistons center walked out of the locker room late Sunday night, declining interviews, he seemed to wear the weight of a failing season in his backpack.

The Pistons lost 116-106 to the Dallas Mavericks with Drummond wearing a long face and a distant, disengaged glare during the second half.

Well, all but 11 seconds of it.

That's how long it took for Pistons coach Maurice Cheeks to yank his franchise player at 11:49 of the third quarter, and replace him with Josh Harrellson, apparently because of pick-and-roll execution on the first possession of the second half.

Now, the young player around whom the franchise plans to build has taken the appearance of someone who feels disrespected by his coach.

Drummond eschewed a consoling effort from assistant coach Henry Bibby after he was pulled.  Less than three minutes later, he returned to the game, but managed only two rebounds in 10 minutes of second-half playing time.

"It was about his play, just about his play," Cheeks said of the quick hook.  "He went right back in.  It's a learning experience to do what we're trying to do out of a timeout (actually halftime), and I don't think he did it right.  We took him out, we put him right back in."
via Andre Drummond's disengaged demeanor in loss underscores Detroit Pistons' season gone sour | MLive.com.
What you have here are conflicting priorities. Cheeks wants to win now. That's what he was hired to do. He wasn't hired to develop young talent, the front office made a calculated decision to bust out the cap savings and spend it on Josh Smith, Chauncey Billups, and Brandon Jennings. They want to win right now. 
And pulling that on Drummond isn't necessarily a move that goes against player development. Teaching players they have to be accountable for their play and what they're responsible for is certainly a good thing. A lot of players get so angry about the perceived disrespect that they respond with a vengeance. I don't know enough about Drummond's personality to know whether that's the case here. 
But I do know one thing. Not holding the other members of the team accountable while doing it with a young player isn't a good approach. 
Yes, Josh Smith was benched for missing a practice that wasn't pre-scheduled and announced on a flight. But of all the things Smith has done this season, like shooting 3.6 three-pointers per game or playing uncharacteristically awful defense, to bench him for that is like grounding a pyromaniac for littering with the kindling he used. 
But generally speaking, the big problem with Detroit is that no one is moving away from what they do poorly. The Mavericks are a great counterpoint, as Rick Carlisle has taken a poor defender in Jose Calderon and hid him, making his offense the relevant contribution, and taken an inefficient scorer in Monta Ellis and put him in position to shoot 46 percent on the season.
Instead, Brandon Jennings does pretty much whatever he wants, Josh Smith does the opposite of what you want, everyone freelances on defense, and no one is every restrained towards something that makes sense. It's Lord of the Flies out there... except for Drummond and rookie Kentavious Caldwell-Pope, apparently. Now, this happens a lot and it seems crazy to the naked eye, but coaches are able to identify blown rotations and problematic tendencies that the young guys have to correct and that the veterans have gotten out of their system with time and experience. 
A good example? The Pistons actually allow fewer points in the paint (41.7 per 48 minutes) with Drummond off the court than on (43.6 per 48 minutes via NBA.com). Their defense is 6.1 points better per 100 possessions with Drummond off the court. There's legitimate reason for concern. But the fourth quarter issues aside, singling out Drummond seems awfully misguided. The Pistons are going to improve collectively or completely fall apart (even more) collectively. All this does is further the trust between a roster and the coach trying to find answers. 
We've got all the latest scores, highlights and news from Wednesday's NBA games

LaVar Ball also made it clear he thinks his sons are being placed in 'a great situation'

The Thunder are just 12-14 on the season, despite the addition of Paul George and Carmelo...
The then-Heat teammates squared off during the 2011 ECF, but Erik Spoelstra put a stop to the...

SportsLine's Mike McClure, a DFS pro with more than $1M in winnings, gives optimal lineup...

Stephen Oh has his finger on the pulse of the Rockets and just made a pick for Wednesday night's...