Heat could use a boost from their balanced point guard position
The Miami Heat haven't received much consistency from Mario Chalmers and Norris Cole in the first two games, but they could use it.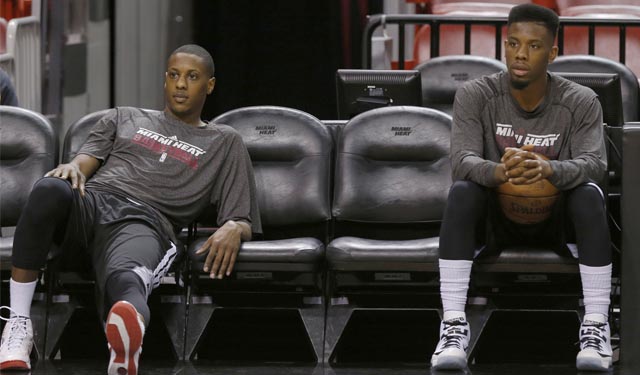 More postseason coverage: Playoff schedule, results | Latest news, notes
MIAMI -- The Miami Heat have a very different situation at the point guard position than just about any other team. On most teams, the point guard is the initiator of the offense and someone who organizes the lineup on the floor of where they need to be. With the Heat, they don't often ask Mario Chalmers to be that kind of leader. Erik Spoelstra wants his point guards to be aggressive and be willing to take quality shots, but you're not going to see them often racking up double-digit assist games.
Playing well and playing consistently for guys like Chalmers and Norris Cole is the key. They have to be playmakers when the opportunity is there, but aggressive play on both ends of the floor is the desired game plan. Through the first two games of the NBA Finals, neither point guard has been able to give a consistent performance for Miami.
In Game 1 against the San Antonio Spurs, Chalmers was in early foul trouble and only ended up playing 17 minutes on the night. It was Cole who picked up the majority of the time at the position, contributing five assists in 31 minutes but not being a factor in scoring the ball. Game 2 saw a reversal of fortunes for both players. Chalmers was much more controlled and did a solid defensive job on the Spurs' perimeter players, while Cole barely had an impact in 10 minutes.
"I thought Rio gave us a lift the other night," Erik Spoelstra said at shootaround on Tuesday. "As long as he can play in his normal wheelhouse of minutes, he gives us something different -- another guy who can put the ball on the floor and make plays, space the floor for us, and another defender on Parker. It was the other way around in Game 1. Norris played the big minutes and Rio played those minutes. Ideally, we'd get both of them playing their normal minutes."
Neither Chalmers nor Cole have ever been shy about accepting the gravity of the moment and looking to contribute. Chalmers has hit numerous huge shots for the Heat over the years while taking the brunt of on-court criticism from his teammates if he makes a mistake. They yell at him because they know he can handle that kind of relationship. Cole has been a spark plug, who did a fantastic job bothering Lance Stephenson during this year's Eastern Conference finals.
The Heat need both players to settle back into their roles and excel in them. With LeBron James and Dwyane Wade handling so much of the ball, it limits the opportunities the Heat's point guards have in impacting the game on their own. They're reliant on cuts off the ball, the defense being out of position when they receive a pass, and finding ways to knock down big shots. And of course, figuring out a way to stay in front of the Spurs' backcourt of Tony Parker and Manu Ginobili can be quite the task.
Heading into Game 3 in Miami Tuesday night, Chalmers stepping up early could take a lot of pressure off of the position for the Heat and give the Spurs another weapon to worry about defending.
"Definitely not comfortable," Chalmers said when asked if he was comfortable with the way he had played so far. "I want to provide as much as I can. Tonight, the game plan for me is to come out and be more aggressive early, just try to see where I can attack more, and just see where I can be more aggressive at on the court."
Through two games, Chalmers and Cole have combined for 10 points on 13 shots (30.7 percent from the field), 11 assists, nine turnovers, and 13 fouls. If both players can play their normal games in their normal balance of minutes tonight, Miami won't have to worry about the consistency of the point guard position any more.
Our advanced computer model simulated Saturday's Thunder-Cavs game 10,000 times

The Jazz are reportedly looking into trading Rodney Hood before the Feb. 8 NBA Trade Deadl...

The Cavaliers are ready to reset everything if they have to. Their interest in Lou Williams...
It sounds like the Cavaliers are going to be active before the NBA trade deadline on Feb....

We've got all the scores, highlights and news for Friday night

George Hill, who is unhappy in Sacramento, could be a solution to Cleveland's backcourt si...