Kevin Durant staying with Nike, turns down Under Armour's megaoffer
The MVP is staying with Nike.
• 2 min read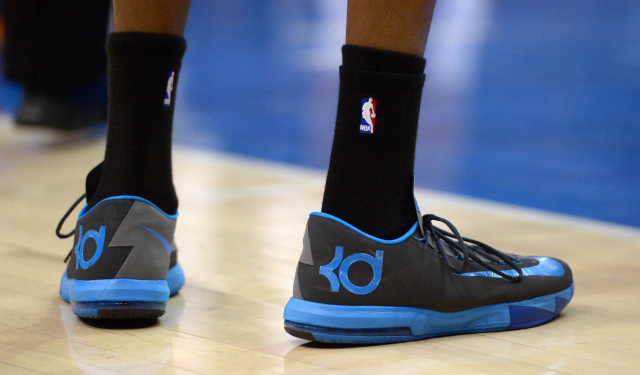 UPDATE: It's official, and the deal might end up being worth $300 million. Wowee.
Excited and humbled to sign back with the swoosh!

— Kevin Durant (@KDTrey5) September 1, 2014
Value of Durant-Nike deal could hit $300M over 10 years based on royalty he gets if business continues to rise.

— darren rovell (@darrenrovell) August 31, 2014
---
Oklahoma City Thunder superstar Kevin Durant is staying with Nike, as the company decided to match Under Armour's enormous offer to the MVP, according to ESPN's Marc Stein and Darren Rovell.
Nike has countered Under Armour's offer of between $265 million and $285 million and believes it will keep Kevin Durant for the next 10 years, sources told ESPN. Nike, whose seven-year deal that guaranteed Durant $60 million is expiring, made an initial offer of about $20 million a year that was far from what Durant was looking for. Under Armour's huge play for Durant had many believing that Nike would even let him go at that price.

But on Saturday, Nike officials told Durant and his team at Jay Z's Roc Nation Sports that it would indeed step up enough to allow the world's largest shoe and apparel company to keep him in its robust stable of basketball endorsers that includes LeBron James and Kobe Bryant.

While the exact Nike offer for Durant isn't known, sources told ESPN that Durant should make more -- in base and royalties -- than the Thunder will pay him over the next two seasons ($41.2 million). That's why fans in Oklahoma City were nervous about a possible move to Under Armour, which could have steered him more to returning to his local roots to play for the Washington Wizards when he becomes a free agent after the 2015-16 season.

…

Although the money was big, sources close to Durant say the decision weighed on him. Going back to Nike comes with a sense of relief, those sources said, because Durant, who has turned into one of the league's most marketable stars, can still make significant money without being associated with the risks of Under Armour's fledgling shoe business.
This whole situation was new territory for Durant, and many have speculated that the uncertanity of it was part of why he withdrew from Team USA in the middle of training camp. He famously turned down more money from Adidas to sign with Nike coming out of college. Now things can continue as normal for him, except he'll be a whole lot richer.
Nike had until next Thursday to match the offer, per a clause in his contract, via ESPN. Under Armour's proposed deal reportedly included 10 percent stock and a community center in Durant's mother's name, and it's unclear how Nike's deal accounts for those other incentives.
Under Armour signed Stephen Curry away from Nike last year, but still has a comparatively miniscule basketball business. That's why it had to make such an offer in the first place. Still, it was not enough. 
Want more on KD's big deal? Check Igoudala's reaction
Another day, another social media beef for Embiid

We have all the latest scores, highlights and news from Wednesday's NBA games

Thomas spent a day with a 10-year-old girl whose family is also new to Cleveland
Barkley did not hold back with his opinion of the Big Baller Brand patriarch

LaVar Ball also made it clear he thinks his sons are being placed in 'a great situation'

The Thunder are just 12-14 on the season, despite the addition of Paul George and Carmelo...