The Answer: 'Can the Clippers contend with this defense?'
A look at five burning questions, including the Clippers defense, the first coach to be fired, the Pistons' identity, and the return of Arron Afflalo.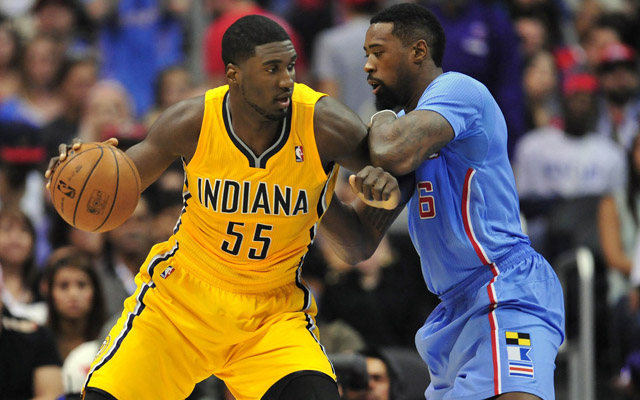 Five burning questions for the NBA on Wednesday, Dec. 4: 
Is the Clippers defense fatally flawed?
The Los Angeles Clippers were the darlings of sportsbooks headed into the season. With an upgraded perimeter attack, a healthy Chris Paul , and Doc Rivers to solve all their defensive issues, the Clippers were supposed to fill the void left by a Finals-hungover San Antonio Spurs , a Harden-less Oklahoma City Thunder , and a reconstructed Los Angeles Lakers team.
Instead, they've been exposed as a pretender, based mostly on their inability to defend effectively.
Or have they?
In the past 10 days, through the past five games, the Clippers have featured the fourth-best defensive efficiency in the league. What has been the change? For the season, they have the second-worst defense in the restricted area according to NBA.com. While in this recet stretch they've improved, down 3 percentage points to 63 percent shooting for their opponents, 10th worst in the league, the big difference has been limiting opportunities, trimming three shots at the rim per game off, and doing a much better job on the perimeter.
So maybe the Clippers aren't doomed on the defensive side of the ball. But what's surprising is where their weak spots are. DeAndre Jordan has looked like a phenomenally better player this season, but the defensive results are still a disaster. On top of the awful at-rim and restricted-area numbers team wide, of all players defending 8 shots at the rim per game, Jordan is dead last in percentage allowed at 59 percent. In short, he's a 7-foot monster who can't defend the rim. That's a bad sign.
Maybe the worst stat though, is that with Jordan on the court, the Clippers surrender a 68 percent field-goal percentage in the restricted area. With him off? That number drops seven percentage points to 61 percent. In short, the Clippers defend better at the rim with their best defensive big man off the floor. None of this seems to pass the eye test, though, so more study may be needed to figure out what's going on.
Even if the Clippers improve, can they reach a level defensively where they can feel comfortable making a championship run? There's not a magic number there. No stat, points per possession or otherwise, will determine it. It'll be based on whether they can lock down teams to close them out in playoff games. This has been a problem for the Clippers since the core was formed, and it hasn't improved. Rivers has 4½ months to fix this thing, and very few elite defenses were built in that span of time.
This is a major issue. When I look at the Clippers, I don't see the framework of a team that can get stops when it needs to. Yet the talent on the team is so high, making a drastic move to reconfigure he defense is going to be a hard sell to Rivers. But until they make major progress, you have to take them off the contenders list.
What's the Pistons' identity?
When you add a huge number of new players to a team, you wind up struggling to adapt. So while the Detroit Pistons have been, at times, a disaster, they're also more of a work in progress than they're being given credit for. After all, they reconfigured almost their entire roster over the summer, and added a 24-year-old point guard in Brandon Jennings . Jennings still isn't shooting well this year, but his assist rate (35.7 percent of all available assists made) has been phenomenal. Honestly, there have been signs of him playing within himself more than ever this season.
The same cannot be said for Josh Smith . Smith's taking the most unassisted shots he has since 2007, and is taking the most 3-pointers he has ever had in his career, while shooting 28 percent from three. I need to stress this. Josh Smith is taking more three-pointers per game than any player shooting under 29 percent. He's shooting more threes per game than Carmelo Anthony (that Melo is shooting the same percentage is a topic for another time).
Meanwhile, rookie Kentavious Caldwell-Pope looks like their second-best shooting guard behind Rodney Stuckey , but is shooting terribly, their bench struggles on both ends, and they're basically average overall on either end.
But here's the thing ... they look like they're finding out what they want to be. Watch the Pistons and you're finding a team that shares the ball, that cuts and finds gas to force the extra defender, then delivers the pass for the easy dunk. Josh Smith has been fantastic and finding his bigs. Twenty-seven of Smith's 63 assists have gone to Andre Drummond or Greg Monroe . When they commit to that, that's when they're at their best.
And still, they're one of the lowest teams in assisted field goals. That would tell you that they're working on creating shots for themselves, but that's not really the case. Synergy Sportsjavascript:mctmp(0); lists that the Pistons spend just eight percent of their time in Isolation, 16th in the league. But they're also eighth best in points per possession in isolation, compared to 27th in spot-up situations ... which account for the highest percentage of their shots. What do these numbers mean? They work really hard to consistently create good looks for their offense ... and then they don't make the shots. Their best offense is when they create shots using isolation or off offensive rebounds.
All this is to say that the Pistons don't have an identity yet, but they're working on it. There have been some positive signs from them. But if they want to go forward, someone's going to have to figure out how to make a friggin shot. That's the one identity they have right now: they can't shoot.
Are the Utah Jazz that bad?
Utah has been dominating the lead for the tank war this year, until recently. They lost their top spot in our Power Tankings column and have been 21st in net points per possession (bad but not holy wow terrible) over the past ten days.
So are the Jazz that awful? Maybe we need to back off on the idea that this is definitively the worst team in the league. Yes, Utah's bad, but they'e improving, and when you look at the roster, they really should be better than they have been, in net points per possession if not wins and losses. There's talent on this team, which says a lot about their tanking brethren.
I'm reminded of the Washington Wizards from last season, who were 1-13 when December 3rd came around last year. They got off to a horrible start with the injury to John Wall . But eventually they recovered. Now, the Jazz don't have an injury to pin the struggles on, but they do havea similar kind of outlook. I can see this team improving to the point of decency down the line.
The only really bad losses on their schedule are the early-season loss to Brooklyn, the loss to Boston, which was on the road, and their home loss to the Phoenix Suns . everything else is pretty explainable. They've lost to the better-than-expected Suns twice, Oklahoma City twice, Houston, Dallas, Denver, and Golden State twice. That's nine losses to what could be playoff teams and the surprise Suns. Again, they're awful, they're just probably not as bad as things may seem. It's enough to give credence to the idea that firing Ty Corbin might be a little premature given were they could be in a few months.
Is Arron Afflalo back?
The answer is yes.
After a nightmare first season in Orlando last year that saw him fall off at both ends. The man they call Spellcheck has been incendiary. After a 43-point performance Tuesday, Afflalo is averaging 23 points per game this season, good for third among guards while shooting 49 percent from three and 46 percent (!) from three. He leads all guards in True Shooting percentage (factoring threes and free throws) for players averaging over 18 points per game.
Oh, yeah, and five rebounds and four assists per game.
So yeah, he's back.
Which coach is getting fired before Christmas?
I was shocked on Tuesday when Bovada.lv listed their top candidates and Jason Kidd topped the list. Kidd came in at 9/4, with Mike Woodson close behind at 5/2.
On Thursday, the Brooklyn Nets and New York Knicks meet, and more and more you get the sense that this is a "loser-leaves-town" match. Both owners hate the other team, and they may stand for early season struggles, but not early-season struggles and a loss to the putrid rivals in a down year.
Mike Brown is next on the list at 4-1, but it's hard to see Cleveland bailing on him yet.
An interesting wrinkle? Dwane Casey at 9-1. After Tuesday night's disastrous loss to the Golden State Warriors , blowing a 27-point lead, Casey's numbers have to be higher.
We entered the season thinking this might be the year no one gets fired before Christmas. Instead, it wouldn't shock me to see three head coaching changes before presents are opened. Happy Holidays.
Nerlens Noel is now being represented by Rich Paul of Klutch Sports

Steve Kerr opens up about his back issues and more

OJ Mayo, banned from the NBA for positive drug test, is considering playing overseas
The King? 'LeBron, it turns out, is Aquaman,' or so the account via Dwyane Wade's wife goe...

From Penny to Thunder Dan to Pistol Pete to Agent Zero, guys who would be better in 2017

Griffin said recently he thinks it's more likely that LeBron James goes to New York than L...