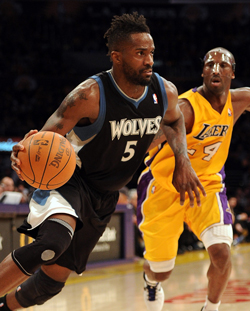 Martell Webster has signed with the Washington Wizards.
(Getty Images)
Call it a third chance for a former lottery pick.
The Washington Wizards officially announced the signing of free agent forward Martell Webster on Wednesday. The Washington Post reported the 1-year deal is worth $1.6 million. 
"Martell brings a combination of versatility and shooting in addition to his experience," Wizards President Ernie Grunfeld said in a team press release. "Adding him to the roster provides us with another solid veteran presence and gives us flexibility with our lineups at both the shooting guard and small forward positions."
Webster was bought out by the Minnesota Timberwolves back in July to create the necessary cap space to make a 4-year, $46.5 million offer to Portland Trail Blazers restricted free agent forward Nicolas Batum. After the Blazers matched that offer and retained Batum, the Timberwolves later signed Andrei Kirilenko.
Portland's No. 6 pick in the 2005 NBA Draft, Webster entered the league straight out of high school. After signing an extension with the Blazers, Webster was later traded to the Timberwolves to make room for Batum, who emerged while Webster missed nearly all of the 2008-09 season with a foot injury. In Minnesota, Webster battled back injuries that limited both his availability and his effectiveness. Best known for his pretty looking jumper and ugly looking haircuts, Webster is a 37.4 percent career 3-point shooter. 
Webster has mostly played the three during his career but he can also play some two. He will compete for minutes on a roster that includes Trevor Ariza, Jordan Crawford, Chris Singleton, Cartier Martin and 2012 No. 3 overall pick, Bradley Beal, on the wings.
Webster, 25, holds career averages of 8.4 points and 3.2 rebounds in 23.4 minutes per game.