Wizards sign Shaun Livingston
Wizards sign Shaun Livingston to shore up point guard position.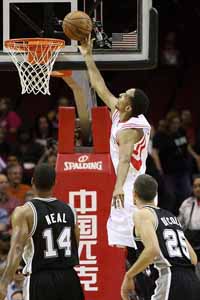 Livingston is a Wizard.
(US Presswire)
The Washington Wizards signed point guard Shaun Livingston Thursday to shore up their backcourt, immediately finding a new starter, the Washington Post reports. 
With John Wall still out a few more weeks, the Wizards needed this to stop the bleeding. Their backcourt rotation has been A.J. Price and Jannero Pargo, who was waived to make room for Livingston. 
Livingston has played the journeyman bit for three seasons since returning from the devastating knee injury he suffered in 2007. He was showing good signs in Houston before the Rockets inexplicably waived him to keep Toney Douglas. 
Livingston is a solid game manager who won't play outside of himself. Wizards should have made this move weeks ago. The Wizards have not won a game this season.
The NBA's City edition Nike jerseys are bold and very different

The Wolves may be smoke and mirrors, but the Pacers have the look of a team that can hang in...

LeBron said it might be difficult if the Lakers rookie ducks out of the way before he gets...
Galin Dragiev has his finger on the pulse of the Mavericks and just locked in a play for Thursday's...

The Crimson Tide point guard has been impressive so far and joins the top tier of prospect...

The speculation has been rampant, but seeing James in purple and gold is far from a sure t...