Young Guns: Eight breakout center candidates
JaVale McGee, DeAndre Jordan, Anthony Davis, Jonas Valaciunas and more headline the centers who could have big years next year.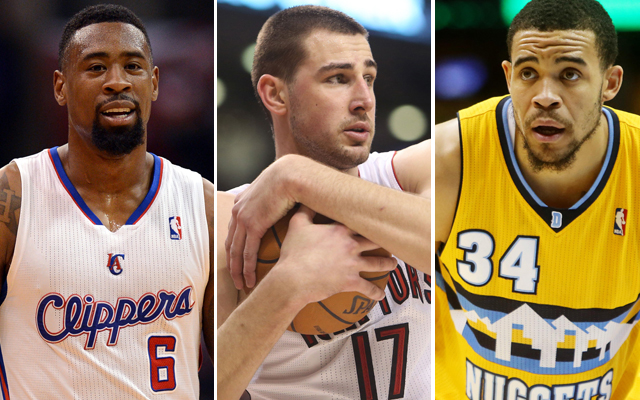 The center position is the weakest in the league. It's hard to tell whether in the past few years there have been more good centers, or if we've just lowered our standards. In reality, with the NBA having gone to such a perimeter-based style, the truly great big men in this league are mostly just defensive forces at the rim who can dunk putbacks. 
And still, having a great big man can make a huge swing in how good your roster is. And there are some excellent ones just coming into their prime, enough to where we may finally have some strength at the position in the coming years. 
Who are the young centers who could make a real name for themselves with the basketball-watching-public? Here's a brief list of candidates in line for breakout years. Bear in mind that "breakout" means different thing for different players. Anthony Davis could become an All-Star, Enes Kanter could become an underrated starting center. But these are players, 25 and younger, who could change their career trajectories this season. 
Anthony Davis, F/C, Pelicans: If you read our power forwards feature, you may be going "Wait, what?" Davis graced that list, too. So why does Davis appear on this list as well? Because there are two distinct paths the Pelicans can take with him; they can use him at what his role was considered to be coming out of Kentucky, the stretch four with superb athleticism and all-around skill, or as a back-to-the-basket five.
Unibrow is a wiry kid, having undergone a seemingly superhuman growth spurt in high school that shot him up from a point guard to a big man. So he's still got some muscle he needs to add; as of now he still gets beaten up down low quite a bit and that can cause injuries.
But if the Pelicans decide to commit to Davis as a five, he's still going to be in position to dominate at this position. In preseason, Davis as outright destroyed everything in his path. Whether that translates to the regular season or not is another question, but Davis has the potential and has put in the time.
Kosta Koufos, C, Memphis Grizzlies: Koufos was moved to make room in Denver's rotation for another player on this list. He's not going to take over the league or become a legitimate force. But you know what the Grizzlies have desperately needed for years? A competent backup center with good plus/minus numbers who can let Marc Gasol actually try this thing called rest. It would help when Gasol gets into foul trouble, it helps when things like Gasol's torn abdominal muscle last season happen, it helps when the Grizzlies need a pure defensive lineup.
Koufos accomplishes all of these needs. He's a decent pick and roll defender with high upside in that department. He's able to finish putbacks. Koufos' breakout this season won't be based on dazzling statistics, but by contributing in a substantial manner towards a winning team doing even more winning. And that's something to watch as well.
DeAndre Jordan, C, Los Angeles Clippers: Welcome back, DeAndre! DAJ winds up on this list for, I think, the fourth year in a row. And every year he does improve, and every year he shows great things, and every year he fails to live up to expectations. He's never "broken out," he's only broken through small barrier and limitations.
But... you still can't get past the idea that this is the year.
Jordan is so physically gifted, has the potential to improve his basketball IQ, plays at a position that takes several years to develop, and oh, yeah, he killed Brandon Knight. Doc Rivers has invested in building up Jordan's confidence, and Rivers can teach Jordan the essential defensive skills he needs.
So yeah, another year with DJ, but we're a long way from giving up on him. We'll keep believing every year that this is the year until it's the year. In that spirit, this is the year.
Andre Drummond, C, Detroit Pistons: Drummond broke out last year, but with the talent around him, he's in an even better position. He's going to get easier buckets in pick and roll sets with Brandon Jennings and Josh Smith. He'll benefit from the attention drawn by Smith and others. Drummond's athleticism speaks for itself and he dazzled last season with an impressive skill set.
I KILLED the Pistons for this pick in 2012 and was 100 percent wrong. The kid looks like a monster going into this year and for the foreseeable future.
Jonas Valanciunas, C, Toronto Raptors: The "breakout player everyone knows is going to breakout" player. There's no big secret here. Injuries and Valanciunas' inexperience kept him off the court too often last year. The Raptors traded Andrea Bargnani. Valanciunas is the building block. He has great touch around the basket, can work in the pick and roll, and is an intimidating defender at the rim.
Are there question marks, like his rotation defense, spatial awareness, versatility and durability? Sure. But there's too much to like to get hung up on them. A bad year for Valanciunas would be average results, and a great year could mean a few Defensive Player of the Year votes. Exciting times.
JaVale McGee, C, Denver Nuggets: At 4:45 p.m. MT Monday night, JaVale McGee took the court at Pepsi Center in Denver for warmups. I happened to be out on the court at the time, and was surprised. McGee always came out for warmups early.
It just never seemed like it was that early.
He went through his warmups, focusing on hook moves and short jumpers, the shots that coach Brian Shaw wants to emphasize. Again, not unusual. But McGee was focused and working harder than I've ever seen him work in a non-game setting. He was listening to his coaches, putting consistent effort into these unguarded practice shots, really working up a sweat.
If you think this doesn't matter, you should know that Tim Duncan has the most impressive pre-game routine I've ever seen. The Big Fundamental puts a dazzling amount of intensity into those shots. The moves aren't slow or lazy. They're always razor sharp and lightning quick. Honestly, watching Tim Duncan warm up is a joy.
Is JaVale McGee going to be Tim Duncan? No. But there's something different with JaVale McGee so far this year. His footwork seems polished instead of improvised. His motions are determined instead of out of control. He's playing not like a crazy freak of nature, all arms and leaping like giant crane honking its way around the court. He's playing like a professional.
He's still going to likely have those moments that draw unfair attention because of who he is and what his reputation is. But McGee genuinely seems to have turned a corner, and that could mean big things with the amount of skill and athleticism he has.
Nikola Vucevic, C, Orlando Magic: The kid's a beast. The Magic are going to be awful, but he has a little more talent than last year and he genuinely has the potential to put his name on the hardcore fan's list of favorite players with his hustle and grind. His statistical production is going to be blog fodder for months.
Enes Kanter, C, Utah Jazz: It's time. It's past time.
Enes Kanter has been waiting for his chance in a logjammed frontcourt in Utah for years. But now, there's nothing in the way. I was extremely low on Kanter in his rookie season but like so many raw big men, he big kid has slowly added more and more to his repertoire.
He's big and tough and has a mean streak. He's going to get minutes this year. If he can be a force at the rim and dominate on the glass, Utah could be better than expected.
Hinkie parted ways with the 76ers in 2016 after drastically changing the direction of the...

SportsLine's Mike McClure, a DFS pro with more than $1M in winnings, gives optimal lineup...

LaVar Ball's sons signed with agents last week, making it impossible for them to play college...
SportsLine simulated Monday night's Warriors-Trail Blazers game 10,000 times

The refs didn't take kindly to Pierce questioning their television setup

Smith is upping the ante on ugly Christmas sweaters this year