Monday Observations: Panthers' standout LBs fueling playoff push
Cam Newton's evolution has certainly helped the playoff-bound Panthers, but the outstanding play of linebackers Thomas Davis and Luke Kuechly cannot be overlooked.
• 9 min read
I'm not sure there is a position group performing any better than the Carolina Panthers linebackers. Certainly not on Sunday, when do-everything linebackers Thomas Davis and Luke Kuechly pretty much dominated the game in a 17-13 victory, and spearheaded one of the biggest afternoons the Panthers have enjoyed in quite some time.
With the high-powered Saints in town, and the Panthers looking to make a statement and secure a playoff berth, they could look no further than this dynamic linebacker duo for leadership and superb play. Against Drew Brees on Sunday, it was like Carolina had two versions of Ray Lewis on the field. Kuechly and Davis were everywhere -- anticipating runs, filling lanes, tipping passes, picking off passes, making plays in coverage, a part of seemingly every tackle their team made. It was like Lewis in his prime; only double.
It was a tour de force outing and served notice, once again, to the rest of the NFL that this team can play defense at a level almost no one else can match, and that its playmakers can make life uncomfortable for even the most gifted of offenses. Someone might get the better of Carolina in the postseason, but it won't be without a fight, and while quarterback Cam Newton will rightfully get ample kudos for leading the winning drive that put Carolina in the lead in the NFC South, make no mistake it was the defense and the linebackers in particular (indefatigable Chase Blackburn, who has revived his football life, again, included) who made it all possible.
Davis has to be the NFL's comeback player of the year, right? We're talking three ACL surgeries, all the brutal solitary hours it takes to rehab and progress, on a team that hadn't won anything in a long, long while. And yet somehow, he has gotten older and better, and whatever he has lost in speed over the years he has more than made up for in knowhow and determination.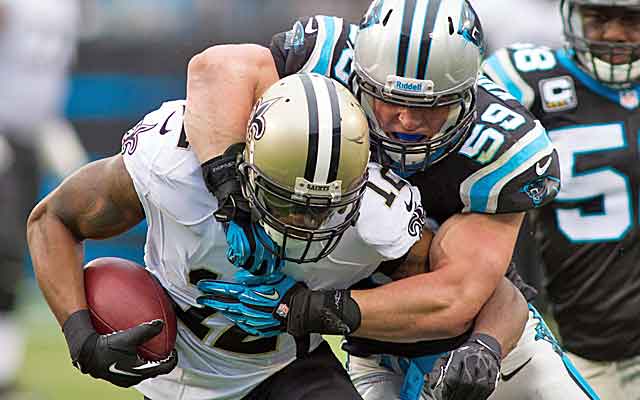 Kuechly, meantime, has to be in the top three in the NFL in terms of Defensive Player of the Year candidates, and is probably the odds-on favorite to win it after this effort. All Kuechly did Sunday, in the biggest game of the year for his club -- and one of the biggest of the year overall -- was tie Davis for the team-lead with nine tackles (plus 15 assists for 24 -- yes 24 -- combined tackles). He had a tackle for a loss, an interception, a pass defensed. He had everyone aligned exactly where they needed to be more times than not, limited Brees to few big plays and under 300 yards, contained matchup-nightmare tight end Jimmy Graham, and was a constant blur across the screen, in on everything.
Davis was just as active. Besides his 14 combined tackles, the veteran had two tackles for a loss, an interception, a pass defensed. Both linebackers fought through blocks and commanded attention that allowed others to feast on an outmanned Saints offensive line, as the Panthers produced six sacks and had Brees under constant duress.
And so, Carolina now stands as the second seed in the NFC, and if it beats woeful Atlanta in Week 17, it is assured of a bye and would play on the road only if its draws Seattle in the NFC title game. Of every team in the field, the Panthers seem best equipped to actually head to the Pacific Northwest, pack that fearful defense of theirs, and go ahead and pull that kind of upset.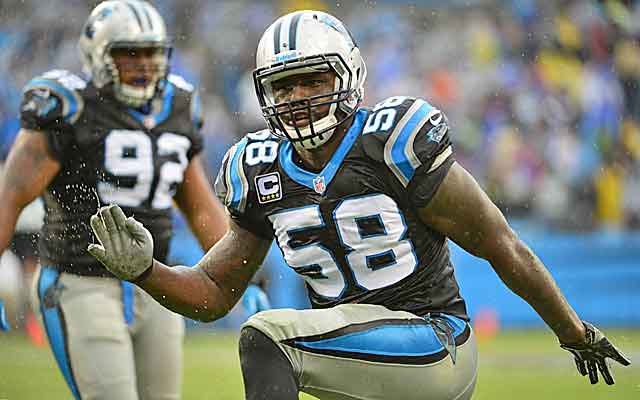 They don't lack for signature victories, they don't lack for confidence and -- with some of the country watching them closely for the first time this season -- they showed exactly how impactful that linebacker-driven defense can be, regardless of the opposition.
Poor protection sinks Dolphins in Buffalo
When the Miami Dolphins struggle, their poor play at offensive tackle and lack of adjustments to their protection schemes generally are at their core of their misery, and that was absolutely the problem on Sunday at Buffalo, when the Dolphins were thoroughly crushed with so much at stake.
They never had any answer for Buffalo's pass rush. They had no way to counter the systematic dismantling of left tackle Bryant McKinnie. They had no Plan B -- no real adjustment -- to the onslaught of defensive backs blitzing to his side, quite often ending their rush by plowing over quarterback Ryan Tannehill. It was no wonder Tannehill got knocked to the sidelines for part of the game, and no surprise that the Miami offense had all of 60 total yards through three quarters given how manhandled the offensive line was.
If Miami misses the postseason, these two losses to Buffalo -- with Thad Lewis at quarterback -- will go quite a ways to leading to that outcome. The pass protection in the cold rain -- the Dolphins' receivers seemingly never played in precipitation before, dropping pass after pass early on -- was a complete joke.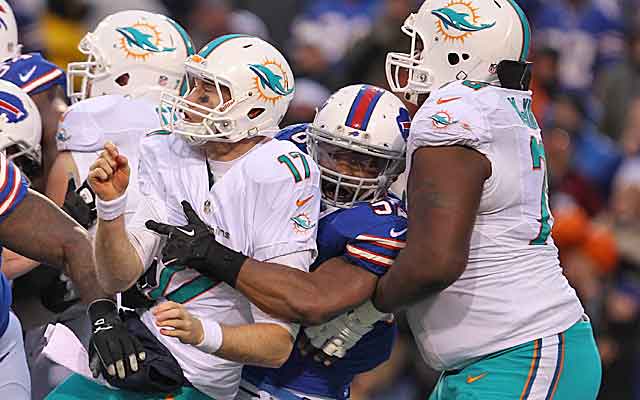 The Bills registered seven sacks in their 19-0 pasting of Miami, and I'm not sure that gaudy total does justice to exactly how fervently they controlled the line of scrimmage. Bills corner Nickell Robey led the way with two sacks, and he had several more pressures, timing his blitz well and causing all sorts of problems. Miami's first drive ended on a third-down sack, and it got only worse from there.
Their next drive? Yeah, another third-down sack. Their first possession of the second quarter? Yeah, ended by another third-down sack. The next drive after that, inside the two-minute warning? Um, ended by a Robey sack, knocking the Dolphins out of field-goal range in a game that was 10-0 at the half.
Their first drive of the second half? Another sack derailed it (this time on second down).
The first drive of the fourth-quarter? A sack, on first down, this one forcing Tannehill from the game for a while.
You get a picture on how this game went, huh?
The Dolphins, as a team, had 12 carries for 14 yards, with their season on the line. They had 89 net yards passing, as a team, through two quarterbacks (Matt Moore promptly threw a pick after making a big play from his own end zone). Miami had a cumulative passer rating of 24, while the Bills held the ball for over 36 minutes.
Miami remains very much alive for a playoff spot, and Week 17 could bring a different scenario at home against the Jets. But New York's defensive line might be the best 3-4 unit in the NFL, Rex Ryan is very qualified to scheme it up (as his protégé, Mike Pettine did for the Bills defense) and if Miami doesn't make some serious advances in its approach, its protection schemes and its ability to win some battles at the point of attack, it could be another very long day for Tannehill, a story of opportunity lost for the Dolphins.
Cards play winning hand in Seattle
I'm seriously starting to lean to Bruce Arians for NFL Coach of the Year -- for a second successive season. What he has done there, in only his first season, is nothing short of astounding, and major, major kudos go out to Cardinals rookie GM Steve Keim as well, who helped massage that roster and brought in Carson Palmer and drafted his backside off and, if he were playing in any division other than the brutal NFC West, he would likely have a division title to show for it.
Instead, the Cardinals might end up winning 11 games and still missing the playoffs, which would be a debacle, because all they have done is beat top seed Seattle and No. 2 seed Carolina. And if they beat the 49ers next week, it still might not be enough if San Francisco takes care of Atlanta Monday night, as expected.
What is damning the Cardinals now is their 0-3 start within their division, which also has a lot to do with their less-than-sterling 6-5 record within the NFC. An 11-win Saints team would have a better conference record than an 11-win Arizona team, and an 11-win 49ers team would have a better record within the NFC West.
But I'll tell you what: Few teams deserve to be in this postseason field more than Arizona, and they played with guts and fearlessness and swagger on Sunday in Seattle, stopping a two-year home winning streak for the Seahawks, on a day in which their beat-up quarterback looked just like that. On a day in which many teams in a similar situation regarding their playoff fate -- Baltimore, Miami, Detroit, Green Bay -- came up small, the Cardinals pulled off their best victory of the season and smothered Seattle 17-10.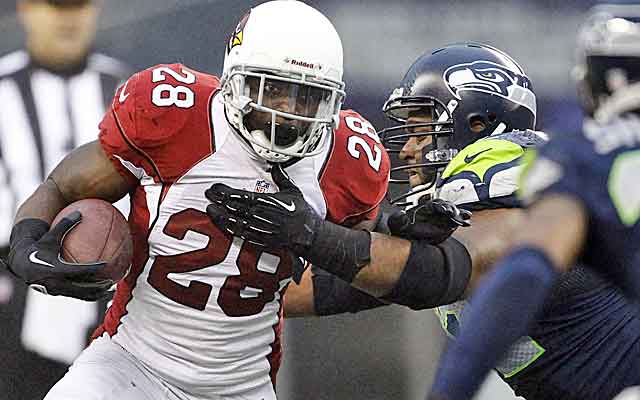 They limited Russell Wilson to 11 completions and 108 yards passing. They kept Marshawn Lynch below four yards a carry and on a day when the Seahawks defense was again thriving and creating turnovers, Arizona's upstart unit was more than up for the challenge. They dictated third down (Seattle was 2 for 13 converting), and if Cardinals defensive coordinator Todd Bowles does not merit head-coaching interviews (recall, he fared well as an interim head coach previously in Miami), then I give up. His work speaks for itself.
If the Cardinals do find their way into the playoffs, Bowles' stock will only rise. Put this group right there with the Panthers and the 49ers among clubs whose defense makes them a real threat to defeat a top seed on the road, and with the loosey-goosey vibe Arians has going there, they will be a tough out for anyone. The only games Arizona has lost since Week 3 were at San Francisco, vs. Seattle and at Philadelphia (the officials had plenty to do with the outcome of that 24-21 game); keep that in mind should they whack the 49ers in Week 17 and still not reach the playoffs.
Extra points
• Take all the madness with RG3 and the quarterback switch and all of the noise and chaos out of it, and still find me a reason why Mike Shanahan should remain as head coach based just on merit alone? He's on the verge of going 0-3 after his controversial move to Kirk Cousins, and he's about to possibly finish with five victories, after winning five his first year and six his second. His record, outside of a seven-game win streak to close out 2012, is a brutal 17-39. Take out his longest winning streak and longest losing streak, and he's 17-33. Consider the fact his team continued to succumb to undisciplined penalties and make critical mistakes with the game on the line -- that after four years, this continues to look like anything but a smooth operation -- and that alone would point to change.
• New Orleans had to run a bunch of stuff with six offensive linemen (three tackles) just to try to keep Drew Brees upright. The offensive line is a problem, and the switch of left tackles was an issue Sunday, too. Given the defenses they could face in the playoffs, this could end up looming large.
• Dolphins corner Nolan Carroll deserves credit for keeping his team in the game, with the season on the line, making a key pick and registering a critical sack, though all of that was lost amid the lack of any offensive support.
• Joe Flacco clearly wasn't close to being right on Sunday with his knee sprain, and that setback, coupled with a highly suspect offensive line, might just undermine the Ravens' quest for the playoffs. They just cannot get in the end zone with any regularity, it has been a lost season for Ray Rice, and if Flacco can't buy that extra few seconds he needs by being able to move into open space, the Bengals could make quick work of the Ravens in Week 17, even with not much to really play for.
Carroll defended his controversial fake field goal call at the end of the first half

The Falcons are trending in the right direction after a 34-31 win over the Seahawks in Sea...

It's the best division in the NFL and it's not even close
Larry Hartstein has his finger on the Vikings' pulse and made a play for the Thanksgiving Day...

National sports writer Mike Tierney tells you who to pick in your Week 12 football survivor...

For whatever reason Seattle decided to try a fake before the end of the first half