Patriots first-year DL Armond Armstead retires
The interesting career of defensive lineman Armond Armstead is now over.
• 1 min read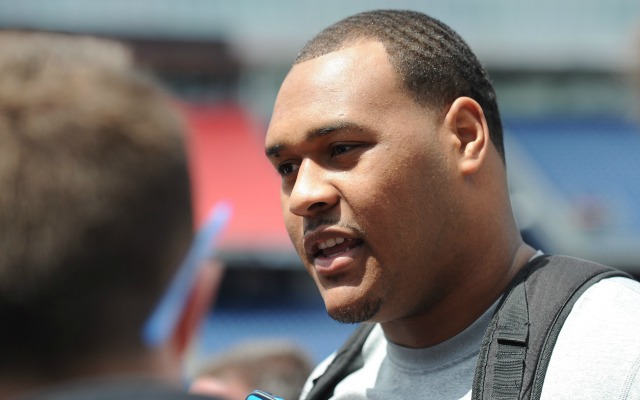 More NFL: Photos |   Videos & GIFs |  Stories | Training Camps | Johnny Manziel watch 
Armond Armstead was once thought to have first-round talent, which the Patriots were trying to summon to the surface when they signed him from the CFL's Toronto Argonauts in February 2013. Looks like we won't get a chance to see it, as the Patriots announced Wednesday that the defensive lineman has retired.
"It has been a pleasure being around Armond, as he gave everything he could to play for us," Patriots coach Bill Belichick said in a statement. "Armond worked extremely hard since joining us last February. He's had a lot of adversity personally that he's had to deal with -- unusual compared to most other players -- but he's always had a great attitude, worked hard and really did everything we asked him to do. While it is unfortunate he will not be able to play football, Armond is an outstanding young man who has a very bright future in whatever path he chooses."
Armstead played collegiately at USC from 2008-10, but he suffered a heart attack and wasn't medically cleared to play for the 2011 season. He was undrafted in 2012, so he went to Canada, where he recorded six sacks and helped the Argonauts win the Grey Cup. Argonauts general manager Jim Barker later said he thought Armstead had talent that was comparable to either a low first- or an early second-round NFL pick.
He eventually signed with the Patriots, but he was placed on the reserve/non-football injury list in training camp, and he missed the entire 2013 season.
It was thought Armstead was ready to compete for major playing time on the defensive line heading into the 2014 season before the news of his retirement filtered out Wednesday.
The Oklahoma quarterback isn't exactly being discreet about where he wants to begin his NFL...

No one was hurt, but Fournette's Mercedes lost a bumper

It might be time to begin worrying about the Patriots quarterback
The Patriots are still odds-on favorites, but the other teams are closing in

SportsLine tapped into its Vegas sources to see who professional bettors like Sunday

Philadelphia readies itself for a massive celebration if the Eagles advance to the Super B...