Tim Tebow enters Patriots game, struggles with accuracy
After Patriots quarterback Ryan Mallett had to leave the game with a possible injury, Tim Tebow made his preseason debut.
• 1 min read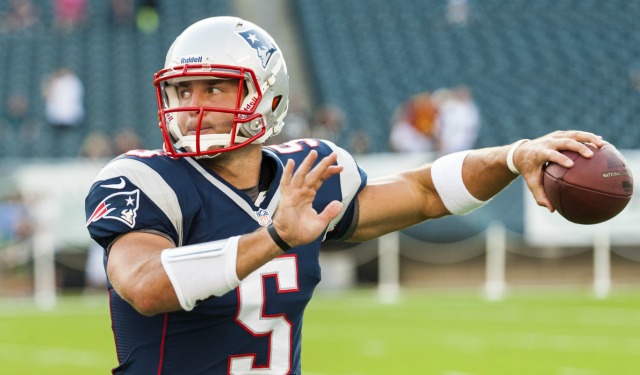 With 1:22 left in the second quarter of the Patriots-Eagles preseason game, New England backup quarterback Ryan Mallett was driven into the ground and had to leave the game following the injury timeout.
That meant it was, good god (!!!), Tim Tebow time.
And he didn't disappoint in his Patriots debut.
He badly missed receiver Aaron Dobson in the left flat on his first pass, he led tight end Zach Sudfeld just a little too much on his second attempt, and on his third snap, Tebow was sacked by about three Philadelphia defenders.
It was completely expected. And it was quite a show.


Inspirational drive there conducted by Tim Tebow. Two pretty terrible passes and a merciful sack. I'm inspired, anyway.

— Kent Babb (@kentbabb) August 10, 2013

Tebow finished the game completing 4 of 12 passes for 55 yards. He also rushed four times for 31 yards.
Follow Josh Katzowitz on Google+
The former Buccaneers kicker did not have things start well for him in Chicago

Bears special teams showed up in a big way against Arizona

Beast Mode got loose with Oakland and looked pretty impressive in the early going
Beast Mode was one of several players to sit during the Raiders-Rams game

The cleaning staff in Houston missed a couple of things while cleaning up after Super Bowl...

Marvin Jones had some serious fun in the end zone after scoring against the Jets