Dale Hunter goes away from plus-minus for scoring-chance based system
Dale Hunter has gone away from traditional plus-minus ratings and now uses a system based on scoring chances.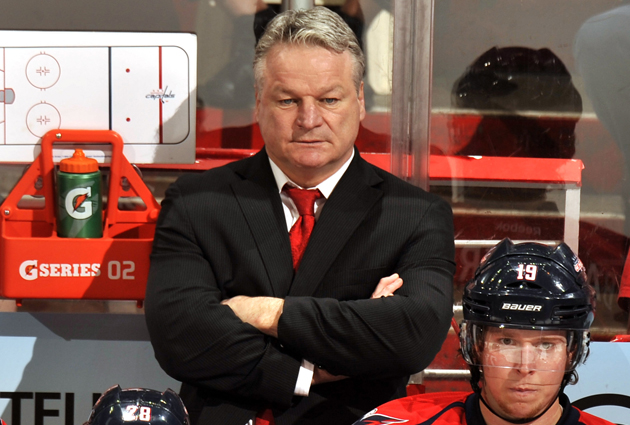 Dale Hunter now uses a scoring chance-based system to evaluate his players. (Getty Images)
As far as traditional hockey statistics go, there is perhaps none that is considered to be more misleading, and some might even say useless, than plus-minus.
As "advanced statistics" start to work their way into NHL front offices, as well as the coverage of the game, more teams are looking at things like scoring chances and overall shot data as a more useful evaluation tool.
Former Washington Capitals coach, and current London Knights coach (and owner) Dale Hunter is now one who seems to be going in that direction. And he's probably the last coach we would have expected to hear that from.
"You always think who had a good game or a bad game," said Hunter in an interview with TSN (video here via Mark Masters). "Jimmy Johnson was our assistant [in Washington], and he's in San Jose now, he brought it to the Capitals and we did it. And it just basically puts it on paper as to who is making the most mistakes, or on the positive side, who is creating the most.
"It doesn't lie," added Hunter.
The issue (my issue, anyway) with a number like plus-minus is it adds a couple of variables that can go beyond the individual player's control. Those variables can include goaltending and something as simple as luck.
A measure like scoring chances can at least help remove some of that and, as Hunter pointed out, gives you an idea as to who is creating the most opportunities for his team. Or allowing the most the other way.
Look at it this way: Let's say Henrik Sedin (and we're just picking a player at random here with a completely hypothetical situation) plays 20 minutes in a game for the Vancouver Canucks, and during those minutes his team generates six scoring chances and only allows one. But during that ice-time he finishes the game as a minus-one in the goals department because of a bad-angle goal that he himself had nothing to do with. Does that mean he played a bad game or was a negative for his team? Not at all. But in the eyes of plus-minus, he was. Even though he was actually a positive when it came to generating chances and opportunities.
If you keep outchancing a team like that, you're eventually going to start outscoring them.
That's not to say scoring chances are always a perfect measuring tool, either. There is no set standard for what a chance is, and it can vary from coach to coach and team to team.
As an example, I asked Penguins coach Dan Bylsma this past season how his team tracks scoring chances. He said it comes down to things like shot location and they not only look at shots that are on target, but also includes shot attempts that miss the net. He also added that there can be a lot of internal debate about individual shots, and that at the end the final decision is his. You can read about it here.
It's a little surprising to see Hunter take this approach in London because during his time with the Capitals he drew some criticism late in the season for his use of plus-minus when it came to benching veteran forward Mike Knuble. (Though, it is worth pointing out that Hunter didn't specify if the plus-minus he was referring to was a goals-based number, or a chance-based number.)
Still, it's nice to see coaches have a willingness to look at different things and leave no stone unturned when it comes to giving their team an edge.
A large number of NHL teams are using this type of data, or at least experimenting with it, when it comes to scouting, trades, free agency, and their gameday analysis. Some teams openly advertise it (like Tampa Bay), while others are a little more cloak-and-dagger about it.
And the number of teams seems to be increasing every year.
For more hockey news, rumors and analysis, follow @EyeOnHockey and @agretz on Twitter and like us on Facebook.
The expansion Golden Knights officially moved into first place in the NHL on Sunday

The former Boston Bruin was the first black player to play in the NHL

Inclement weather led to the Charlotte Checkers and Bridgeport Sound Tigers playing in front...
The NHL chose the Detroit rocker as its All-Star Game entertainment and not everyone is th...

NHL fans from all over seem to agree on one thing: Hating Kid Rock

The team tweeted on Monday that Shaw would be re-evaluated in 7-10 days