Patrick Kane brings back the lucky playoff mullet
Patrick Kane is bringing back the playoff mullet this year, and he's bringing rookie Brandon Saad with him.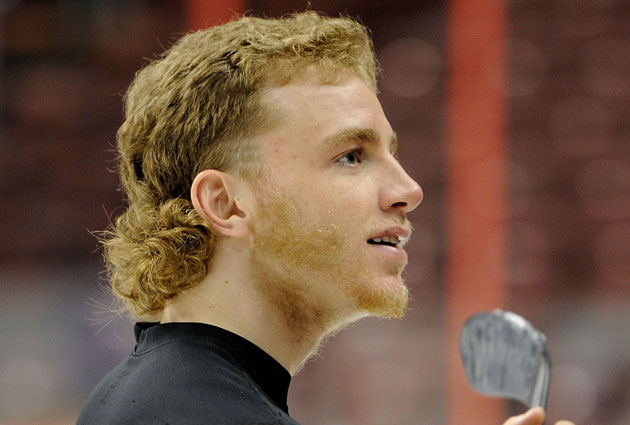 More NHL Playoffs: Scores | TV Schedule | Expert Picks | Odds | Mock Draft | Rumors
Forget the playoff beard, the playoff mullet is where it's at. And Chicago is where you'll find the playoff mullet. Two of them.
When Patrick Kane came into the NHL, he elected to augment his beard with a business up front, party-in-the-back approach. He gave his hair some true 80s flavor with three notches on the side. Kane wore that mullet when the Blackhawks won the Stanley Cup and those glorious long locks flapped in the wind as a scruffy-faced Kane celebrated scoring the Cup-winning goal.
Last postseason Kane tried to go with just a beard and the Blackhawks lost in the opening round. That means it's back to the mullet he goes, and he's bringing rookie Brandon Saad along with him. From Mark Lazarus of the Chicago Sun-Times:
"His looks pretty good," Kane said of Saad. "I think it's fun, and it's good for a laugh or two. It's something that's been a little bit of a tradition since we started in the playoffs. I've had some fun with it, and I think a lot of people that follow the Blackhawks have had some fun with it, too. That's all it's really for."
I say long live the mullet. I'm a fan of gross 80s culture and even though the playoff beard is a tradition in hockey, I like the approach of the mullet. To be safe, though, Saad is going to do both.
The mullet isn't a hit with everybody, however.
"I think it's terrible," Jamal Mayers told Lazarus. "I think he's trying to handicap himself."
Personally, I think Mayers is just jealous.
From the Chicago Tribune, here's video of Saad's new look in action.
Buffalo is in the midst of contract extension talks with Jack Eichel, and the payout could...

Los Angeles isn't rushing to sign the 45-year-old forward any time soon

The University of Denver star and Hobey Baker Award winner is drawing interest
Intrigue is high in Arizona after a wild offseason, but expectations should still be tempe...

Players are set to give personalized messages for Adidas' former hockey equipment brand

The 40-year-old center is returning to the Wild after a successful run in Pittsburgh