Big 12: Team-by-team preview
In the wide-open Big 12, Tom Fornelli is going with Oklahoma, but don't forget about Texas, TCU, Oklahoma State and even Baylor.
The Big 12 is wide open this season, and nowhere is that more evident than in the predictions of our CBSSports.com college football writers. Not only do the eight of us choose four different teams to win the conference, but we hardly agree on the top seven teams.
The simple fact is that the top five or six teams in this conference will likely be separated by a game or two when the dust settles.
Which is why it's going to be one of the more interesting conferences to follow in 2013, and I look forward to doing just that. In the meantime here's how I think things will shake out in that lone power conference without divisions.

1. Oklahoma: My thought process here is actually pretty basic. When things are as wide open as they are, you might as well play the odds, and given the history of the Big 12, odds are Oklahoma is going to win it. I do worry about the Sooners getting only four players back on defense, but the Sooners are always solid on the defensive side of the ball. The bigger question will be how QB Blake Bell performs on a full-time basis, and I think Oklahoma has plenty of weapons around him to ensure he'll be fine. Oklahoma also gets TCU in Norman, and although both the Baylor and Oklahoma State games are on the road, the Sooners get an extra week to prepare for each game thanks to bye weeks.

2. Texas: Listen, if the Longhorns don't finally get their act together in 2013 then maybe it's time Mack Brown thinks about stepping down. Texas returns 19 starters from last year's 9-4 team, including everybody of consequence on offense, including the entire offensive line. While Kenny Vaccaro and Alex Okafor are gone on defense, there's still plenty of other talent around to make up for it. It's put up or shut up time in Austin.

3. TCU: I like TCU as a bit of a darkhorse in 2013. It's welcome to the Big 12 was a bit rough, but the Horned Frogs were still extremely tough on defense. The problems were on the offensive side of the ball, and while Trevone Boykin did a commendable job in a tough situation last year, Casey Pachall is back this year. That alone will make the TCU offense better in 2013, and if the Frogs can find the end zone more consistently than they did in 2012 -- this is a team that averaged between 38 and 41 points per game the previous three seasons -- it's going to lead to more wins.

4. Oklahoma State: We know Oklahoma State is going to put up a ton of points because that's what Oklahoma State does. The key will be whether or not the Cowboys perform on defense. The Cowboys were actually strong on defense last year -- their 5.3 yards allowed per play trailed only TCU in the Big 12 -- but the problem was turnovers. More specifically, a lack of them. In 2011 the Cowboys defense forced 44 turnovers and finished the season with a turnover margin of +21. In 2012, they forced 22 turnovers and had a turnover margin of zero. If the Cowboys defense can find a middle ground there on defense they could easily win this conference. They have the offense and a somewhat favorable schedule.

5. Baylor: I love the Baylor offense, and even with a new quarterback, three new starters on the offensive line and the loss of Terrance Williams, it will be just fine. But I just can't put Baylor any higher than fifth until it improves on defense. The only Big 12 defenses that were worse than Baylor's last season were Kansas and West Virginia. In a conference filled with spectacular offenses, at the end of the day it's going to be the team with the best defense that wins out. Of the top five teams in this conference Baylor's defense is easily the worst, and thus I put them here.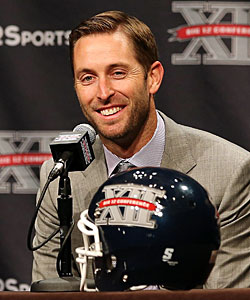 6. Texas Tech: I'm excited to see what Kliff Kingsbury can do in his return to Lubbock, and while I don't see the Red Raiders turning things around right away, I think we'll definitely see signs that the program is back on the right track in 2013. They're going to score points, and with eight players back on defense -- including the entire front seven -- I think there will be enough improvement in the unit to warrant a sixth place finish.

7. Kansas State: I love Bill Snyder. I think the man is magic, but I just don't think the man has enough magic left to keep this Kansas State team in the top half of the Big 12 this year. The Wildcats have only two returning starters from a defense that was one of the best in the conference last year. And then there's the fact QB Collin Klein is gone. As all Snyder teams, the Wildcats will not be getting embarrassed in 2013, but there just won't be enough wins.

8. West Virginia: I think the Mountaineers we see in 2013 will more closely resemble the team we saw finish out the 2012 season, not the team we saw crush Clemson in the Orange Bowl and start last season at 5-0. West Virginia has only three returning starters on offense, and ten overall. Guys like Geno Smith, Tavon Austin, and Stedman Bailey can't just be replaced by anybody, so I don't see this offense being good enough to make up for a defense that was absolutely abysmal last year. Nor do I see the defense improving enough to make up for the offense. A bowl berth is possible, but I'm not optimistic about it.

9. Iowa State: I'm sure Iowa State will pull off an unexpected upset at some point during the season, and I'm also sure that it will be the highlight of the 2013 season for the Cyclones. Iowa State has nine returning starters from a team that really wasn't all that good last season, and it also has six road games against Tulsa, Texas Tech, Baylor, Kansas State, Oklahoma and West Virginia. I don't see a winnable game in that bunch, which means the Cyclones would have to go unbeaten in Ames to get to a bowl game, and with Texas, Oklahoma State and TCU amongst the teams they're hosting in 2013, I just don't see it happening.

10. Kansas: Listen, if Charlie Weis is willing to call his team a "pile of crap" I don't see why I should have to explain why I think that "pile of crap" will be finishing last in the conference. Frankly the goal in Lawrence this season should be to win a Big 12 game and move forward from there.
Trust the Process as Tom Fornelli leads you toward his best bets for Week 13 of the season

This edition of the sport's greatest rivalry will go down in history as one of the most im...

Dennis Dodd makes his prognostications for the last and most important week of the regular...
Kelly is presently deciding whether to start anew with the Gators or Bruins

There are a handful of conference championship games still to be determined

SportsLine's top college football expert, on a 30-18 run, locks in his top picks for a loaded...