3 to Watch: The 'A-Rod is back (and needed)' edition
Joey Votto and Alex Rodriguez are both due off the disabled list this week, possibly both on Monday. When they were hurt in July, Votto's injury seemed a lot more devastating to the Reds than A-Rod's was to the Yankees. But as 3 to Watch points out, the Reds have thrived without Votto, while the Yankees have had some trouble without A-Rod.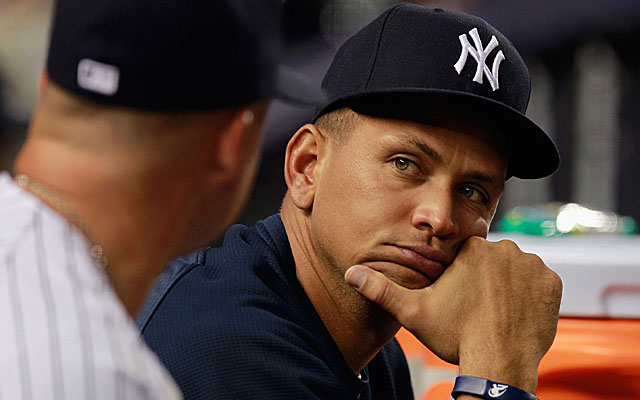 Alex Rodriguez was only somewhat productive this season before he broke his left hand.
(Getty Images)
When he went on the disabled list in mid-July, Joey Votto was an MVP candidate.

When he went on the DL a week later, Alex Rodriguez was a candidate for most uninspiring season by a guy making $30 million.

As Votto returns to the Reds, possibly as soon as Tuesday, we've learned that the Reds weren't leaning on him nearly as much as we thought. They've played so well without him that the next time they'll really need him is when the playoffs begin next month.

As Rodriguez returns to the Yankees, likely on Monday, we've learned that the Yankees need him more than we thought. While their spot in the playoffs isn't yet in real danger, their grasp on the American League East lead sure is.

In 47 games without Votto, the Reds have gone 32-15 and have upped their lead in the National League Central from one game then to 9 1/2 games now.

In 36 games without A-Rod, the Yankees have gone 18-18 and have seen their American League East lead go from seven games down to two.

Does that make Rodriguez more valuable? No, obviously not. The AL East is a lot tougher than the NL Central, and the Yankees have been dragged down just as much by other injuries (Mark Teixeira and now Curtis Granderson) and by pitching issues.

But even if he's not more valuable or most valuable, we've all been reminded that Rodriguez is valuable.

"We can use his bat, that's for sure," Yankees manager Joe Girardi said Sunday, when he announced A-Rod's return. "We need him to be productive."

Rodriguez was only somewhat productive in the four months before he was hit by a Felix Hernandez fastball and broke a bone in his left hand. He ranks 68th in OPS among major leaguers with at least 350 plate appearances (Votto ranks first), and he's just 78th in slugging percentage (Votto ranks third).

In the time Rodriguez has been out, in fact, primary third baseman Eric Chavez has had a .936 OPS, considerably better than A-Rod's .806.

It's not that simple, of course. Chavez played often even when Rodriguez was in the lineup. And Chavez bats left-handed, so the Yankees have still been short a big right-handed bat in the middle of their lineup.

The Yankees can use him, as Girardi said, particularly in this crucial week. The Yankees go on the road for three games with the Rays (who are 3 1/2 games back), followed by four with the Orioles (who are two back).

"Absolutely, no doubt we can catch the Yankees," Rays manager Joe Maddon told reporters Sunday.

At this point, no one is saying that about the Reds.

On to 3 to Watch:

1. With 28 games remaining last year, the Rays trailed the Red Sox by nine games and the Yankees by 8 1/2, and there was only one wild-card spot to be won. With 28 games left this year, they're 3 1/2 behind the Yankees and 1 1/2 behind the Orioles, who currently hold the second of two wild-card spots. In Game 135 last year, James Shields pitched eight shutout innings to beat the Rangers. In Game 135 this year, Shields will face CC Sabathia in Yankees at Rays, Monday afternoon (1:10 ET) at Tropicana Field. Matchups between Shields and Sabathia tend to be good ones. The Rays have won three of the last four meetings, by scores of 3-0, 2-1 and 7-6 (with two ninth-inning runs off Mariano Rivera). The Yankees won the other game 1-0.

2. The Reds are the only division leader with no real need to check out the standings, unless it's to calculate their magic number for clinching (which now stands at 19). They do have other things to think about, including whether Johnny Cueto or Aroldis Chapman might become the first Reds pitcher to ever win a Cy Young Award. Cueto could become the first 18-game winner in the big leagues when he starts in Phillies at Reds, Monday afternoon (1:10 ET) at Great American Ballpark. This should be the Reds' final game before Votto returns. The team announced Sunday night that he will play for Triple-A Louisville on Monday, in the Bats' final game of the season.

3. The Angels were supposed to be pointing towards their September series with the Rangers. Now it turns out the big race they're in is the wild-card race and the big series are the ones with the A's, including the one that concludes with Angels at A's, Wednesday afternoon (3:35 ET) at the Coliseum. Dan Haren gets a third chance to become the fourth ex-A's pitcher to beat the A's this year. Haren is 0-1 with a no-decision in his two starts, but the A's have lost to Trevor Cahill, Vin Mazzaro and Barry Zito.
Granderson heads north of the border for his age-37 season

What did the Pirates get in return for their franchise player?

Rivero could remain in Pittsburgh for some time to come
The White Sox, Angels, Athletics, Orioles and Marlins are the holdouts after Blue Jays fol...

The Pirates have several attractive trade chips if they decide to go into a full rebuild

Gerrit Cole was traded over the weekend and now McCutchen is on the move