A-Rod blasts MLB on Mike Francesa show, denies PED use
Alex Rodriguez made an impromptu radio appearance on WFAN Wednesday and it was full of fireworks -- including A-Rod saying Bud Selig hates his guts.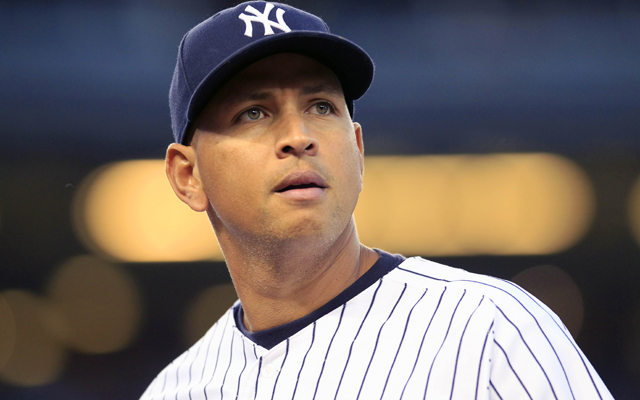 More: A-Rod leaves appeal hearing, calls the system a 'farce'
Embattled Yankees third baseman Alex Rodriguez unexpectedly showed up in Mike Francesa's studio in New York, hours after angrily walking out of his appeals hearing, and blasted MLB and Bud Selig on Francesa's show on WFAN, a CBS Sports Radio station:
A-Rod interview on WFAN

Now let's recap the highlights during the 40-minute interview:
•A-Rod said that he's done with the arbitration process unless commissioner Bud Selig shows up. He's extra angry that he missed his 9-year-old daughter's birthday Monday to be in the courtroom while Selig has refused to show up. 
•Here's the major bombshell: A-Rod vehemently denies any wrongdoing in the case, including saying that he's not used PEDs at all since 2003. He also denies having leaked documents about Ryan Braun to Yahoo Sports, calling that accusation by MLB "laughable" and "disgusting." Finally, he denies any obstructing of justice during the course of this case, one of the several reasons given by Major League Baseball to give Rodriguez the biggest drug-related suspension of all-time. 
•A-Rod's attorney said that if Selig does show up, Rodriguez will take the stand and testify Friday.
•MLB COO Rob Manfred told A-Rod that Selig not being there wasn't his decision, according to A-Rod -- meaning it's Selig's own decision to refuse to show up and implying Manfred isn't necessarily defending Selig.
•Biogenesis founder Anthony Bosch is "making a mockery of baseball" and working on a book deal, per A-Rod. 
•A-Rod says that he's offered to meet in a coffee shop and discuss things with both Selig and Manfred "man to man" and the reply from each was "we don't want to see you." He says he was advised to take an attorney to the proposed meetings, but he declined because he just wanted to discuss things as grown ups. 
•A-Rod also noted that "if it wasn't for my attorneys holding me back," he would have spoken out against MLB's treatment of him long ago. 
•"There's a lot of people that don't like me," A-Rod said, in a moment of honesty. "I get it. I get it. People come up to me in the streets, saying 'I hate your guts, but you're getting railroaded.'" 
•Rodriguez's attorney believes that arbitrator Fredric Horowitz should have already ruled in favor of A-Rod, due to the MLB attorneys not having any evidence other than the word of Bosch, who is desperate to save face.
•Rodriguez says he's "taking one fight at a time" when asked about if he's able to return to the Yankees. He did point out that New York City is his home and he loves playing in front of the Yankees fans. He also says the fans have been incredibly welcoming.
•On the flip-side, A-Rod point blank said he is angry with the Yankees, but that his job is to play third base for the Yankees and he takes his job seriously.
•Regarding walking out on the proceedings, A-Rod said he has no regrets and he'd do it again under the same circumstances.
•MLB has claimed it has a significant amount of evidence tying A-Rod to PED use, which Rodriguez's attorney said is actually "nonexistent." 
•"The one question that I would have for the fans of baseball," Rodriguez said. "This has been a disgusting process for everyone. I'm more embarrassed than anyone to be on the front pages of the news. This is the game that I love more than anything. This is what I have my PHD in and I love it. I watch your show, I watch the Yankees, I watch the Mets, I watch the Dodgers. I'll be the 75-year-old watching three or four games a night. This is what I do, I live it."
(And now he gets to his question)
"If I had one year and $12 million left on my deal, would I have gotten 211 games?"
•As far as the lore that A-Rod signed a baseball with his phone number and flipped it to a girl in the crowd during the Tigers-Yankees ALCS last season, he said those rumors were a complete lie, noting that no one could get away with that without being caught on camera.
•A-Rod said his relationship with Bosch was for nutrition and weight loss and that he has "hundreds of emails that back me up 100 percent."
•And now, for the best nugget from the entire interview. On Selig, here is A-Rod:
"He hates my guts, there's no doubt about it. I don't think they like big salaries. One hundred percent it's personal. I think it's about his legacy and it's about my legacy. He's trying to destroy me and -- by the way -- he's retiring in 2014 and to put me on his big mantle on the way out, that's a helluva trophy."
There's now a crowded outfield in San Diego

The former Braves star served as a race official for the Daytona 500

He'd be a good fit in the Bronx, but can they make it work and still stay under the luxury...
The slugger had shoulder surgery in November

Tebow reported to spring training with Mets position players on Sunday

Santa Clara senior Jake Brodt did the honors Saturday