American League Central All-Star team
What American League Central players are having the best seasons as we near the All-Star break?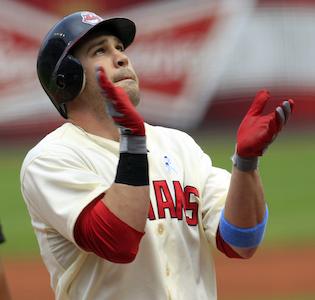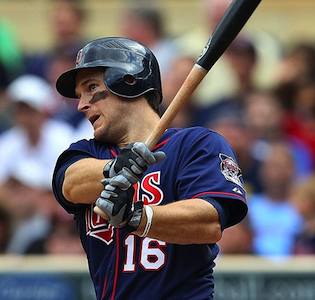 The Tigers were expected to run away with the American League Central, but they're behind both the White Sox and Indians in the standings -- that's just one of several surprises in the division. While we expected Paul Konerko and Justin Verlander on this list of the division's best players in the first half of the season, there are some names that pop up that we didn't think we'd see when talking about the division's best performers.

Catcher - Joe Mauer, Twins

With apologies to A.J. Pierzynski, who should be in Kansas City, Mauer has regained his standing as the American League's top backstop. Mauer's hitting .327/.415/.457 with five homers.

First base - Paul Konerko, White Sox

While Prince Fielder got the big bucks, Konerko continues to be one of the game's most consistent hitters. He's hitting .333/.410/.544 with 14 home runs. Though he's 36, it appears White Sox GM Kenny Williams made a wise choice before the 2011 season, signing Konerko through 2013.


Full All-Star Game coverage
Second base - Jason Kipnis, Indians

The second-year second baseman is living up to billing, not only putting up a .276/.341/.420 line, but also 11 homers and 20 stolen bases. A 20-20 season is a distinct possibility, but 30-30 could be in his future.

Shortstop - Asdrubal Cabrera, Indians

In a close pick over the Royals' Alcides Escobar, Cabrera's power and .370 on-base percentage set him apart from Escobar, who is superior defensively. Cabrera has 11 home runs and 138 OPS+ make him the league's premiere offensive shortstop.

Third base - Miguel Cabrera, Tigers

When you have a bat like Cabrera's, the glove isn't an issue. And even saying that, his defense at third hasn't been as bad as expected (although, expectations were so low, it'd be difficult for him -- or anyone -- to be that bad.) Cabrera is a hitting savant and this year is no different, as he's hitting .323/.385/.564 with 18 home runs and 68 RBI.

Left field - Josh Willingham, Twins

Kansas City's Alex Gordon has a slightly higher WAR because he is a better defender, but let's be honest, nobody's in left field for their defense. The Twins apparently got a steal in Willingham, who is hitting .269/.380/.545 with 18 home runs. While Target Field has intimidated many power hitters, Willingham's actually hitting for more power at home, putting up a .601 slugging percentage at Target Field, where he has hit 11 of his home runs.

Center field - Austin Jackson, Tigers

Jackson's bounced back from his sophomore slump in a big way, hitting .329/.410/.547 with nine homers. He's also cut down his strikeout rate and increased his walks, while continuing to play Gold Glove-caliber defense.

Right field - Alex Rios, White Sox

A comeback player of the year candidate, Rios' batting average is .090 higher in 2012 than it was in 2011, putting up a .317/.351/.515 line so far this season with 11 home runs. Last year at the break, he was hitting just .213/.262/.309.

Designated hitter - Adam Dunn, White Sox

Forget the .213 average and check out Dunn's other stats. He's doing what he's always done, walking a lot, striking out a lot and homering a lot. Two of those three things are good. Dunn has 25 homers and is getting on base at a .362 clip.

Starting pitcher - Justin Verlander, Tigers

His 9-5 record isn't exactly what's expected out of Verlander, but he still has an ERA of 2.58 and leads the American League in strikeouts (128), innings pitched (132 2/3) and compete games (five).

Starting pitcher - Chris Sale, White Sox

The White Sox lefty was jerked around by the team earlier in the season when he was briefly named the team's closer, but he has much more value in the rotation. His 2.19 ERA is second in the AL to Jered Weaver and he's tied for third in wins with 11.

Setup man - Vinnie Pestano, Indians

The hard-throwing right-hander has 38 strikeouts in 33 innings and has given up just seven runs, good for an ERA of 1.91 in 35 games.

Closer - Chris Perez, Indians

Perez seemingly makes more news with his mouth than his arm, and that's a shame, because he's been a very good closer for the Indians the last three years. His 23 saves are the third-most in the AL and most in the division. He has an ERA of 2.67 and is striking out more than a batter an inning -- 32 in 30 1/3 innings.
For more baseball news, rumors and analysis, follow @EyeOnBaseball on Twitter, subscribe to the RSS feed and "like" us on Facebook.
The lefty starter is coming off a terrible season

After acquiring Ian Kinsler and Zack Cozart in recent days, the Angels are trending upward

Cozart's coming off a big season as the Reds' shortstop
The veteran slugger spent the last eight seasons with Cleveland

The Padres may be poised for an active winter

Yes, Bryce Harper is going to make a lot of money next winter