Angels clinch first AL West championship since 2009
The Angels clinched their first AL West title since 2009 on Wednesday night.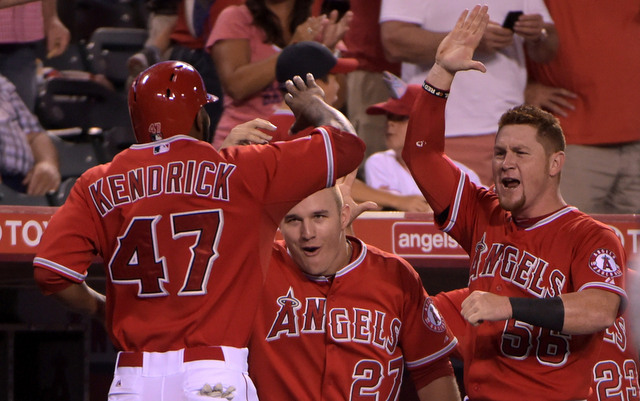 Thanks to their win over the Mariners (LAA 5, SEA 0) and the Athletics' loss to the Rangers (TEX 6, OAK 1), the Angels have clinched the AL West title. It is their first division title since the 2009 season.
The Angels, who have the best record in baseball at 95-57, clinched a postseason spot on Monday night. They were the first team to clinch a playoff berth this year. Their magic number to clinch the best record in baseball is just eight.
As late as August 10, the Angels were four games back of Oakland in the AL West. They have gone an MLB-best 27-8 since then and now lead the division by 11.5 games. That's a 15.5-game swing in the standings in a month and seven days. Remarkable.
The last division-winning Angels team was led by Vladimir Guerrero, Chone Figgins, John Lackey and Torii Hunter, among others. Yeah, it's been a while. The Halos have spent a lot of money and gone through a lot of disappointing seasons between AL West titles.
The Orioles and Nationals have already clinched the AL East and NL East titles, respectively. The AL Central, NL Central and NL West titles are still up for grabs.
deGrom is set to become a free agent after the 2020 season

Perkins missed most of the last two seasons due to injury

Jonathan Singleton was suspended after a third positive test for a drug of abuse
Rodriguez will join Jessica Mendoza and Matt Vasgersian on the "Sunday Night Baseball" boo...

Jeff Wilpon talked about payroll on Tuesday, and it won't make any Mets fan happy

Yelich's agent recently asked the Marlins to trade him before the spring