Baseball's best batteries by division
In honor of pitchers and catchers reporting on Sunday, the Eye on Baseball team ranks the best pitcher-catcher combinations in each division.
by

Eye on Baseball staff

• 5 min read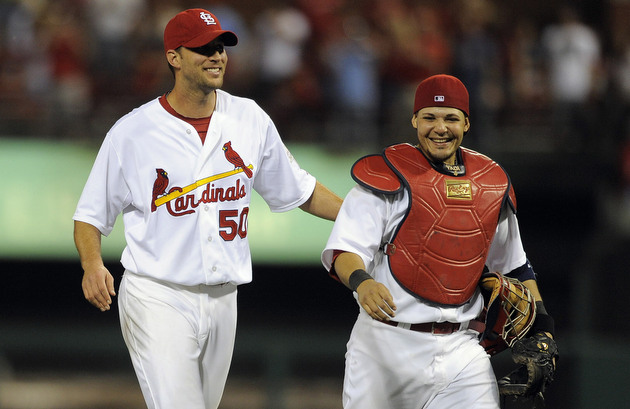 Adam Wainwright and Yadier Molina of the Cardinals. (US Presswire)
The offseason is over. Pitchers and catchers for four teams -- the Cubs, Indians, Red Sox and Rockies -- are due to report Sunday, meaning spring training is officially underway. Pitchers and catchers for all 30 clubs will report to their complexes across Florida and Arizona by Wednesday, and position players will follow suit next week. The first exhibition games are less than two weeks away.
In honor of pitchers and catchers reporting for duty, the three of us at Eye on Baseball decided to rank the best batteries in the game. A battery, of course, is a pitcher and catcher combination. Hall of Famer left-hander Whitey Ford and Hall of Fame catcher Yogi Berra formed arguably the best battery in baseball history for the 1953-63 Yankees.
Rather than rank the current batteries 1-5 or 1-10 or something like that, we instead listed the best battery in each of the six divisions, plus one honorable mention. Some are obvious, some far less so. With all due respect to great relievers like Craig Kimbrel and Greg Holland, we limited our rankings to starting pitchers only. -- Mike Axisa
Outside of Matt Wieters (Orioles), the AL East features a whole bunch of one-dimensional catchers. Chris Stewart (Yankees) and Jose Molina (Rays) are no-hit, all-glove types while Jarrod Saltalamacchia (Red Sox) and the 27-year-old Arencibia derive almost all of their value from the long ball.
I'm an offense-over-defense guy, so I'll take the Blue Jays' battery of 15-plus homers and the reigning NL Cy Young Award winner over every other combination in the division. It remains to be seen if Dickey, a 38-year-old knuckleballer, will carry his success over to the tougher league, but I am a big believer and don't expect there to be much of an issue. Honorable Mention: David Price & Molina -- Axisa
Verlander, the Detroit ace, is arguably the best pitcher on the planet (AL MVP in 2011, AL Cy Young runner-up in 2012), and while there are concerns about his heavy usage to date, he's still in what should be his prime seasons. Don't be surprised if once again he offers up a sub-3.00 ERA to go with an innings total that's near the top of the league. He's the best pitcher in the division, at the very least.
As for Avila, the 26-year-old owns a career OPS+ of 114, and in each of the last two seasons he ranked in the AL top five for games caught and assists as a catcher. Yes, Joe Mauer is the best all-around backstop in the AL Central, but there's no Minnesota suitable hurler with which to pair him. Honorable Mention: James Shields & Salvador Perez -- Dayn Perry
It's now a five-team division with the addition of the Astros. Of course, we can pretty easily ignore them in this exercise, as the Mariners went 75-87 last season, appear improved and are still the fourth-best team here.
This was a real tough choice with five duos I strongly considered. It was temping to go with Felix Hernandez and Jesus Montero, just because King Felix is so awesome. Then again, Montero is a terrible defender and had an on-base percentage south of .300 last season. Jered Weaver and Chris Iannetta was tempting, too, as was the soon-to-be-woefully underrated Jarrod Parker-John Jaso combo.
In the end, though, with the help of many factors (including Baseball-Reference.com's WAR, in which Harrison-Pierzynski had the highest combined total), I've arrived at this Rangers battery over Yu Darvish-Pierzynski by a nose. Harrison went 18-11 with a 3.29 ERA in 213 1/3 innings. He sports a 134 ERA+ in the past two seasons in 399 total innings. Pierzynski, in addition to being a trusted backstop for his pitchers, hit .278/.326/.501 with 27 homers last season. Honorable Mention: Parker & Jaso -- Matt Snyder
The NL East is home to some very good catchers, but they all carry some kind of question mark. Ramos, 25, played just 25 games for Washington last season before blowing out his knee. Carlos Ruiz (Phillies) posted a 149 OPS+ in 2012 but will open 2013 serving a 25-game suspension for amphetamines. Brian McCann (Braves) has been one of the best catchers in baseball for a half-decade now, but he is coming off shoulder surgery.
On the mound, the 24-year-old Strasburg will presumably be turned loose this coming season. That means close to 200 innings of ace-caliber production rather than just 160 or so. Ramos is a year removed from 15 homers and a 113 OPS+. There are several great batteries in the NL East, but I'm taking the Nationals' young duo over all of them. Honorable Mention: Cole Hamels & Ruiz -- Axisa
Molina is easily the best catcher in the division (and the most complete catcher in all of baseball). His offense has reached new heights over the last two seasons, and his defense is peerless. Handling pitchers, framing pitches, throwing out runners, blocking balls in the dirt, fielding batted balls -- Molina does it all behind the plate.
As for Wainwright, he's coming off a season for the Cardinals that was below his usual high standards (3.94 ERA, which was exactly the NL average in 2012), but it was also his comeback campaign after undergoing Tommy John surgery. Wainwright is not a velocity-reliant pitcher, and that kind of pitcher tends to need more time to rediscover his skills post-TJ. Expect Wainwright to be closer to his vintage self in 2013. Honorable Mention: Johnny Cueto & Ryan Hanigan -- Perry
The NL West is loaded with pitching, with studs like Clayton Kershaw, Zack Greinke, Cain, Madison Bumgarner, Ian Kennedy and more. The division has some good catchers as well, with former All-Star Miguel Montero and youngsters Yasmani Grandal and Wilin Rosario.
In the end, though, this choice was actually fairly easy. While Kershaw is the best pitcher in the division, Cain isn't that far behind and he's teamed with the NL MVP in Posey, who hit .336/.408/.549 with 24 homers, 103 RBI and a ridiculous 172 OPS+ last season. Cain went 16-5 with a 2.79 ERA and finished sixth in Cy Young voting. The Giants went on to win their second World Series title in three years. The scary part? Posey is still only 25. Honorable Mention: Kennedy & Montero -- Snyder
---
Any kind of ranking like this is sure to spark some debate, so who are your top batteries in each division? Tell us in the comments or through the social media links below.
For more baseball news, rumors and analysis, follow @EyeOnBaseball on Twitter, subscribe to the RSS feed and "like" us on Facebook. Also, individually interact with us on Twitter: @MattSnyder27, @daynperry and @mikeaxisa.

The Nats will host the All-Star Game in 2018

The Orioles are looking to trade Machado heading into his walk year

The Cardinals have been linked for a while to the Baltimore star
Gallardo spent the first eight years of his career in Milwaukee

MLB revenues are at a record high right now, but teams aren't spending it on players

Chicago added Tyler Chatwood earlier this offseason but might not be done adding to the ro...