Bobby Valentine sends in a pinch-hitter with a 2-2 count
Red Sox manager Bobby Valentine replaced shortstop Jose Iglesias with a 2-2 count and two outs in the seventh inning on Sunday. His pinch-hitter, Daniel Nava, grounded out to end the inning. The Red Sox went on to lose, 5-0.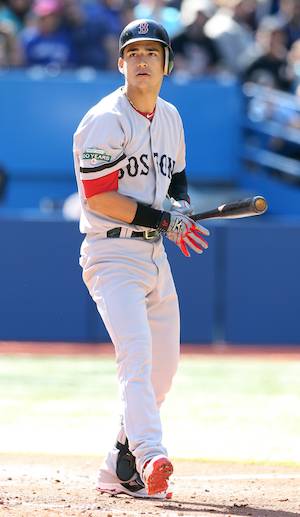 Jose Iglesias has two hits in 39 plate appearances this season. (Getty Images)
Bobby Valentine added another chapter to his strange season on Sunday when he pinch-hit for rookie shortstop Jose Iglesias with a 2-2 count in the seventh inning of the team's 5-0 loss to the Blue Jays.
At the time, the game was scoreless and the Red Sox had a man on first with two outs. After Pedro Ciriaco stole second, Valentine replaced Iglesias with pinch hitter Daniel Nava.
Entering the game with the 2-2 count, Nava grounded out to end the inning.
"Just trying to get a run for Jon [Lester], obviously," Valentine told reporters (via the Boston Herald). "[I] told Daniel if he steals second, you've got it. Otherwise, I was all set to play defense. I was pinch-hit for with the bases loaded, 3-2 count, and it didn't ruin my confidence. I talked to him. He'll get over it. He said, 'Whatever's right for the team.' "
Valentine was asked if he thought it would hurt Iglesias' confidence. Iglesias, a smooth-fielding shortstop, has only two hits in 28 at-bats (.071) in 26 games for the Red Sox.
"He's gotten one hit so far. He'll have an opportunity to get some hits. It's not kindergarten here," Valentine said (again, from the Herald). "You don't think it was a good decision. So what? I think it was the right thing to do to try to win a game for a [pitcher] who's busting his butt out there."
Iglesias told reporters, including the Herald, what he has to say in that situation, "It's pretty unusual, but he made a decision. He tried to do what's best for the team, and I respect that decision."
The move backfired, but that's not the curious thing here. Pinch-hitting is hard enough as it is, but sending a batter up with a 2-2 count makes it even more difficult. Iglesias is expected by many to be the Red Sox shortstop of the future, so it'd be nice to see how he can react to these kinds of situations. And then there's the fact that, with the loss, the Red Sox are 66-81. For teams like the Red Sox -- and the Blue Jays -- these games are for taking inventory and giving a chance to some younger players. That's what should be important. Iglesias is right; it should be "whatever's right for the team." Instead, it's all about Bobby V -- again.
For more baseball news, rumors and analysis, follow @EyeOnBaseball on Twitter, subscribe to the RSS feed and "like" us on Facebook.
The Red Sox and Cardinals are expected to make trade offers next

The free agent first baseman may be a fit in St. Louis

The front office changes in Atlanta continue
The Marlins are more likely than you think on our list

Judge finished a distant second in the balloting and he paid respect to the winner

Stanton just won the 2017 NL MVP award but could wind up being dealt this offseason