Braves acquire Ryan Doumit from Twins for Sean Gilmartin
The Braves have bolstered their bench by acquiring switch-hitting catcher/outfielder Ryan Doumit from the Twins for a pitching prospect.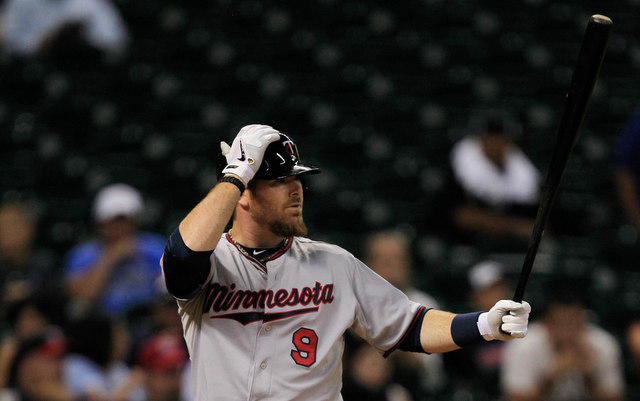 MORE: FA tracker: position players | FA tracker: pitchers
The Braves have acquired catcher/outfielder Ryan Doumit from the Twins for left-handed pitching prospect Sean Gilmartin, the Twins announced. It's a one-for-one trade.
Doumit, 32, hit .247/.314/.396 (96 OPS+) with 14 home runs in 135 games for Minnesota this past season. He's a switch-hitter who has been more effective against righties (104 OPS+) than lefties (89 OPS+) throughout his career.
Atlanta lost Brian McCann to free agency this winter, so Doumit gives the club some depth behind the plate alongside Evan Gattis and Gerald Laird. Doumit also has plenty of experience in right field and some at first base as well.
Gilmartin, 23, was the 28th overall pick in the 2011 draft. He had shoulder problems and really struggled in 2013 -- 5.06 ERA and 1.43 WHIP in 105 innings at three minor league levels, including Triple-A -- but was recently named the Braves' tenth best prospect by Baseball America.
"Gilmartin is a finesse pitcher who knows how to set up hitters and pitch to his strengths," wrote the publication in its subscriber-only write-up, noting he projects as a No. 4 starter "His fastball has good movement while sitting in the 89-91 mph range, and he mixes it well with a plus changeup and a low-80s slider with a sharp, late break."
With Joe Mauer moving to first base full-time next season, the Twins have interest in free agent catchers Kurt Suzuki and John Buck, according to Ken Rosenthal of Fox Sports. The team currently has three young catchers (Chris Hermann, Eric Fryer, Josmil Pinto) on the 40-man roster and could use a veteran caddy.