Bud Selig's legacy: The most innovative, creative 'hayseed' ever
Bud Selig proved a lot of folks wrong in his two decades as baseball commissioner.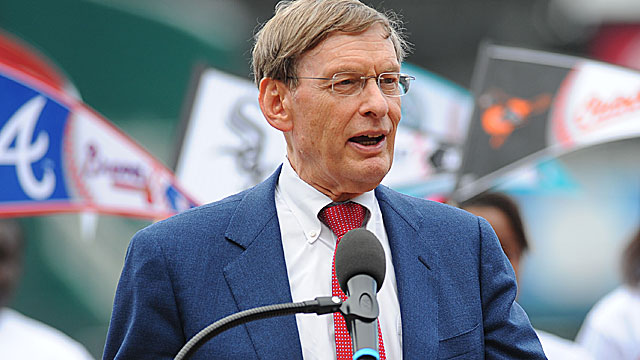 Bud Selig didn't turn out how everyone figured he would.
He was always painted as the poorest owner when he ran the Brewers, and as the son of a Milwaukee car dealer, it's easy to imagine he probably was. Yet, commissioner Bud Selig managed to guide Major League Baseball through more than two decades of incredible and increasing prosperity.
Selig has been portrayed by some as something of a hayseed, possibly due to his easygoing manner, his 1960s style haircut or his reluctance to leave Milwaukee to work in MLB's home office in New York. But under him, MLB's revenues increased by six times in 21 years, from $1.2 billion in 1992 to $7.5 billion this year, and franchise values skyrocketed even more than that, with the Dodgers setting an all-sport record sale price of $2.15 billion in 2012, an amazing four-fold increase from only seven years before.
Selig was not very electronically inclined. He is said to still have the newspaper and Internet clips faxed to him, and Scott Miller claimed in his expansive Selig feature a couple months ago that there wasn't even a computer on the desk in his 30th-floor office overlooking Lake Michigan. Yet, MLB Advanced Media (BAM), which comprises MLB.com, the most successful league-run Internet operation, and gleaming MLB Network (disclaimer: I work there), would suggest something else.
Some might say Bud Selig is lucky. But his luck, if it is that, has been running nearly 80 years.
That's quite a number, and friends suggest that is one of the reasons he is sticking to his retirement pledge this time, formally announcing this afternoon that he will be retiring after the 2014 season, technically effective in January 2015. He's seen some of his contemporaries pass on recently, including one of the original Brewers investors, Edmund Fitzgerald, the son of a Milwaukee businessman and namesake of the ill-fated ship, who died this month at 87.
More than the half of Selig's very full life has been spent in baseball, with more than a quarter as commissioner, and that last part has been jam-packed with all sorts of change in the game he grew up with, all at his behest. Every year, there seems to be some new wrinkle, and nothing to do with the countenance of Selig, who still looks and acts almost as he did as the very loquacious spirited owner of the small-town, small-market Milwaukee Brewers.
He was the guy who'd march through the press box to bend your ear about some double play that wasn't made two weeks ago or joke about his team's uneven fortunes. Still is that very fellow.
He was the everyman who happened to own a baseball team, such as it was.
Selig is a man of habit. He still uses the same barber he has for decades, I assume. He still gulps down Diet Cokes like there's no tomorrow, and he wouldn't do lunch anywhere but Gilles custard shop up on Bluemound Road, if given the chance. And yet, MLB is a whole new ballgame, and that is his legacy.
There has been debate aplenty over all the on-field changes, though the dissent is down almost to a whisper on most of the game alterations, including the revised playoff format, realigned divisions and interleague play. The biggest change quite likely regarded a negotiation that occurred not too long after he was appointed to replace the deposed Fay Vincent, who replaced Selig's great friend Bart Giamatti; that was the introduction of a luxury tax and revenue sharing plan that allowed the small-market teams like Selig's old Brewers and many others to compete. The playing field still wasn't perfectly level, but it was a lot closer to the ideal.
Baseball has enjoyed incredible popularity, prosperity and peace during Selig's tenure. The top 10 seasons in terms of attendance are the past 10. The game is flush with cash (even if not every last owner or GM will admit it) and labor peace will be in his 22nd year by the time the current CBA expires in 2016.
No one around in the mid-1990s would have believed there wouldn't be any sort of work stoppage for more than two decades (and the changing union deserves some credit for that). That first agreement back in November 1996 sure took awhile, but it was worth the hardship endured.
The new rules set baseball on the road to much better competitive balance (nine teams have won the World Series in the past 12 years, and 26 of 30 teams have made the playoffs in the past decade). That is a big change for baseball in an era filled with overhaul.
The Diet Coke-and-hot-dog devourer oversaw all sorts of progress, innovation and creativity. Interleague play was introduced. The wild-card format was introduced and recently expanded. The leagues were realigned.
Of course, there was some disappointment and controversy, and that has to be included in any story about his or any legacy. That 1994 World Series was canceled. While more than 20 new stadiums have been built (and about 18½ of them are fabulous, rough estimate) the less-than-good situations and Oakland and Tampa Bay are still pending. And folks can question whether he was slow to react to the steroid situation, the stickiest of all because the record books are likely soiled. (It's also fair to wonder whether we all were slow.)
No one understood the PED issue as it was happening, and Selig wound up instituting the biggest, toughest drug program in all of sports, one with 50-game penalties (which appear likely to be bumped up to 100 next year) and HGH blood testing, and going to great lengths (and Miami over and over) to root out the latest offenders, even if they include a former favorite of his from Milwaukee.
If anyone understands about legacies and history, it is Selig. And while he might call you to disagree or debate something he noticed on one of his faxed printouts, in the end, Selig got it even if outsiders didn't always see it. He also had a lot thicker skin than you could imagine. He didn't hold grudges, which allowed him to get along with all sorts of egos, billionaires and non-billionaires.
A history buff who has been expected to teach courses on the subject at his alma mater, the University of Wisconsin, Selig quickly showed his understanding of the greatest moment in the history of his sport, honoring Jackie Robinson's legacy with a great and memorable Jackie Robinson Day, April 1997, on the 50th anniversary of Robinson's debut with the Dodgers. Selig retired the No. 42 for all baseball teams that day, and as a nice touch, the iconic Mariano Rivera, the last of the players grandfathered in to keep wearing it, finally hanging up the final 42 this weekend.
Selig will go out after one more full season, and it's fair to wonder now how anyone could accomplish so much while needing the agreement of 30 very divergent owners. And the reason goes right to Bud Selig's name. Bud. His mother early on correctly identified Buddy as a fitting moniker for Allan H. Selig, a friend to everyone. Who else to get 30 self-interested owners to sign off on so much? Only Buddy.
First baseman Justin Bour will visit the baseball team this week as well

Jesus Luzardo was supposed to work out at his old high school the day of the shooting

Here's what to know about the announced rule changes for 2018
Tillman joins Andrew Cashner as recent Orioles pickups

Keep tabs on the top 50 free agents right here

Straily says he is motivated by his former teammates' trade requests