Comparing Masahiro Tanaka to some past NPB exports
How did Masahiro Tanaka's last three seasons in NPB compare to those of Yu Darvish, Hisashi Iwakuma, Dice-K and even the likes of Igawa and Irabu? Unbelievably great.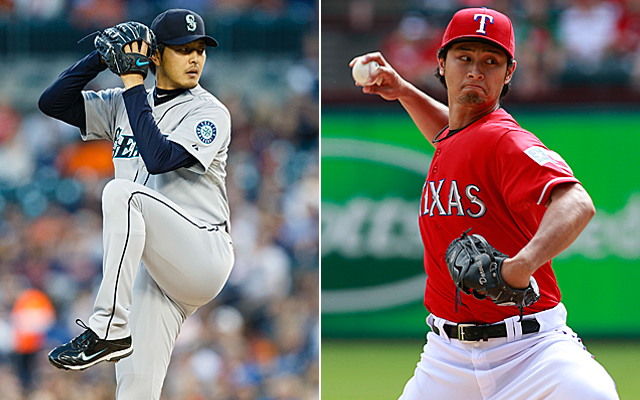 MORE: FA tracker: position players | FA tracker: pitchers
Japanese phenom Masahiro Tanaka has signed with the New York Yankees.
True to form, a deluge of commenters are already comparing Tanaka to past pitchers who came to the majors by way of Nippon Professional Baseball, most notably busts for the Yankees in Kei Igawa and Hideki Irabu.
Just for the sake of comparison, below are two charts comparing Tanaka to an assortment of NPB exports, including the aforementioned Yankees busts. 
Hint: Tanaka is a rock star compared to most pitchers who come from Nippon Professional Baseball.
Here are the combined numbers for the last three seasons in NPB before coming to MLB from Tanaka and other prominent pitching names from the recent past.
Last 3 years in NPB before coming to MLB
Name
W-L
ERA
WHIP
K
IP
Masahiro Tanaka
53-9
1.44
0.94
593
611.1
Yu Darvish
45-19
1.64
0.91
665
616
Hisashi Iwakuma
29-23
2.87
1.16
364
489
Daisuke Matsuzaka
41-24
2.40
1.03
553
547.1
Kei Igawa
41-29
3.50
1.26
567
581.2
Hideki Irabu
38-27
2.68
1.16
645
567.2
And the three-year averages, obviously rounded to the nearest number when needed:
Last 3 years in NPB before coming to MLB, average season
Name
W-L
ERA
WHIP
K
IP
Masahiro Tanaka
18-3
1.44
0.94
194
203.2
Yu Darvish
15-6
1.64
0.91
222
205.1
Hisashi Iwakuma
10-8
2.87
1.16
121
163
Daisuke Matsuzaka
14-8
2.40
1.03
184
182.1
Kei Igawa
14-10
3.50
1.26
189
194
Hideki Irabu
13-9
2.68
1.16
215
189.1
Only Darvish is really comparable, and he just finished ninth and then second in AL Cy Young voting in his first two seasons. It's worth noting that Tanaka is the youngest of the bunch in terms of when the jump to MLB was made (by a few months over Darvish).
Also, Baseball America's Ben Badler put together an excellent scouting report on Tanaka, including some GIFs of his better pitches. Like this splitter:
The splitter sits between 85 and 90 and, as can be seen above, falls off the proverbial table.
We can never be sure -- as it's a big transition to come to the majors for anyone, let alone someone leaving his home country -- but everything we know about Tanaka points to sustained success in the majors. If you even think about comparing him to Irabu or Igawa, hopefully the above charts will help you make a better argument, because Tanaka's work is substantially better than the work Igawa and Irabu did.
Tanaka might fail. He might not. Time will tell. One thing is for sure, though: His track record in NPB is as good anything we've ever seen come to MLB from Japan.
Wright was arrested at his home Friday

The former Tigers teammates were voted into Cooperstown by the 16-person Modern Era Commit...

The Yankees still have room for a good-sized signing even after Saturday's trade with Miam...
St. Louis gets some much needed help for their bullpen

Keep tabs on the top 50 free agents right here

Morrow thrived with the Dodgers last season