Derek Jeter: 'I would've liked to have played with (Cano) longer'
Derek Jeter wanted to play a little longer with Robinson Cano, but that doesn't mean he was surprised his double play partner left the Yankees.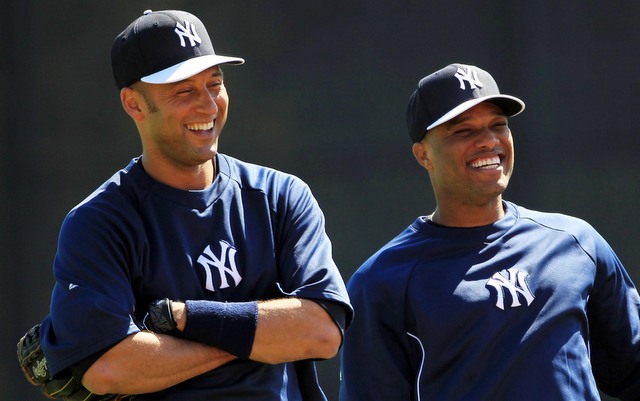 MORE: FA tracker: position players | FA tracker: pitchers | Winter Meetings updates
Derek Jeter knows a thing or two about huge money contracts, so it wasn't a surprise to him that long-time double play partner Robinson Cano left the Yankees when the Mariners plopped a ten-year contract offer in front of him.
"I learned a long time ago I'm not going to be surprised by anything," said Jeter to Mike Mazzeo of ESPN New York. "With Robbie, I played with him for nine years. He's the second baseman I've spent the longest time with, so I'm going to miss him a lot. We got pretty close throughout the years, but I understand it's a business. I wish him the best. Everyone knows how I feel about him as a player. I would've liked to have played with him longer, but it's a business and guys move on."
Despite wanting to play him with for another few years, Jeter said he did not reach out to Cano and try to convince him to stay in New York. The Yankees' final offer was seven years and $175 million while the Mariners landed him with $240 million across those ten years.
"I've never called anyone to try and convince them to come," added Jeter. "There's nothing to sell Robbie on or sell anyone on. I think you know what it is. I'm sure he had enough people in his ears. I speak with Robbie, I speak with him a lot, but I would never try to convince anyone ... Like I said, whatever reason, he's made his decision."
Am I the only one who thinks it's kinda weird that Jeter, the long-time Yankees captain, has never called anyone and tried to recruit them? I get that Cano already knows everything there is to know about the team, but that still seems weird. I guess the Yankees brand speaks for himself, and it's not like the team has had trouble landing free agents over the years. Weird.
The superstar slugger is eligible for free agency after next season

The veteran second baseman remains a useful regular

The Indians may be seeking a left-handed hitter in return
NBC Sports California has cut ties with the former A's slugger after a string of inappropriate...

Pineda figures to miss most of the 2018 season after undergoing Tommy John surgery

Keep tabs on the top 50 free agents right here