Flat Rangers enjoying April insurance plan
The Rangers landed here Friday night smack in the middle of their worst offensive funk of the season, and facing Jered Weaver on his home turf is about the last way you'd pick to escape that. ...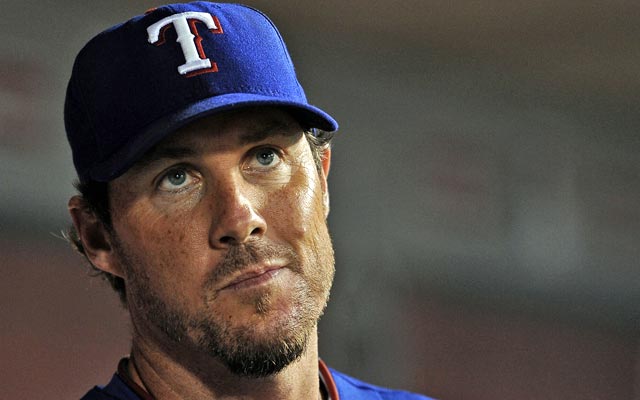 Joe Nathan's Rangers still have some room to play with in the AL West.
(US Presswire)
ANAHEIM, Calif. -- The Rangers landed here Friday night smack in the middle of their worst offensive funk of the season, and facing Jered Weaver on his home turf is about the last way you'd pick to escape that.

All Weaver had done this season at the Big A is go 6-0 with an 0.58 ERA. No American League pitcher since 1921 had produced a smaller ERA over his first seven home starts in a season, according to the math whizzes at Stats LLC.
More on Rangers-Angels
Related links

All the Rangers had done over the first five games of their latest West Coast trip was hit .226, thanks to the big ballparks and pitching in Oakland and Seattle.

"Felix threw one of the best games against us we've seen all year," Michael Young told me by way of defending his Rangers regarding that 7-0 whitewashing at the hands of Mariners ace Felix Hernandez last Saturday.

But here's the thing: Texas needs no defending.

Even in the Rangers' current malaise, especially after Friday night's 6-1 loss here, they still lead the Angels by five games in the AL West.

This isn't to say the race is over.

This is just a simple reminder that pennants can be won and lost in April as well as September.

As well as the Angels have played since installing Mike Trout and Mark Trumbo as regulars -- and each homered again Friday -- they've still got miles to go to prevent the Rangers from winning a third consecutive division title.

Where we stand with the July 31 trade deadline approaching is exactly where we stood at the end of April. With its 17-6 start and with Albert Pujols in the tank in Anaheim, Texas built a nine-game lead over Los Angeles by May 1.

Question then was: Even when the Angels figure things out, are they 10 games better than Texas from May 1 through October 1?

Question today is: Same as the original question.

The Angels have chopped away half of that margin, but it's taken nearly three months.

They've got just over two months left to gobble up the other half.

"That was very important," second baseman Ian Kinsler said of the Rangers' hot April. "Every game is worth something.

"You can win the division by one game, and who knows when that game is going to be played? It could be the first game of the season, or the last."

The Rangers weren't going to keep playing the .739 ball they played in April. Nobody could keep that up. You play at that clip over a full season, you finish 120-42. Even a mutant hardball version of the Harlem Globetrotters couldn't get away with that.

Regression, at some point, was inevitable. Key was, the Rangers amassed massive collateral. What they did in April was an insurance policy for a time when they'd skid to a .230 team batting average over a 14-game stretch -- like the 14 games into Friday.

Even so, the Rangers still led the majors in batting average (.270, down from .286) and hits (881) and ranked second in runs (459), on-base percentage (.340) and slugging percentage (.443).

Weaver, after surrendering a first-inning homer to Elvis Andrus, only contributed to the Rangers' drought. He was tough over 116 pitches and seven innings, grinding away on a hugely important night for the Angels.

Must-win? No, not yet. But with Ervin Santana and Dan Haren living below expectations and Jerome Williams still Jerome Williams, Weaver's starts are big nights. Especially against the Rangers.

"A lot of guys in here have yet to play their best baseball," Young said.

Hamilton did during that extraordinary stretch in May. But lately, he's on an extended run of looking strikingly human. Over his past 49 games, he's hitting just .222, and over his past 10 games, it's even worse at .143. Young, Kinsler, Andrus, Mike Napoli (.223) ... the Rangers know there's more there.

Like his team, Hamilton put enough in the bank early to withstand the valleys. He still leads the majors in RBI (78) and is tied for first in homers (28).

But the T 'n T Angels of Trout and Trumbo will demand more from the Rangers before this is finished. It's a lot to ask from them, trying to make up for an entire lost month of April when the Angels stubbornly insisted on sticking with Vernon Wells and Bobby Abreu. But Trout and Trumbo have young legs and they've given the Angels a uniquely different look.

"Totally different" look, Rangers manager Ron Washington said. "He and Trumbo bring so much energy."

Trumbo's homer Friday was his team-leading 27th. His eight July homers lead the majors. Trout now has scored in 12 consecutive games, third-longest streak by a rookie in history, according to Stats LLC. Only Jake Powell (Washington Senators, 1935) and Don Lenhardt (St. Louis Browns, 1950), each of whom scored in 13 in a row, have exceeded Trout.

Since May 1, following the Angels' series-opening win Friday, Los Angeles is 43-28 and the Rangers are 38-31.

The cruelest month, indeed.

"They played great baseball in April," Angels manager Mike Scioscia said. "I don't know that we spotted them a lead. They played great. We could have played better and it could have been closer, but we didn't.

"You talk about Trout and the bullpen and Albert, what Trumbo's done ... as all of this started to come together and we saw our team come together, we've played closer to the potential we have.

"And I think there's still an upside to this team."

Is that upside six games better than the Rangers over the final 68 games?

"There's no better way to take a game off of the board than to play them and win," said Weaver, now 7-0 with an 0.68 ERA in eight home starts (and 8-0 with a 2.17 ERA career at home against the Rangers). "That's our mindset."
The lefty starter is coming off a terrible season

After acquiring Ian Kinsler and Zack Cozart in recent days, the Angels are trending upward

Cozart's coming off a big season as the Reds' shortstop
The veteran slugger spent the last eight seasons with Cleveland

The Padres may be poised for an active winter

Yes, Bryce Harper is going to make a lot of money next winter