MLB releases 2012 draft order
The Astros will have the first pick in the 2012 draft and four other teams (the Blue Jays, Cardinals, Brewers and Red Sox) will have two first-round picks.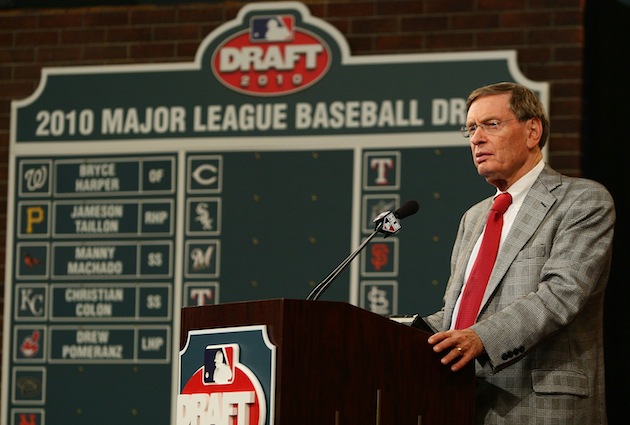 Major League Baseball officially announced the order for the 2012 draft -- as well as the four teams that will have two first-round picks. The
Blue Jays
,
Cardinals
,
Red Sox
and
Brewers
will have two picks in the first round, the Blue Jays because they were unable to sign last year's first-round pick Tyler Beede, the other three because they lost superstars -- Albert Pujols, Jonathan Papelbon and Prince Fielder, respectively.
Here's the complete list of the 31(because of the one extra pick for the Blue Jays) first-round picks:
1.
Astros
2.
Twins
3.
Mariners
4.
Orioles
5.
Royals
6.
Cubs
7.
Padres
8.
Pirates
9.
Marlins
10.
Rockies
11.
Athletics
12.
Mets
13.
White Sox
14.
Reds
15.
Indians
16.
Nationals
17. Blue Jays
18.
Dodgers
19. Cardinals (from
Angels
)
20.
Giants
21.
Braves
22. Blue Jays (compensation)
23. Cardinals
24. Red Sox
25.
Rays
26.
Diamondbacks
27. Brewers (from
Detroit
)
28. Brewers
29.
Rangers
30.
Yankees
31. Red Sox (from
Phillies
)
The first round of the draft will be held on Monday, June 4, along with the first compensation round. Rounds two through 15 will take place on June 5, while rounds 16 through 40 will take place on June 6.

Yelich's agent recently asked the Marlins to trade him before the spring

I've only been in the BBWAA three years, but here's what my ballot would've looked like this...

In the last two votes, Clemens has gained nearly 17 percent in Hall of Fame voting
The results of the BBWAA Hall of Fame vote are revealed Wednesday, Jan. 24

Does the Jackson signing mean the Giants are out on Lorenzo Cain?

Acuna edged out Shohei Ohtani and Vladimir Guerrero Jr.