National League East All-Star team
As we work through the divisional All-Star teams this week, here is our NL East All-Star team.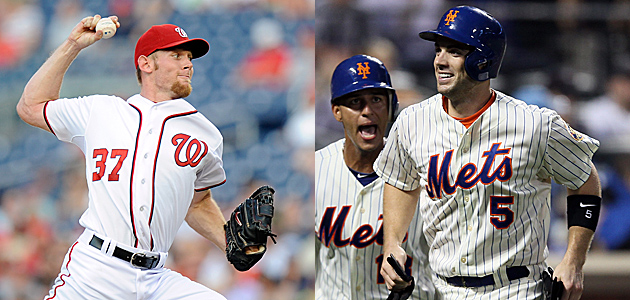 Just as we've already done with the AL East, here is our divisional team for the National League East. The Central divisions are coming Thursday and West divisions Friday.
Also, I'll reiterate that each individual major-league team is the sum of all its parts. Don't get caught up in counting the number of players listed here from each team and try to draw a conclusion, lest it be fallacious. Without further ado ...
Catcher - Carlos Ruiz , Philadelphia Phillies . Talk about a no-brainer. Ruiz is hitting .354/.418/.586 with 12 homers, 44 RBI, 39 runs and plays good defense.
First base - Adam LaRoche , Washington Nationals . He gets the nod over Freddie Freeman here with advantages in home runs, RBI, on-base percentage and slugging percentage. LaRoche's big first half helped to offset injuries to Michael Morse and Jayson Werth -- not to mention Ryan Zimmerman 's slow start.
Full All-Star Game coverage
Second base - Dan Uggla , Atlanta Braves . Pay attention to the low batting average if you want, but that's ignoring Uggla's high walk rate, which helps him to a nice .360 on-base percentage and 52 runs scored. The 11 homers tie Uggla with Aaron Hill for tops among NL second baseman.
Shortstop - Ian Desmond , Nationals. It's a relatively crowded field here, with Jimmy Rollins and Jose Reyes being the veterans who would've held down this spot for much of the past decade. Ruben Tejada may well have been named here if he hadn't been injured for all but 36 games, and Andrelton Simmons appears to be the real deal for Atlanta.  Desmond, though, is getting it done in every facet. He's stayed healthy and is hitting .279/.310/.494 with 14 homers, 45 RBI, 43 runs, eight stolen bases and plays very solid defense.
Third base - David Wright , New York Mets . He should be top five in NL MVP voting right now (probably second behind Joey Votto ), if it were held for the first half. So this is the easiest choice on the board, even if fans botched the vote and didn't start him in the real All-Star Game.
Right field - Giancarlo Stanton , Miami Marlins . This was my toughest decision. Jason Heyward is having a great season and was a decent-sized snub for the real All-Star Game, but Stanton is putting up huge power numbers despite playing in an extreme pitchers' park. If I went with a generic outfield, both Heyward and Stanton would be the choices alongside Bourn (see below). 
Center field - Michael Bourn , Braves. It's insane that he's not yet been named to the actual All-Star team. Bourn's one of the best defenders in baseball, and here's his offensive line: .305/.355/.444 with 16 doubles, five triples, seven homers, 32 RBI, 56 runs and 23 stolen bases. Phenom Bryce Harper would be the second choice here, but Bourn's 2012 campaign has been much better.
Left field - Martin Prado , Braves. Yes, the Braves have a pretty productive outfield. Prado is hitting .320/.383/.462 with 22 doubles, 46 runs and nine stolen bases. Runner-up is Kirk Nieuwenhuis , as he's been one of the Mets' young sparks in their surprisingly good season.
Starting pitcher - R.A. Dickey , Mets. What a season. What a story. Let's hope he keeps it up, because a knuckleballer has never won the Cy Young. Man, that would be awesome.
Starting pitcher - Stephen Strasburg , Nationals. The phenom has evolved into an elite ace. He is 9-3 with a 2.81 ERA, 1.08 WHIP and an MLB-best 122 strikeouts in 93 innings. And he's only 23. How stacked is NL East pitching? Here are the guys who didn't make the cut: Gio Gonzalez , Cole Hamels , Johan Santana , Brandon Beachy, Josh Johnson , Jordan Zimmermann , Jonathon Niese and, OK, we'll stop now. Note that I didn't even mention Cliff Lee or Roy Halladay. What great starting pitching in this division.
Setup - Craig Stammen , Nationals. He gets the nod over teammate Sean Burnett based upon having thrown 15 more innings. Stammen sports a 1.41 ERA, 1.16 WHIP and 45 strikeouts in 44 2/3 innings.
Closer - Craig Kimbrel , Braves. Tyler Clippard is having an amazing season -- just like most of the Washington pitching staff -- but Kimbrel is becoming baseball's marquee closer. Kimbrel, 24, closed down 23 of his 24 save chances. He sports a 1.50 ERA, 0.77 WHIP and has a whopping 50 strikeouts in 30 innings. He won Rookie of the Year last season and this sophomore effort appears even better.
For more baseball news, rumors and analysis, follow @EyeOnBaseball on Twitter, subscribe to the RSS feed and "like" us on Facebook.
Maria made landfall as a Category 4 on Wednesday

The players are trying to do their job and don't want to see anyone hurt

The child is receiving medical attention at an area hospital, the Yankees said in a statem...
Brantley has not played since August 8 due to an ankle injury

Plus the Red Sox can lock down a postseason spot and all you need to know from the world of...

Neshek called Greinke an 'ahole' and a 'turd' on a message board