Stan 'The Man' Musial, baseball's Perfect Knight
Far as anybody can tell, the only things Stan Musial failed to do during 92 years of an exquisitely well-lived life were make enemies and bat 1.000 during his 22 sun-splashed seasons with the Cardinals.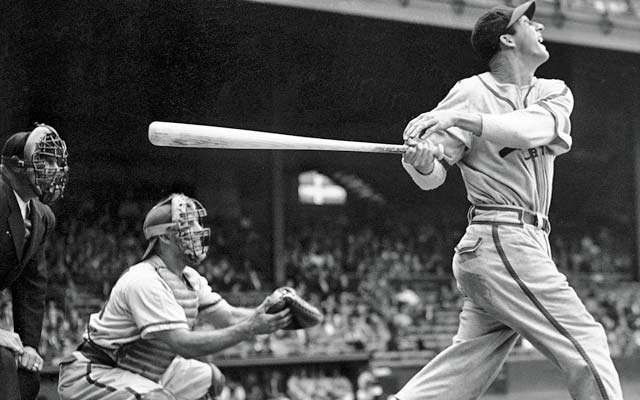 Stan Musial's lefty corkscrew swing bedeviled pitchers for 22 Hall of Fame seasons.
(AP)
Far as anybody can tell, the only things Stan Musial failed to do during 92 years of an exquisitely well-lived life were make enemies and bat 1.000 during his 22 sun-splashed seasons with the Cardinals.
Other than that …
It goes without saying we lost another great one on baseball's saddest day in a long, long time. It was bad enough losing Hall of Fame manager Earl Weaver earlier in the day. But when we learned Saturday night that Cooperstown was asked to send Musial as part of the package deal, it was almost too much to bear.
They don't make 'em like Musial anymore. They haven't in quite some time. Today's players strike out. Today's St. Louis icons leave town via free agency, chasing $200 million and more in some sort of twisted, latter-day California Gold Rush.
Heck, sometimes today's Hall of Famers aren't even Hall of Famers. Unlike Barry Bonds and Roger Clemens, the only scandal Musial was ever tied to came when he blew a wrong note playing Take Me Out to the Ballgame on his harmonica.
Close your eyes and admire that lefty, corkscrew swing uncoiling one last time. Too many of us never got the chance to see Musial play; we only saw the grainy, black and white videos of a bygone era stamped for all time with Stan the Man's fast-twitch hand-eye coordination that put him on the very short list of greatest ever to play the game.
His numbers were unbelievable, from the way his 3,630 career hits were divided (1,815 at home, 1,815 on the road) right down to, as colleague Dayn Perry points out in his excellent analysis of the numbers here, the fact that Musial punched more doubles than he had strikeouts in each of his first nine major league seasons.
Musial had 600 or more plate appearances in 13 of his 22 seasons. In those, from 1943-1956, here were his strikeout totals: 18, 28, 31, 24, 34, 38, 36, 40, 29, 32, 39, 39, 39.
During that time, it practically was easier to log onto the Internet than it was to fan Musial. Almost.
"I throw him four wide ones, then try to pick him off first base," pitcher Preacher Roe famously said, describing the best way to attack Musial.
"I've had pretty good success with Stan by throwing him my best pitch -- and backing up third," Carl Erskine offered.
He was a 24-time All-Star in an age when they played two All-Star Games each summer (think how complicated it may have been had they attached World Series home-field advantage to those).
He is a forever All-Star in the eternal summer of our minds.
"Stan will be remembered as one of the pillars of our game," Hall of Fame president Jeff Idelson said via Twitter late Saturday night. "The mold broke with him. There will never be another like him."
We knew this day was coming. The reverent, hushed whispers of his failing health had made their way around the diamond during the past couple of years. Musial had been a no-show in Cooperstown for the past few summers.
And it was not easy to overlook that absence: One of the most popular moments during the annual Hall of Fame induction was when they called for a break about midway through, and Musial stepped to the podium and played Take Me Out to the Ballgame during what always was referred to as the induction's "seventh-inning stretch."
But while he made his mark in Cooperstown and the National League, he belonged to St. Louis.
There are not one, but two statues of him outside of Busch Stadium. "Baseball's Perfect Knight" reads the plaque on one of them. Every time he appeared at a Cardinals game, it was treated by most as reverently as if the pope was visiting. Arguably, Musial was every bit as sacred.
"We have lost the most beloved member of the Cardinals family," owner Bill DeWitt Jr. said in a statement. "Stan Musial was the greatest player in Cardinals history and one of the best players in the history of baseball."
He lived in a modest house on a quiet street in his beloved city until the end, a man of the people. He also mingled with presidents.
"A couple of years ago, they told me I was too young to be president and you were too old to be playing baseball," President John F. Kennedy told a then-41-year-old Musial at the 1962 All-Star Game. "But we fooled them."
A little less than two years ago, on Feb. 15, 2011, Musial was presented with the Presidential Medal of Freedom by President Barack Obama at the White House. It is the highest honor an American civilian can receive.
His brilliance, Obama said then, "came in blinding bursts."
Or, his former teammate and great friend Joe Garagiola once said, "He could have hit .300 with a fountain pen."
Musial and St. Louis were more of a perfect match than Budweiser and the Clydesdales. Though he came from Pennsylvania, and married his high school sweetheart, the Musials settled in St. Louis about the time he debuted for the Cardinals in 1941 and never left.
Within an hour of his death Saturday night, heartbroken fans turned his statue outside Busch Stadium into a memorial, quietly leaving flowers, baseballs, Cardinals caps, candles and other mementos.
Then and now, respect, love and admiration flowed so thickly through St. Louis for the man for whom Albert Pujols took offense whenever someone referred to him as "El Hombre" ("The Man" in Spanish). That term is reserved for only one man in St. Louis, was Pujols' message.
"My prayers are with the Musial family tonight," Pujols, who fled St. Louis a year ago for the Los Angeles Angels, said via Twitter. "I will cherish my friendship with Stan for as long as I live. Rest in Peace."
Colon wants to break a Dennis Martinez record

The Twins have been rumored to be interested in Darvish all winter

Rolen is one of the best third basemen of all time, but you wouldn't know it based on this...
Neither Josh Donaldson nor Brian Dozier have talked about a new contract extension

Francisco leads the Dominican Winter League with seven home runs

Thome deserves enshrinement and here's why the case against him does not hold up