The Bobblehead Project: Roger Clemens thought 'it' was the ball
Back in the 2000 World Series, Mike Piazza's broken bat ended up in Roger Clemens' glove. Clemens threw the bat at Piazza and claimed he thought it was the ball. And now, it's a Bobblehead Project entry.
The Bobblehead Project: The Complete Collection
For our latest entry into the Bobblehead Project, we're going with perhaps our most popular request. Dozens upon dozens of readers have sent in ideas for future Bobblehead Project entries. Time and again, this one turned up: Something with Roger Clemens and Mike Piazza in the 2000 World Series.
Here it is: Mr. Roger Clemens, holding what he (allegedly) thought was the baseball: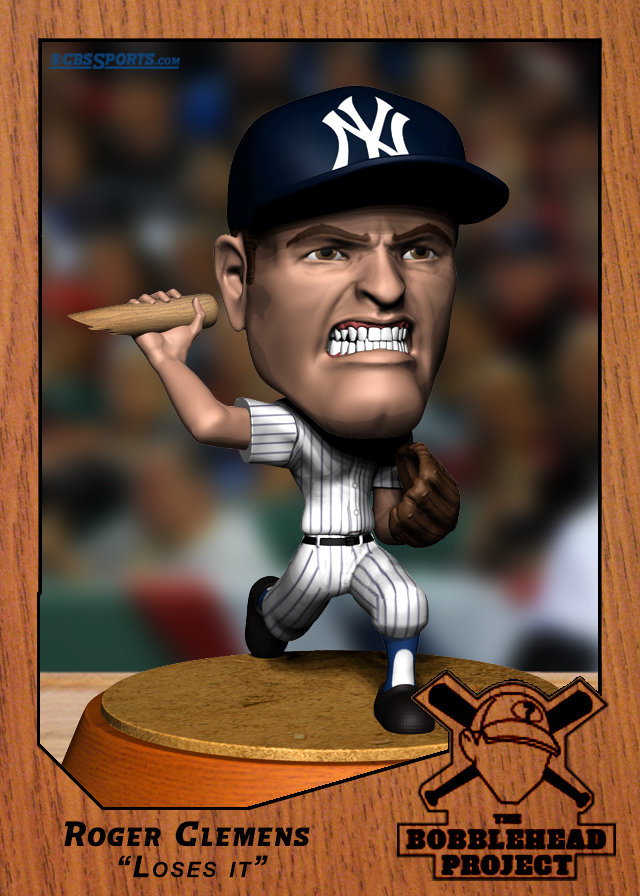 Via Jarod Valentin of CBSSports.com
As most baseball fans recall, Clemens was pitching to Piazza -- kind of his nemesis at the time (we'll get to that) -- and a Piazza broken barrel ended up in the proximity of The Rocket. And Clemens did what any right-minded pitcher would do, right? He proceed to pick up the bat, hurl it in the general vicinity of Piazza and then started screaming about how he thought it was the ball.
Witness:
After the game, Clemens stuck with his story that he thought that bat was actually the baseball. In a way, I guess you have to admire the delusion that he could convince people to believe him. I mean, this is a guy who was one of the best ever at pitching, which means his livelihood involves feeling comfortable with a baseball in his hands. We were supposed to believe his hands couldn't tell the difference between a ball and a broken bat. On top of that, who the hell throws the ball halfway up the first-base line on a routine grounder?
I can't even imagine Clemens family members honest-to-goodness believe him and he's still, to this day, never changed his story, at least not publicly. That's tenacity. Or something.
There was some history here, too. Over the course of their careers, Piazza pretty well owned Clemens. In 25 plate appearances, postseason included, Piazza hit .364/.440/.955 with four homers and 10 RBI off Clemens. And just a few months before the World Series confrontation, this happened:
I don't think we can say Clemens meant to hit Piazza in the head, per se, but I do think it's fair to say he wanted to come inside and give him a little chin music. There were arguments back and forth on the subject leading up to the Game 2 confrontation, which surely led to Clemens being extra amped against Piazza and then throwing the bat toward Piazza as part of being so jacked up.
It's just a shame he has never admitted wrongdoing on the bat throw.
One might recall that Clemens stayed in the game to throw an absolute gem, working eight shutout innings while striking out nine and allowing only two hits. The Yankees would go on to beat the Mets in the Subway Series in five games.
Still, the most memorable moment from the series these days is the Clemens bat-toss and the ensuing "I thought it was the ball!" meme. We've now commemorated it in Bobblehead Project form.
For the entire series of the Bobblehead Project wrapped into one handy post, check out our complete collection.
Neither Josh Donaldson nor Brian Dozier have talked about a new contract extension

Francisco leads the Dominican Winter League with seven home runs

Thome deserves enshrinement and here's why the case against him does not hold up
The Twins have already fortified the bullpen with Addison Reed, and now they want to address...

The Orioles likely want pitching, and the Indians have plenty of it

Halladay died in a November plane crash off the coast of Florida