The Lineup: 6 sweeps and a 'Missile' crisis?
Six teams -- three American League and three National League -- completed interleague sweeps on Sunday, while Aroldis Chapman suffered his second loss in as many outings.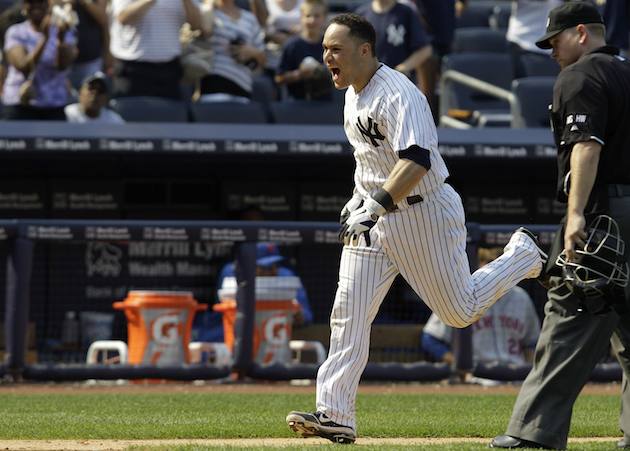 The second round of interleague play was sweep for six teams -- as three American League teams and three National League teams swept their opponents this weekend. The
New York Yankees
took three from the
New York Mets
, the Angels swept the
Colorado Rockies
and the
Tampa Bay Rays
took all three against their intrastate rival
Miami Marlins
. The National League was well represented by the
Pittsburgh Pirates
, who took all three from the
Kansas City Royals
, the
Washington Nationals
swept the
Boston Red Sox
at Fenway and the
Arizona Diamondbacks
moved to .500 with three wins against the A's.
Full Sunday scoreboard with box scores and recaps for every game
3 UP

Los Angeles Angels

' first five:
The first four batters in the Angels lineup --
Mike Trout
,
Torii Hunter
,
Albert Pujols
,
Mark Trumbo
and Howie Kendrick -- went 11 for 23 with 10 runs scored and 10 RBI. Don't look now, but the Angels have won three in a row and are just three games behind the
Texas Rangers
in AL West. 
Russell Martin

, Yankees:
An All-Star last season, Russell Martin entered Sunday's game hitting just .208, but against the Mets he hit a two-run homer in the seventh for the team's first runs of the game and then a walk-off in the ninth. He also put the Yankees in position to win the game in the bottom of the ninth with a big block of
Boone Logan
's slider that bounced in front of the plate with a runner on third.
Andre Ethier

,

Los Angeles Dodgers

:
Ethier entered Sunday's game with just one hit in his pervious seven games (1 for 25) and hadn't homered in 17 games. Ethier went just 1 for 5 on Sunday, but he made that one count, crushing his fourth career grand slam in the Dodgers' six-run second against the
Seattle Mariners
. Despite getting no-hit on Friday, the Dodgers went 7-3 on their road trip to Colorado, Philadelphia and Seattle.
3 DOWN

Aroldis Chapman

,

Cincinnati Reds

:
After starting the season looking invincible, Chapman has been human in his last two outings. Chapman hadn't given up an earned run until the 10th inning of Thursday's loss to the Pirates. In his first outing since suffering his first loss, he entered Sunday night's game against the
Detroit Tigers
with two on and no outs in the eighth inning to protect a 6-3 lead. Chapman gave up a single before forcing in another run when he was ruled to have hit
Matt Young
. After that,
Austin Jackson
hit a ground-rule double to tie the game and then Chapman's wild pitch allowed Young to score the eventual winning run.
Ty Wigginton

,

Philadelphia Phillies

:
Wigginton's error put
Adam Jones
on base with one out in the 10th inning. That was followed by Matt Weiters' double that scored Jones for
Baltimore Orioles
's 5-4 victory over the Phillies. Wigginton, playing third base because of the injury to
Placido Polanco
, has four errors in the team's last four games. As a team, the Phillies have nine errors in its last five.
Philip Humber

,

Chicago White Sox

:
The once-perfect Humber may find himself in the bullpen soon. Humber gave up three home runs to the
Houston Astros
on Sunday, allowing six runs on six hits in 5 1/3 innings and falling to 2-4. His ERA rose to 5.92 and extended his winless streak at home to 14 starts dating back to June of 2011. Since his perfect game, Humber is 1-4 with a 7.50 ERA.
Nationals to another nation:
While the free agent headlines this offseason centered around Albert Pujols and
Prince Fielder
, the Nationals' signing of right-hander
Edwin Jackson
may have been the most underrated move of the offseason. The 28-year-old signed a one-year deal with the Nationals and is setting himself up for a big payday come November or December. Jackson has just a 2-3 record, but has put up a 3.11 ERA with a 1.023 WHIP in 11 starts.
7:07 p.m. ETReunited and it feels so good:
Josh Beckett
was the hero of the Marlins' 2003 World Series run, throwing a shutout in the clincher to give the franchise its second World Series title. But for the first time in his career, Beckett will pitch against the Marlins. The Marlins and Red Sox played in 2009, but Beckett didn't get to pitch against his former team.
7:10 p.m. ETAnother familiar face:
Bobby Abreu
started the season with the Angels and is now with the Dodgers. He'll face off against his former mates in the battle for Los Angeles. The Angels are 25-15 since releasing Abreu following the April 27 loss to the
Cleveland Indians
. The Dodgers are 21-14 since Abreu joined the squad. He was hitting .208/.259/.333 for the Angels and in 31 games for the Dodgers, he's hitting .317/.440/.439.
10:10 p.m. ET
Monday's probable pitchers

• Pirates willing to break slot:
The Pirates say they are willing to pay above slot for first-rounder Mark Appel, but his bonus could take up a huge chunk of the team's pool to sign its draft picks. It does help that the team took three college seniors in the first 10 rounds. Seniors have much less leverage in negotiations. [
Pittsburgh Tribune-Review
]
• Catcher's concussion concern:
Angles catcher Bobby Wilson is switching masks and also asked a players association to look into research on improving equipment to help prevent concussions. There's been a lot of work in improving football helmets, but not as much for catcher's equipment.
MLB
recently added a seven-day disabled list for concussions and Wilson is one of three catchers to use it this season, along with Cleveland's
Carlos Santana
and the Mets'
Josh Thole
. [
Los Angeles Times
]
• Metrics hurting hitters:
Rays manager Joe Maddon said he believes that offensive numbers around  baseball are down in part because of advance metrics and more detailed scouting reports. Maddon and the Rays are among the best in the business in using these metrics to defend against batters. He counters that hitters can't learn as much about pitchers as pitchers (and fielders) can from data on hitters. [
MLB.com
]
• Lost in translation:
Sarcasm, apparently, doesn't translate well in Japanese, former Cub and current Hanshin Tiger Matt Murton learned. [
YakuBaka.com
]
• Marathon match:
Two Minnesota men played more than 54 hours of Strat-o-matic baseball this past week to set a world record. [
MLB.com
]
For more baseball news, rumors and analysis, follow @EyeOnBaseball on Twitter, subscribe to the RSS feed and "like" us on Facebook.