This one counted for the AL, but only for the Rivera moment
Maybe it looked like the American League cared more about winning the All-Star Game this year. Turns out they cared about Mariano Rivera.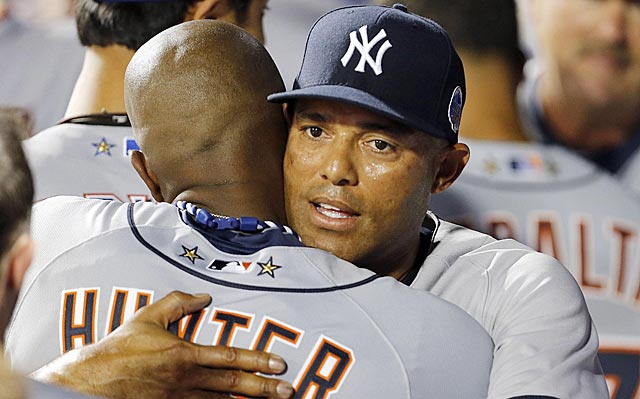 NEW YORK -- You thought it was about winning.
They knew it was about Mo.
You thought the American League seemed more serious about winning in this All-Star Game. The truth is they were serious about Mo.
You know those awful television ads with all those players saying, "I play to win." It turns out what they really should have been saying was, "I play for Mo."
Some people watched Tuesday night's game and thought Jim Leyland looked more serious than usual in the AL dugout. Some people watched Leyland's three pitching changes in the seventh inning and thought, "Leyland really wants that home-field advantage," because his Tigers might be back in the World Series.
The truth is that what he really wanted most was to create that one special moment for Mariano Rivera, that one All-Star send-off moment in New York, in Rivera's own town.
He got what he wanted, and the American League's 3-0 win just happened to fit into the story.
"Almost a fairy tale, the way it worked out," Leyland said, sitting in the manager's office surrounded by his Tigers coaching staff. "If they didn't get ratings, I can't help it."
There's a great pressure on All-Star managers, not the pressure to win but the pressure to do right by your players. They all want to get into the game, and the fans want to see their favorite players play.
But Leyland felt a different pressure on Tuesday. He had to set this up right for Rivera.
He had promised on Monday that Rivera would pitch, had suggested that the best scenario would be Rivera closing out an AL win in the ninth inning. But the more that he thought about it, the more that he realized holding Rivera back for the ninth would be risky in a game in which the AL was the road team and there might not be a bottom of the ninth.
He went to Rivera on Tuesday afternoon and suggested that he might need to use him in the eighth. Rivera, he said, fully understood the plan.
Had the AL led by six or seven runs in the middle innings, Leyland said, perhaps he would have reconsidered. With just a three-run lead, he felt he couldn't.
"I couldn't take a chance," he said.
It was easily the right decision. Ten years from now, everyone will remember the Rivera moment. No one will remember that it came in the eighth inning rather than the ninth.
The All-Star Game isn't about wins. It's about moments.
With the help of Leyland and his AL teammates, Rivera gave this All-Star Game one that we won't soon forget.
Those AL players had the same thing on their minds that Leyland had on his. When Torii Hunter spoke to the team before the game, he called on all his football motivational skills.
"A Rudy speech," he said.
And the goal that he had in mind?
"Make sure we get [Rivera] the lead to close it out," Hunter said. "We wanted to get him the lead. That was the motivation. That's what all our speeches were about.
"We were cheering like we were in high school, just so he could get the ball in the ninth inning -- although that didn't work out."
So maybe it looked like they cared a little extra about this one. Maybe it looked like more players stuck around for the end (and they did, because no one wanted to miss Rivera).
And maybe it looked like Leyland was managing up a storm, particularly when he went right-left-right with his relief pitchers in the seventh inning.
"The big reason he did that was to set it up for Rivera," Tigers bench coach Gene Lamont said. "You know how Jim is; he wants everything perfect. He wanted that for Rivera, and it worked out good."
Lamont was the one charged with making sure the Rivera moment worked out as well as it did. As Neil Diamond took the field to sing Sweet Caroline when the top of the eighth inning ended, Lamont went through the AL dugout and told the players headed out onto the field to remain there so Rivera could take the field alone.
They waited, leaving the stage for him. Finally, at just the right time, Leyland turned to them.
"Guys, he's good, but he does need some fielders," he said.
There were some other good moments for the American League in this one. There was Manny Machado's great play at third base in the seventh, the one that had everyone in the AL dugout saying, "Wow!"
"I turned around and made sure everyone knew that was routine for him," said J.J. Hardy, who plays alongside Machado in the Orioles' infield.
There was Prince Fielder's triple in the ninth, and there was Miguel Cabrera's double in the fourth. There was a Salvador Perez single that was the first All-Star hit by a Royal since 1989.
It might not have been the best All-Star Game ever, but it was far from the worst. It sure was a lot better than last year's (which, technically, was also one that counted).
It wasn't better because the players cared more about winning (because they didn't). It was better because the Rivera moment guaranteed that it was a better show (which it was).
At the end, Leyland was disappointed only that he had never found a way to get Ben Zobrist and Glen Perkins in the game.
But, really, he was thrilled, and he had every reason to be thrilled.
On a night during which the real goal was to put on a show, he had engineered a show worthy of the stage.
Oh, and he won the game, too.
Scott missed almost all of last season after a concussion

The superstar is one year away from free agency

The Angels knew about it and still wanted to sign the potential ace, of course
The Tigers asking price is supposedly very high, though

Your one-stop shop for all things MLB Winter Meetings-related

Bryan Mitchell also heads to San Diego in the reported deal