WATCH: Shin-Soo Choo hits for the cycle
Rangers outfielder Shin-Soo Choo tripled in his final at-bat to hit for the cycle. Here it is.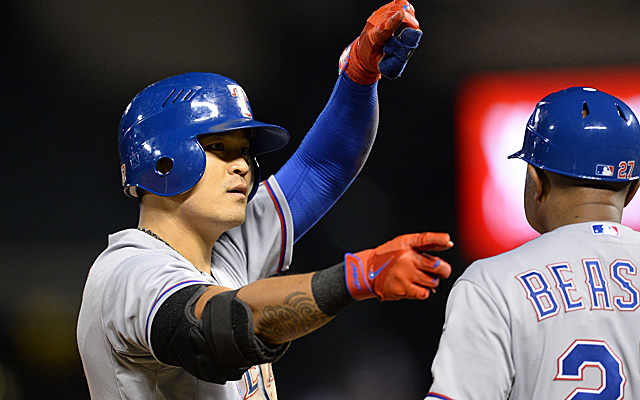 In an otherwise boring -- well, unless you are a Rangers fan, in which case it was lovely -- 9-0 Rangers win, Shin-Soo Choo hit for the cycle and it was by the skin of his teeth. He needed triple, the most difficult leg of the cycle, in the ninth inning to complete the feat and sure enough, he came through.
Here's the entire cycle:
This marks the first career cycle for Choo and the eighth in Rangers history.
There's no reason to run over the cases for and against Bonds, so let's have fun instead

The coveted right-hander would certainly be a fit in Milwaukee

We rate the best mustaches from random baseball cards because, why not?
Colon wants to break a Dennis Martinez record

The Twins have been rumored to be interested in Darvish all winter

Rolen is one of the best third basemen of all time, but you wouldn't know it based on this...