You may now purchase this umpire's 1995 ejection report on Paul Molitor
This winning piece of Paul Molitor memorabilia can be yours!
News hook: Paul Molitor was recently named manager of the Twins. That brings us to this, in which "this" is umpire Al Clark's 1995 ejection report on Mr. Molitor, then DH for the Blue Jays (available for purchase at Pristine Auction!) ...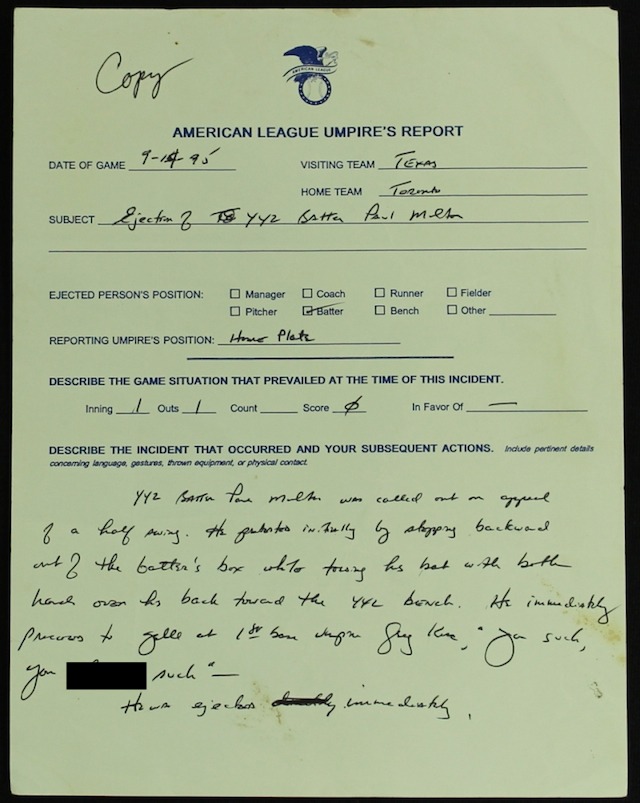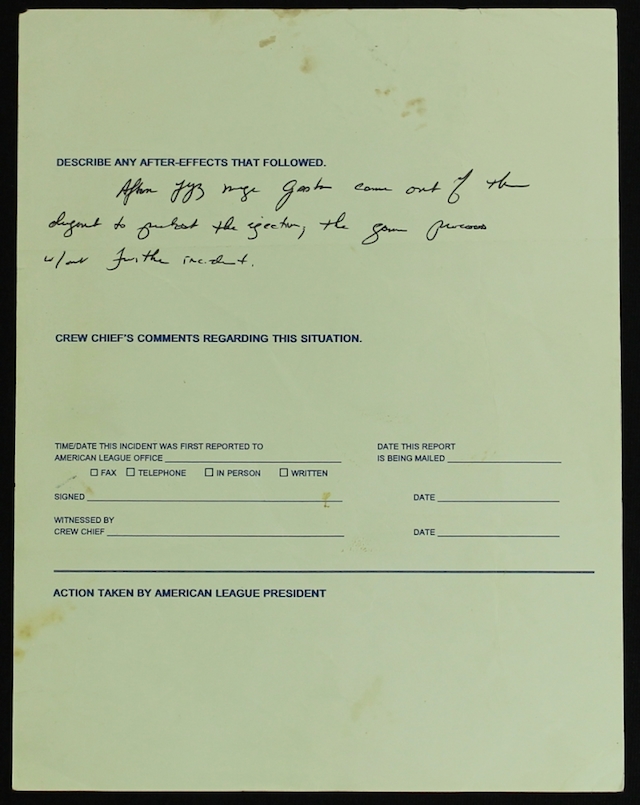 First inning! For what it's worth, this appears to be the game in question. 
In any event, the discerning observer will note a single redacted word within the document above. I myself have undertaken said redaction because said word is objectively naughty and capable of corrupting the doe-eyed readers of this space.
While I'm no handwriting expert, I do write in a buffoon's crude scrawl. As such, I feel sanctioned to transcribe a portion of what you see above ... 
"[Something] batter Paul Molitor was called out on appeal of a half swing. He protested initially by stepping backward out of the batter's box while tossing his bat with both hands over his back toward the [something, possibly a numerical code for TOR] bench. He immediately proceeds to yell at 1st base umpire Greg Kosc, 'You suck, you f***ing suck.'

He was ejected immediately."
Excelsior! Obviously, Paul Molitor showed managerial mettle even as a player. He'll do just fine. 
(Wink of CBS eye: @Brandon_Warne)
Dodgers manager Dave Roberts on Sunday announced his World Series rotation for the first four...

How should the Astros play it when one of their two aces isn't on the mound against the Do...

The former big-league infielder also worked as GM of the Puerto Rico national team
The Indians pitching coach would be getting his first MLB managerial job

In the last several years, lots of droughts have ended in MLB

The most likely scenarios are Dodgers winning in five or six games