3-point shooting tips from Stephen Curry and Steve Novak
Want to know the importance to shooting 3-pointers in or outside of a 3-point shooting contest? Golden State Warriors guard Stephen Curry and New York Knicks forward Steve Novak have you covered.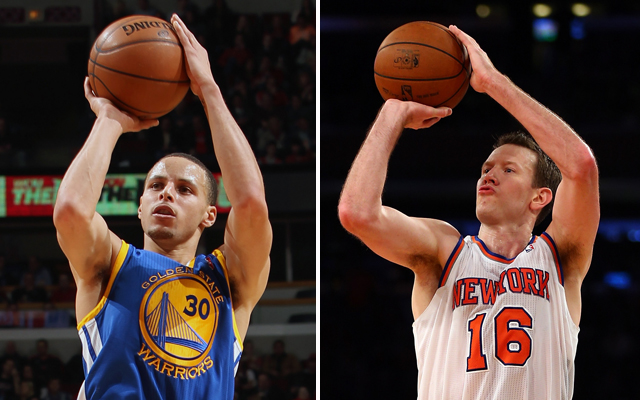 These guys are pretty good teachers.
(Getty Images)
If you're competing in the NBA 3-point contest tonight or just your own 3-point contest in the future, you need to know how to properly shoot the ball. It isn't just having a natural shooting stroke that gives you an effortless shot. You need to know the mechanics of what goes into the shooting form by learning from the experts and putting in a lot of hard work to get that shooting form.
Two of the contestants in tonight's game are Golden State Warriors' guard Stephen Curry and New York Knicks' forward Steve Novak. These are two of the best shooters from distance in the NBA. Curry is currently sitting second in the NBA in 3-point percentage at 44.7 percent and Novak is third in 3-point percentage at 44.6 percent.
If you're wondering why they're such good shooters from beyond the arc, it's because they've practiced how to get set into their shot and how to execute the form in a mechanical manner that turns their shots into one of the purest things in basketball.
When it comes to Curry's shooting, he believes in repetition and balance.
"You've got to have good balance," Curry explained. "A lot of people focus on your hands with your jump shot but it starts with your feet being squared to the basket and having good balance."
If you look at Curry shooting the ball, it's rare you see his feet not squared almost completely to the basket. He gets his knees bent and his torso is straight up and down to stay balanced throughout his shot. 
"You got to have a solid follow-through so that each shot is as smooth and as repetitive as possible," Curry said. "Everybody has a different form. You look at every single NBA player and everybody shoots a different way. The best shooters shoot the exact same way every single time they look at the basket."
The elbow is always kept in on his shot and the balance is there throughout his body. The fact that there is so little difference whenever he's taking a shot from anywhere on the floor gives him a huge advantage when taking a jumper.
"The third thing is trying to shoot the same way every single shot, every single time," Curry said. "That comes with a lot of practice."
He snaps his wrist and has effortless follow-through. 
Here's a video of Curry knocking down eight 3-pointers against the Charlotte Bobcats. Just look at the similarity in every single release:
With Novak's shooting form, he believes in keeping his motion as simple as possible. He doesn't want wasted movement because it gets in the way of getting the shot off as effortlessly as possible. 
"I think one of the most important things you can do with shooting a three," Novak explained, "is just keeping it simple. You don't want too much excess motion."
Much like Curry, Novak keeps his feet balanced and squared to the hoop. As soon as he catches the ball, he springs straight up to get the shot off as quickly as possible. The quicker the release is, the less likely you are to mess with it because of extraneous motion.
"It's a shot that's hard enough the way it is," Novak said. "It's far enough away from the hoop the way it is, so you don't want to add too many things to it. You want to duplicate it over and over and over."
Novak's feet are the same on pretty much every 3-point shot he takes. Catching it in the corner, flashing to the wing or spotting up from the top of the arc, Novak finds a way to keep his feet balanced while he's getting into his motion.
Here are 3-pointers he hit against the Boston Celtics last season:
That's how these guys shoot the ball, but do they have a strategy heading into the night's contest outside of keeping their motion the same?
"When it comes to the contest," Curry said, "I try to make sure that I take the ball from the left side of the rack. You got to make the money ball. But other than that, it's trying to stay in a rhythm and not get too rushed because it does get repetitive shooting shot after shot after shot."
For Novak, who has loved the 3-point contest since he was a kid, he's been studying the contest for a long time. Has he tried to take anything away from those contests and tried to duplicate it?
"I just want to duplicate how Larry Bird won it."
We'll see if either of these guys can beat Indiana Pacers' forward Paul George, Cleveland Cavaliers' guard Kyrie Irving, New Orleans Hornets' forward Ryan Anderson, and San Antonio Spurs' forward Matt Bonner. 
Jordan Bell had himself a night against Portland

The younger Ball brothers are heading to BC Prienai, but that could spell trouble

Not many games, but still plenty of action and intrigue Monday in the Association
SportsLine's advanced computer model simulated Tuesday night's Lakers-Knicks game 10,000 t...

The Reno Aces are concerned about the new WNBA franchise stealing their thunder

Hinkie parted ways with the 76ers in 2016 after drastically changing the direction of the...