In the NBA, optimism always runs high in the summer. Blind optimism in many cases, but optimism nonetheless. Teams are fresh off all their free-agent signings and other roster moves and it feels like the sky's the limit. But every team still has at least one notable weakness -- whether it be a long-existing hole that wasn't addressed in the summer, or a new hole created by the summer's moves. This is even true of the Warriors, who signed Kevin Durant but suddenly, as a consequence, lack in one BIG area.
Without further adieu, here is the most glaring weakness for each team heading into next season.
Atlantic Division
Brad Stevens and the Boston Celtics' offense is pretty modern. High assists. Relatively low turnovers. Fast pace. Shoot a good number of 3-pointers. Efficient in making shots. A lot of shots at the basket. The one problem that they had last season is while they take a good rate of 3-point attempts (13th in the NBA), they were horrendous at making them. They've let Jared Sullinger walk, which helps considering Sully is quickly becoming a historically bad 3-point shooter. They replaced him with their big offseason addition of Al Horford, which probably won't be fully appreciated until the casual fan sees just how consistently good he is. Horford was also a solid 3-point shooter last season by making 34.4 percent of 3.1 attempts per game.
However, even if you swap out Sullinger's outside shooting for Horford's, this team still would rank just 25th in the NBA instead of the 28th they finished in 2015-16. It's not that big of a push. The Celtics had four solid-to-good shooters from deep last season. Isaiah Thomas (35.9 percent) and Avery Bradley (36.1 percent) were around league average. Jonas Jerebko (39.8 percent on 108 attempts) and Kelly Olynyk (40.5 percent on 210 attempts) were really good. The rest of the team was really awful at it with three volume shooters hitting fewer than 30 percent of their 3-pointers.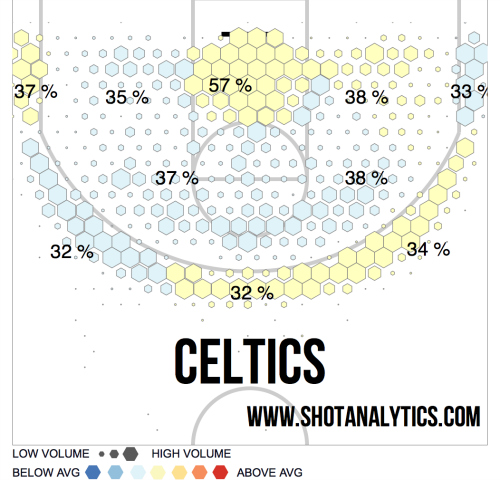 They'll also be adding rookie Jaylen Brown to the mix and his jumper is very much a work in progress. So how do they improve upon this one big problem in their attack? This sounds simple but make open 3-pointers. With 4-6 feet of room between the shooter and defender (classified as "open" on NBA.com/stats), the Celtics were the second-worst team in the NBA. They made just 32.7 percent of those (league average was 34.9 percent). Jae Crowder should shoot much better than the 33.6 percent he put up last season, but the entire team outside of guys like Olynyk need to find a way to be more consistent outside.
If they can do that, Boston could be near impossible to handle on a nightly basis.

It's hard to judge a lot of the defensive problems of the Brooklyn Nets last season. They had considerable injuries to an already heavily flawed roster, plus the coaching change halfway through the season. That's enough added chaos to a bad situation that you have to give new coach Kenny Atkinson a fresh start.
Originally, the way they defend the pick-and-roll last season (30th, according to Synergy Sports) was going to be their flaw, but Atkinson may have a much better approach of that. The preseason will tell. But one glaring hole the Nets will likely have again comes in transition -- on both sides of the ball.
Last year, the Nets were 25th in transition defense and 24th in transition offense, based on points per possession. Brooklyn also had the 11th-lowest percentage of transition possessions in the NBA. It might sound good to keep those transition possessions low when you're not good at scoring that way, but every team should be hunting transition points, especially the bad ones. In fact, if they're not doing this, that's probably a big reason why they're a bad team to start with. A scattered defense is always easier to score against.
Adding Jeremy Lin to the mix won't help much either. While he's a good point guard at picking apart a defense with scoring and passing in the pick-and-roll in the half court, Lin was in just the 30th percentile in transition points per possession last season. Thaddeus Young, Shane Larkin and Joe Johnson were all really bad at scoring in transition last season (nobody over the 30th percentile) and they're gone now. I still wouldn't expect a big improvement in transition scoring this season.
Jerryd Bayless is their best guard. Sergio Rodriguez hasn't played in the NBA since 2010. Nik Stauskas is still very much involved. Gerald Henderson has to be an above average 3-point shooter for them, which would be the first time in his career he's done that. Even with the plan to let Ben Simmons be the primary playmaker, he needs help from the backcourt and they don't have overwhelming options to offer that help.
Obviously this isn't the only hole on this team, but if Joel Embiid is actually healthy, perhaps we won't have to focus solely on those holes. The Sixers could actually be building something. They could be a halfway exciting team. But the backcourt is a major issue. With the depth at point guard alone around the NBA, the Sixers will be playing with two strikes against them on a nightly basis.
The Brooklyn Nets weren't the only NYC team that struggled to get out and score in transition last year. Only four teams, in fact, had a lower percentage of transition opportunities than the Knicks last season. Only the Los Angeles Lakers and Chicago Bulls were worse at scoring efficiently in transition than the Knicks. And no team had a worse field-goal percentage or effective field-goal percentage in transition than the Knicks.
Maybe a big part of that was having Jose Calderon as a point guard option and Kurt Rambis as a coach.
Whatever the case, the only players who cracked the 50th percentile in points per transition possession were Lance Thomas, Kyle O'Quinn and Robin Lopez. That's like asking Guy Fieri to run anchor in an Olympic relay race. Carmelo Anthony couldn't crack the 20th percentile. Kristaps Porzingis barely got to the 20th percentile. They have Derrick Rose now so maybe he'll change all of this.
Never mind, it's 2016 and Rose just finished in the 11th percentile last season in transition scoring.
DEFENDING THE 3-POINT LINE
While the Toronto Raptors probably need to find a way to get more ball movement going in their offense, their real weakness is how well teams shoot 3-pointers against them. Specifically, the North was the second-worst team at defending the 3-point shot in terms of accuracy against them, allowing 37.3 percent, which wasn't much better than the 37.7 percent the Phoenix Suns allowed from deep.
A big reason for this is the Raptors simply couldn't defend the corner 3-point shots -- opponents shot 39.5 percent from the right corner and an absurd 44 percent from the left corner. The Raptors were also tied with two other teams for the ninth-highest percentage allowed above-the-break, but really it was the corners that did them in.
The remedy for this is effort and awareness. DeMarre Carroll and Patrick Patterson have to be able to help over and then recover to the far corners. DeMar DeRozan also can't get as lost in help as he often does, and that goes double for Terrence Ross. They're playing with fire if they can't curtail this, even with as good as this team was last season.
Central Division
More than anything next season, the Chicago Bulls need Jimmy Butler to return to being a good 3-point shooter. Every other year, Butler has a good 3-point shooting season. He was a 38.1 percent shooter in 2012-13. The next season, he made just 28.3 percent of his deep shots. Then he jumped back up to 37.8 percent in his breakout season that earned him a qualifying max contract. Last season, he regressed to 31.2 percent. But if the Bulls were third in 3-point percentage last season, why is it imperative Butler returns to good 3-point accuracy?
They brought in Dwyane Wade and Rajon Rondo to be the starting backcourt this season. If Butler can't sink 3s at an acceptable rate again, then the projected starting lineup of Rondo-Wade-Butler-Nikola Mirotic-Robin Lopez is in serious trouble for stretching the floor in Fred Hoiberg's offense. At that point, you're relying almost too much on your bench to provide the 3-point shooting because they'd likely want to play this starting unit the majority of the season. Can they do that if they're consistently missing out on 3-point shooting aside from Mirotic?
The defending champion Cleveland Cavaliers have one glaring issue in their attack on either side of the floor, assuming they still re-sign LeBron James and J.R. Smith (which is definitely the way to go). This team is stellar on offense and they were a top 10 defense last season despite the coaching change and all of the regular-season turmoil that dissipated in historic fashion once they hit the postseason. However, they don't have great rim protection and it's something they'll need to have in order to keep a sharpness on defense necessary to defend the title.
As bad as Timofey Mozgov was last season, he was a solid rim protector. With him going to the Los Angeles Lakers, Cleveland is relying on a rotation of Tristan Thompson, Kevin Love, Channing Frye and Chris Andersen to anchor the defense on a nightly basis. This doesn't mean they're doomed by any means, but one of those guys turning into a reliable rim protector (likely Thompson) could keep Cleveland from making things harder than they need to be.
This one is pretty obvious and it all stems from Andre Drummond's presence on the team. He's the worst free-throw shooter in NBA history and made just 35.5 percent of his 586 attempts last season. The new Summon-a-Drummond rules won't completely curtail the hack-a strategy this season, so he's going to have to figure out how to dramatically improve by even just making half of his free throws. That's the thing; the Pistons don't need him to become a good free-throw shooter. They just need him to not be a historically bad free-throw shooter. Detroit believes improvement is coming for next season. We'll have to wait and see.
The ball movement provided with the addition of Jeff Teague and having someone like Al Jefferson as a weapon off the bench may make this criticism of the Pacers look foolish. They were 17th in field-goal percentage last season but just 20th overall in effective field-goal percentage. This isn't disastrous by any means, but really where this Pacers team needs to be able to make shots is with attempts that don't require Paul George to be great. With the rest of the supporting cast being able to help out more, it means less and less wearing out George as the season goes on, and that's been an issue for two of the last three seasons. The one season where it wasn't an issue was the one in which he was recovering from a broken leg.
Last season, PG13 shot just 40.6 percent from the field after the month of November. He had that great return to remind us of how good he is and then he really struggled to make shots because the defense knew he had to create everything. You can chalk that poor accuracy over the final 80 percent of the season up to conditioning in returning after missing nearly a full season, but the year before George broke his leg, he shot worse from the field than Ricky Rubio did after December. The Pacers' supporting cast needs to do more in making shots so George doesn't have to do so much. Then he can be a completely dominant player for them.
OK, the plan is to experiment quite a bit with Giannis Antetokounmpo at the point guard position this coming season. The issues against that idea are the spacing if Jabari Parker isn't able to stretch the floor and Giannis' high dribble when he's not attacking full court in three strides in transition. But when your other options are Michael Carter-Williams or Matthew Dellavedova, the Greek Freak makes more sense. Delly is a fine backup point guard but you may be asking too much to have him start and play starters minutes on what should still be a playoff-capable team.
Antetokounmpo's two most efficient ways of scoring last season were in transition and as a cutter. Other than that, you weren't getting terribly efficient offense out of other aspects of his game. His best attribute was as a pick-and-roll initiator, but even then he was only giving .902 PPP, which is the 55th percentile. The idea of playing him at point is how much you shrink the floor for the opponent, but Giannis also struggled posting up. He scored just 0.798 PPP out of the post and turned it over nearly a quarter of the times he posted. Are we sure playing him more at center or power forward won't do a better job of unlocking his unreal potential?
Southeast Division
Last season, the Atlanta Hawks had a problem with free-throw shooting. They were eighth in free-throw percentage, which is really good. The problem is they had the second-lowest rate of getting to the free-throw line in the NBA. The Hawks' belief of either take a shot at the basket or a 3-point look -- fully embracing the analytical world of efficient shot opportunities -- quite possibly created many situations for them in which getting to the free-throw line wasn't a big option for them. The Hawks were one of eight NBA teams to have zero players with at least 1,500 minutes played and a free-throw rate (number of free-throw attempts per field-goal attempt) of at least .400. Paul Millsap was the closest at .383.
There are many reasons (injuries, turnovers, middle of the road 3-point accuracy) the Hawks' offense dipped from sixth in 2014-15 to 22nd in 2015-16, but their problem with not getting a lot of free points at the line was certainly up there. The good news is their free-throw rating will skyrocket in 2016-17. The bad news is the free-throw rate is going up because they signed Dwight Howard. His career free-throw rate is .814. It's been a .798 over the past four seasons. He's barely over 50 percent from the line (50.8) over his last five seasons. The Smite-a-Dwight strategy could lead to stilted offensive stretches, which could be detrimental to Mike Budenholzer's ideal offensive flow. It's already a shaky enough offense after last season. Can it get worse?
DEFENDING PASSES OUT OF DOUBLES IN THE POST
It feels weird selecting something on the defensive end for a Steve Clifford team. They've finished sixth, ninth, and ninth in defensive rating in Clifford's three years coaching the team. During that time, Al Jefferson has been their main big man, and he's not exactly known as a rim protector. But the team defense concept works from Clifford's teaching. He doesn't care about blocks and steals. He actually calls them overrated statistics because of the defensive gamble they often require. He'd rather his team play sound basketball on that end of the floor. But they did struggle defending passes out of the post last season, and it's something they'll likely need to clean up a bit to remain a top 10 defense.
Post scoring isn't a huge part of the modern NBA attack. And just on pure post scoring, the Hornets do a good job ranking 13th against the scorer. But when they commit to doubling in the post or at least sinking down into the paint and showing against the post scorer, the Hornets seem to get burned quite a bit -- especially by the ensuing 3-point shot.
The Hornets ranked 14th in 3-point percentage allowed this season at 34.9 percent and their 3-point rate allowed was 23rd in the NBA. But when they committed to defending the post and the post scorer passed out of it, they got lit up from 3-point range. Eighty-two of the 145 shots that were generated in passes out of the post were 3-point attempts. Their opponents made 40.2 percent of those attempts. It's not a large amount of points against them over the course of the season, but the opposition will look for any advantage they can get going against such a good defense.
Maybe that changes with Roy Hibbert involved now. You don't have to show as much with a tall presence like him, especially if they can get him back to the level he played in Indiana.
Do we have any kind of clearer understanding now than we did a couple months ago about whether or not Chris Bosh will be able to resume his career? I would love to break something down with this team here and find a weakness in the scheme of what they do like 3-point shooting, but nothing matters above knowing the status of Bosh heading into next season. If he's not able to go, this team is in trouble. If he is able to go, we'll still wonder if he'll last the entire season. If he does last the entire season, then we can wonder why their 3-point shooting is so awful outside of just not having shooters.
GETTING TO THE FREE-THROW LINE
Nobody had a lower free-throw rate in the NBA last season than the Orlando Magic. And it's not like they were a bad free-throw shooting team either looking to avoid contact. They were 17th in free-throw percentage. They just couldn't seem to get to the line. While they've made a lot of moves to seemingly get as many big players who don't fit together as possible this offseason, the Magic haven't done anything to solve the issue of getting to the charity stripe more often. They hired Frank Vogel, whose teams usually struggle offensively and getting to the line, and they lost Oladipo, who was one of their few players capable of breaking someone down off the dribble and getting a foul called.
Vogel has plans of using Aaron Gordon like he used Paul George, and maybe that works. Gordon did have a free-throw rate of nearly 10 percent higher than the entire Magic team last season. But forcing the issue with him as the playmaker may stall an already shaky offensive approach. Can the Magic figure out how to get free points to boost their offensive rating?
How much do you believe in Trey Burke? That's really the question you have to answer in order to figure out if you believe the Wizards really have a weakness at backup point guard. Burke was a very bad shooter his first two seasons in the NBA. He made just 37.4 percent of his shots and 32.4 percent of his 3-pointers in his first two seasons. Last season, he improved upon that by a lot. He hit 41.3 percent of his shots and 34.4 percent of his 3-pointers. That won't make you push Stephen Curry aside when discussing best shooting point guards in the NBA, but it's a big improvement.
Still, the Jazz didn't want to play Burke unless they had to. He wasn't doing what they needed from the point guard on offense and he was such a bad defender that they opted for rookie Raul Neto instead. Without John Wall on the court last season, the Wizards were about five points per 100 possessions worse. They need a solid backup point guard to give Wall a bit of a breather without asking him to make up a deficit every time he checks back in.
Pacific Division
The Golden State Warriors allowed the seventh-lowest percentage of shots within three feet of the basket last season when they won 73 games and looked to have held the game of basketball hostage for a ransom nobody could muster (good thing that LeBron fellow has a lot of money). It was a good thing they allowed so few shots at the rim because they weren't very good at protecting it. Opponents scored on 63.9 percent of their shots within three feet of the hoop, which was 21st in the NBA. And while we're all excited and intrigued by Kevin Durant's presence this season, they're still going to need to protect the rim.
Problem is they lost their two best rim protectors from the regular season. Andrew Bogut was moved to Dallas so they could clear room for Durant. Festus Ezeli was signed by Portland after they needed to rescind his qualifying offer. NBA.com's rim protection stat had those two combined for just 44.6 percent against them at the rim last season. League average was 52.3 percent. That's right around where Zaza Pachulia finished last season. Will the rim be protected enough for this team to still dominate? Probably but that might become an issue in the postseason.
They were emotionally drained and couldn't take down the Oklahoma City Thunder in the second round of the 2014 playoffs after bouncing the Warriors in the middle of the Donald Sterling scandal. They surprised everybody by beating the San Antonio Spurs in 2015 before collapsing in the next round after going up 3-1 on the Rockets. This past postseason, Chris Paul and Blake Griffin both suffered series-ending injuries in Game 4 against the Portland Trail Blazers after being up 2-1 in the series. They were bounced in six games.
Stop losing in weird ways, Clippers. Also, Chuck the Condor probably has to go.
THE NICK YOUNG-D'ANGELO RUSSELL THING
Look, the Lakers have a ton of issues. One of the nice things about this Russell Westbrook extension with the Thunder is they no longer get to just hope next summer brings a savior to the roster. They're now at least two summers away from trying to bring in their next big star, if they can even get him. This defense is awful. Their rim protection is horrid. The offense is a jumbled mess. Their stars are all young and not stars yet. Two of their point guards are Marcelo Huertas and Jose Calderon, which would've been a decent idea back in 2006.
But above all of that stuff, Nick Young has to go because of the issue he had from D'Angelo Russell accidentally leaking that recording about infidelity. With the relationship of Young and his former lady over, there's at least some resolution there in his personal life, but there is still this lingering cloud over the locker room that seems to get puffed up with every potential subtweet from Young. The Lakers should just eat the money and waive Young to remove him from the situation. You'll never pick him over Russell, so just cut bait so the locker room can move on and there aren't potential fireworks.
Who is the Kings' backup point guard? Garrett Temple? Malachi Richardson? DeMarcus Cousins? Actually, Cousins at point isn't a bad idea. But while the rest of us daydream about Cousins as a freight train bringing the ball up the floor every time, the Kings have to wonder what they're going to do at the point guard position. They have Darren Collison there, but Collison also has some domestic violence charges to resolve before we know just what is going to happen with him this season. Maybe if the Kings can move Rudy Gay, they can bring back a point guard in return. Or maybe Derek Fisher is interested in a comeback after all and the Kings can just give him some money. Either way, the position is very thin for the Kings.
GIVING THE BALL TO THE OTHER TEAM
The Phoenix Suns were givers last season. They gave the ball away more to their opponent than any other team in the NBA. Their 16.9 percent turnover rate was the highest in the NBA and their 19.9 points given up off turnovers per 100 possessions was the worst mark in the NBA. It was the 11th highest turnover rate since 2004-05 when the rules changed to open up offenses around the league. While you'd normally blame the guards for this type of thing because they're the playmakers, the big men were just as culpable for these miscues.
Tyson Chandler (19.3 percent) reverted back to his old ways of being sloppy catching, passing and handling the ball. He had his highest turnover rate since 2009-10 (26 percent). Alex Len turned the ball over 16.6 percent of the time. Rookie Devin Booker was one of the more careful people with the ball, and he turned it over 14 percent of the time. He was the ninth rookie in the past five seasons to play at least 2,100 minutes and turn the ball over 14 percent of his possessions. The Suns may be just as sloppy next season, even if Brandon Knight and Eric Bledsoe are healthy. Their ability to be competitive on a nightly basis depends on their ability to finally take care of the ball.
Northwest Division
SCORING ON DRIVES TO THE BASKET
Only the Philadelphia 76ers were worse at producing points on drives to the basket last season than the Denver Nuggets. Whenever you start off a stat with "only the Philadelphia 76ers were worse at ..." then you know a team is in trouble. The Nuggets scored just 56.9 percent of the time (league average was 63.9 percent) they drove to the hoop and shot a league-worst 40.6 percent. They were actually fifth in free-throw attempts created from drives, which shows you just how truly awful they were at scoring whenever they couldn't get a foul call.
A good chunk of this problem was the combination of rookie Emmanuel Mudiay and veteran D.J. Augustin. Mudiay led the Nuggets in drives for the season but scored points on just 44.4 percent of them. Augustin was third on the team in drives but managed just to get a point on 49.3 percent of them. The tricky part is figuring out if the Nuggets just fix this with a roster having one more year of experience. Adding rookie Jamal Murray doesn't exactly solve it either because he wasn't that great at creating points on these situations.
There will be a point in which Tom Thibodeau runs into the same issues that Sam Mitchell had a year ago. No, it won't be hating 3-point shooting and wanting players to walk to the arena in the snow up a hill on their way to work. It will be the inexperience within the key core of this roster. As much potential and excitement as the trio of Karl-Anthony Towns, Andrew Wiggins and Zach LaVine bring to the table, you're still trying to get a 20-year-old and two 21-year-old's to execute with the understanding of veterans on the roster.
It's why the preseason hype the Wolves will once again have heaped upon them as your League Pass sleeper like they do every year could once again lead to not remembering to set your DVR for their games past mid-January. Some people believe this team can make the playoffs in the first year under Thibodeau. Maybe they can. He's a good coach and they have a lot of potential for him to unlock. But shooting for .500 and a great learning experience is more likely in this next season before the entire team is able to figure it out and have a true breakout campaign.
Now that we know Russell Westbrook won't get traded before the 2017 trade deadline, it's time to focus on what this team needs to improve on: 3-point shooting. This was a devastating issue for them last season, even as they had one of the most efficient offenses in the NBA. It truly showed itself as a problem during the final two games of the Western Conference finals against the Golden State Warriors when they lost those closeout games and were outscored 114-30 from beyond the 3-point line. That's right; the Warriors hit 38 3-pointers to the Thunder's 10 in the final two games of the conference finals.
OKC was 17th in 3-point percentage last season and just lost Kevin Durant and his 38.7 percent on 481 attempts to those villainous Warriors. The Thunder brought in Ersan Ilyasova and Alex Abrines to the team for this season and they can both stretch the floor. The acquisition of Victor Oladipo will give them an athletic and dynamic backcourt, but he's also a 33.9 percent career shooter from deep. The Thunder will still have a math problem on most nights and it's the one thing Westbrook can't seem to help them solve.
DEFENDING THE PICK-AND-ROLL
It wasn't until the last week and a half of January that the Portland Trail Blazers really took off as a team. They got super hot on offense and the defense was just competent enough to keep moving them up the standings and eventually into the 5-seed and second round of the playoffs. But their biggest weakness during the season remains as a problem going into the 2016-17 season. Part of it is personnel and part of it is just inexperience as a group, but defending the pick-and-roll is something the Blazers will need to improve upon in order to keep their standing or climb higher in the West. Last season, only Minnesota, Philadelphia, Denver, New Orleans and Brooklyn were worse at defending the PnR, and none of those teams were close to making the playoffs.
Their biggest issues with defending the PnR were symbiotic problems. First, their guards died on screens far too often. Damian Lillard and C.J. McCollum struggled to get around or fight through screens in a manner that would allow for quick recover. Second, Mason Plumlee and their other bigs (but specifically Mason) would give far too much room -- turning those mid-range jumpers that we all hate now into layups that we learn to love.
There were stretches during the season when the guards would be able to navigate the picks better or the big men would show better to at least slow the decision of the ball handler, but it was far too inconsistent to build a real resistance. The acquisition of Evan Turner should help with this some, but it's still on Lillard and McCollum to find ways to eliminate space for the initiator.
The Clippers changed their strategy to keeping their big men back to protect the basket and have the guards fight through the screens more -- basically doing a much better job of chasing the ball handler and never letting him have that space to get an easy shot. The idea was to limit 3-point shots without giving up shots at the rim and it worked fantastically last season. The Blazers seem to try something similar but if the guards can't get around the screen in an appropriate amount of time, Plumlee and others will be left in a dead zone they can't succeed in.
The Jazz had a brilliant offseason by adding George Hill, Boris Diaw and Joe Johnson while only sacrificing the 12th pick in the draft and clearing room by moving Trey Burke to Washington. However, they still may end up struggling in late-game situations like they did a year ago. Utah was awful in clutch situations (game within five points in final five minutes of fourth quarter or overtime). They had the 19th-most efficient offense and the third-worst defense in the league. Some of this was driven by injuries to Derrick Favors and Rudy Gobert throughout the season. Some of this was just a lack of execution from one of the least experienced teams in the NBA. Adding the veterans they did this offseason will help, but you still need Favors, Gobert, Rodney Hood and Gordon Hayward to execute in big moments consistently.
The biggest example of these issues was in a late-season game against the Los Angeles Clippers in which Doc Rivers basically gifted a home game to the Jazz by resting all of the key Clippers. And yet, it came down to a late possession in which everybody knew Jamal Crawford was going to get the ball with the game on the line and shoot a pull-up jumper. The Jazz did nothing to prevent it.
Ralph Lawler's tickled, maniacal laugh says it all in that clip. Everybody knew it was coming and the Jazz just let it happen. It was these late-game decisions in the middle of a playoff hunt for a young team that should have found themselves in the postseason that will haunt this young core until they prove it's no longer a problem.
Southwest Division
It feels weird criticizing the Dallas Mavericks or a Rick Carlisle team in general for being a poor shooting squad. But that's where we find ourselves with the Mavericks heading into next season. They were really mediocre at 3-point shooting a year ago, mostly because they couldn't hit 3-point shots above the break at an acceptable rate. Dallas went 38.7 percent from the corners last season (mostly having success from the right corner at 43.4 percent). But from above-the-break, Dallas was the seventh worst shooting team in the NBA. How is that possible with Dirk Nowitzki, Chandler Parsons, and Wes Matthews on your roster?
Essentially swapping out Parsons for Harrison Barnes will be tricky. Barnes isn't a bad 3-point shooter (unless you're asking him to knock down shots in three straight Finals closeout games) at 38.3 percent last season but Parsons went 41.4 percent from deep. The problem is Raymond Felton, Charlie Villanueva, Justin Anderson, and Devin Harris were all horrendous shooting from deep. This Dallas team could be an elite offense once again if they correct this problem.
This is not just because Mike D'Antoni is now the coach of the Houston Rockets. Back when he was working his magic with the Phoenix Suns, a lot of us weren't up on defensive rating vs. points per game allowed, so we thought the Suns were bad defensively. They were actually an average team at defending. D'Antoni's teams can actually have the possibility of being fine defensively. However, you remove Howard from the equation and add Eric Gordon and Ryan Andeson, and that could lead to some real issues on defense.
I'm mostly worried about transition defense. In January, I stupidly watched 2.5 hours of Rockets transition defensive possessions and started questioning my own existence and I realized I didn't appreciate my parents enough. It was watching a lot of this kind of stuff:
There were ginormous effort issues last season with this Rockets team, especially in stopping transition opportunities. Maybe the effort won't be as bad this season under D'Antoni, but the personnel is going to be in trouble on defense if Trevor Ariza doesn't rediscover his love for defense and Clint Capela can't anchor that defense on at least a B-minus level for big chunks of the season.
It's tough to judge this team from last season to this season because last season's M.A.S.H. unit was almost completely impossible to analyze aside from "this situation is unfortunate." But over the last three years, the Grizzlies have suffered some big time injury concerns. They might just be flukes and there isn't anything needed but a bit of good luck on their side. At the same time, there might be systemic problems with how they train or how they're cared for or something along those lines that you eventually have to change.
As for now, you can't have Marc Gasol miss 23 games like he did in 2013-14. You can't have Tony Allen miss 19 games and Mike Conley miss 12 games like they did in 2014-15. You can't have anything close to the medical disaster that befell the Grizzlies last season. And when you're adding Parsons and his troublesome knee for such big money, health has to be as close to a guarantee as possible within your organization. This team can be really awesome this year but they have to be able to stay on the court.
After the New Orleans Pelicans made the playoffs as the 8-seed in 2015 and actually played a spirited four-game first-round series against the eventual champion Golden State Warriors, everybody really loved what was going on with the Pelicans. Anthony Davis was gaining preseason steam as the league's next MVP, and Alvin Gentry was leaving the assistant staff of the champs to take over in New Orleans. It looked like things were starting to come up Milhouse for the Pelicans. Then an insane rash of injuries hit the team before the season even started and they were missing seven of their top 10 rotation guys.
This team was the most injury-riddled team of 2015-16. No other team lost as many players and games due to injury, and that's including the madness that happened with the Grizzlies in the last couple months of the season. Davis has still never cracked 70 games in a season and missed 21 last season. Tyreke Evans has already had three knee surgeries in about 10 months and we don't know when he'll be back in action. Can we rely on Jrue Holiday to put in a full season? The Pelicans can be so intriguing but not if they're always picking out a suit to wear on the bench.
DON'T GET TO THE FREE-THROW LINE
There isn't a whole lot you can find to criticize the Spurs, their structure, and their mode of attack. Even with Tim Duncan retiring, this team is still loaded and will still execute better than most opponents nearly every night of the season. The one thing they could do more often is find their way to the free throw line for easy points. Their offense is very good, even with this slowed down pace. Ball movement is excellent and player movement matches that. They're looking for shots at the rim and begrudgingly utilize the 3-point line to help create space for those shots at the rim to keep coming.
They were 21st in the league in free throw rate last season, which is quite bad considering they had the second highest free throw accuracy. They were just the 54th team in NBA history to make at least 80 percent of their free throws over the course of an entire season. They were just the sixth team ever to hit at least 80 percent while having a free throw rate less than 20 percent.