Celtics-Heat: Ten things about Game 7
Ten things you must know about Game 7 on Saturday between the Boston Celtics and Miami Heat.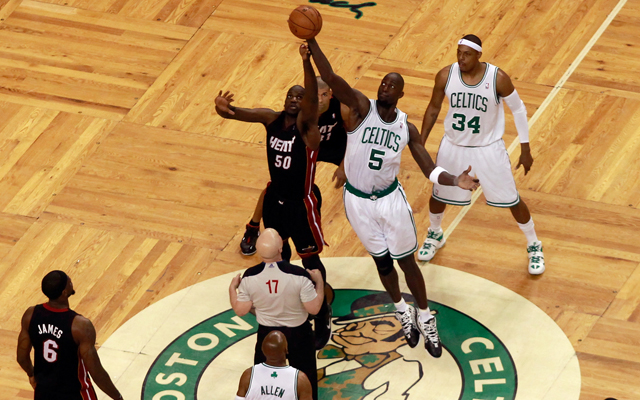 Everything is on the line in Game 7.
(Getty Images)
Ten things you must know about Game 7 Saturday between the Boston Celtics and Miami Heat:
1. This is where the Celtics want to be.
Look, closing out would have been great. Easy, satisfying in front of the homecrowd. But that's not how this Celtics team operates. They take the most difficult road to everything. And their only consistent trait this postseason is that they respond when the adversity is at its highest.
More on Celtics-Heat
Related links
Rajon Rondo
was suspended for Game 2 vs. the Hawks on the road, facing the possibility of going down 0-2. Boston rallies and wins the game, putting the Hawks on their heels for the rest of the series which they never recovered from.
Ray Allen
was terrible for most of the Sixers series, and Boston was regularly outplayed by the 8th seed through six games. In Game 7, Allen hits two big threes late, prompting Celtics fans to say Jesus Shuttlesworth was "ressurrected" and the Celtics advance.
The Celtics were under .500 for much of the early part of the season. They didn't look like they were struggling, they looked downright horrible. They responded.
This is exactly, especially, particularly where the Celtics want to be. Up against the odds, motivated by a terrible performance that embarrassed them on their home floor in Game 6, more easily able to fool themselves into thinking "no one believes in us" when the reality is most analysts do believe in them. This works out great for Boston.
2. This is not where the Heat want to be.
The Heat want to have been taking the week off, having wrapped up the Finals spot, having not alllowed Boston to have hope, to have not given them life. The have. Game 6 doesn't erase the fact that Boston knows it can score on the Heat, that it can win in Miami, that it can get in the Heat's head and make them quit.
So while Game 6 was a must-win that they showed up for, Game 7 is honestly tougher. No one expected them to win Game 6, and they did, and just needed 45-15-5 from LeBron to do it. Now they need an equal or better performance from LeBron in order to win Game 7 or Game 6 is nothing at all. The Heat's biggest problem this season has been games with adversity that they "should win." Game 7 falls squarely in that category.
3. LeBron James is unlikely to do that again.
For starters, 26 shots on a team like James has is going to be pretty rare. He partially was able to shoot that much because he played so many minutes, which may or may not happen again,depending on his exhaustion level. It's unlikely
Dwyane Wade
will defer as much as he did.
Second, James hit a ton of jumpers. Like, a lot. Like a whole, whole, very much lot. That's not his game. Particularly fadeaway jumpers. He hit them at a ridiculous clip Thursday night, but can he put that together again? He'll hit some, he's good enough to hit many. But that many? Unlikely.
4. The Celtics are unlikely to shoot like that again.
For much of this series, the Celtics have fooled the world by running a purring, high-powered engine for their offense. This stood in contrast the smoke-churning, smells-like-a-dumpster-fire, pistons-made-of-perified-manure offense they've run the rest of the year. Game 6 was a hard regression to the mean. And while Game 7 is unlikely to feature a brickfest on par with Game 6, there's a good chance the Celtics could once again be without the ability to make shots.
The Celtics have thrived all year on nailing contested jumpers. That's not an observation, they actually had the highest percentage of makes for contested jumpers in the league according to Synergy Sports. Now, they can make those because they're really talented and their system is sound. But from a sustainability standpoint, that's tough.
There's a good chance they keep up the outlier play and rack up the offensive efficiency against Miami in Game 7. Ther's also a chance they plummet and smash into a million pieces upon re-entry. Have a bad half and it could go badly for Boston.
5. Live by the Peaches, die by the Peaches.
Mickael Pietrus
has been huge at both ends for the Celtics in this series. That tells you a lot about how amazing it is that the Celtics are at this point. A noted player who is difficult to reach from a systemic standpoint, who has had knee injuries, and who has a jumpshot that can vanish at any point, he's been plugged in, healthy, and consistent in this series.
Will that continue? It didn't in Game 6, but if Pietrus gets his mojo back, everything changes for Miami.
6. Miami needs Rio to have a bad game.
Yes, really. Chalmers has played well offensively in several games only for the result tob wind up in Bsoton's favor. The superstars have to be role players for Miami.
7. Boston has to deter the Heat off-ball.
The best thing that the Celtics defense does is strangle isolation drives. But if you're quick, aggressive, and on the move, it makes things unravel a bit. Miami has to get their guys free by moving. Stagnation against Boston can't be suvived.
8. Chris Bosh has to play 30 minutes or more.
The Heat have been very careful with Bosh's minutes, but he'll have been back a full week. It's time to unleash the dinosaur and let Bosh frustrate
Kevin Garnett
with help defense.
9. Boston can't have Brandon Bass guarding LeBron James like he did in Game 6.
That one's pretty simple.
10. Nothing can be left off the table.
This is it. This could be the end of the Big 3 era for one team or the other. There's not another game, another chance, another opportunity. It's got to be everything both teams and coaches have.
Jonah Keri talks to with Ringer author, and Grantland alum Shea Serrano

Green left the Warriors' opening night game vs. Houston with what the team is calling a knee...

Portis left Nikola Mirotic with facial fractures and a concussion after an altercation in Tuesday...
Bill Reiter and Reid Forgrave react to Hayward's injury and discuss Celtics, Cavs, Rockets...

In his Cavs debut, Rose's timely cut opened up Kevin Love for a 3-pointer which sealed the...

If the 21-year-old wing takes the next step, Washington could be much more dangerous this time...