George Hill, Harrison Barnes are case studies for NBA concussion policy
The Pacers' George Hill and Warriors' Harrison Barnes being pulled off the floor with concussion symptoms is a good sign for the NBA's policy on brain injuries.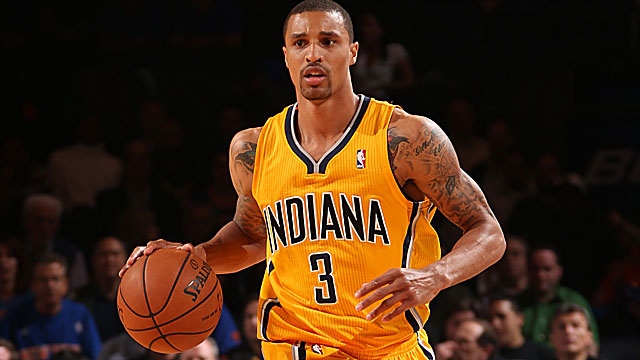 In the span of two days, the NBA had two pretty important case studies for its new concussion policy. By all indications, it's working.
First, Pacers guard George Hill received a blow to the head in Game 4 of the Eastern Conference semifinals on Tuesday night. Having exhibited no concussion symptoms at the time, Hill finished the game and led the Pacers to a victory that put them on the brink of advancing to the conference finals. But he began experiencing headaches the next day, and after failing his concussion baseline test, Hill missed a potentially series-clinching Game 5 in New York on Thursday night. He was listed as doubtful for Game 6, before being cleared shortly before tipoff Saturday.
Then, with the Warriors facing elimination in Game 6 of their second-round series against San Antonio on Thursday night, Harrison Barnes took a hard fall and had to come out of the game to receive stitches to his head. Barnes initially passed a concussion baseline test and returned to the game, but began experiencing headaches and was removed from play -- even though he'd passed the concussion test. The Warriors lost, and their season is over.
This is bad for the Pacers and the Warriors but great for the heightened awareness of and more sensible treatment for head injuries in a sport where they occur more frequently than anybody realized. There are no helmets or shoulder pads in the NBA, but with the ever-increasing size, strength and speed of the athletes, that's all the more reason to be cautious and responsible when it comes to head injuries. As the sports world has learned all too well with the NFL, repeated and untreated blows to the head can result in devastating, debilitating consequences.
There is no perfect concussion policy, and no perfect way to enforce it -- or to ensure that teams adhere to the guidelines in the heat of battle. It's so easy for the short-term gain of a playoff win to outweigh the long-term health of the athlete. But as these two incidents show, 48 hours apart in the heat of the NBA playoffs, the steps the league has taken to protect the health of its players when it comes to head injuries is to be applauded.
Under the NBA's concussion policy, adopted 18 months ago, every player and coach receives concussion education before each season. Every player also completes a baseline brain evaluation based on neurological and cognitive assessments.
If a player is suspected of having a concussion or exhibits concussion symptoms, he will be removed from competition to be evaluated by the medical staff. Once a player is diagnosed with a concussion, his physical exertion will be as limited as possible while experiencing symptoms.
Once the player has been removed from physical activity, he can only return once he is symptom-free at rest and has no "appreciable difference" in his baseline testing for his computerized cognitive assessment, according to the NBA's concussion policy. There also is a return-to-competition "exertion protocol" that a player must pass step-by-step before returning to play. Generally, this involves a gradual increase in physical exertion, with the concussed player having to be symptom-free to advance to the next step.
The final decision on returning the concussed player to competition is made by the team physician, in consultation with Dr. Jeffrey Kutcher, the director of the NBA's concussion program. The timeframe for completing the protocol could vary from player to player.
Is it perfect and error-proof? Are we guaranteed that no NBA player will compete on the floor while experiencing symptoms of a concussion? No, not at all. There is no perfect way to combat brain injury in contact sports, only precautions, well-defined protocols and awareness.
But the fact that two teams fighting for their playoff lives this week pulled key players off the floor following head injuries is a strong sign of progress. If a player's future brain function and long-term health are at stake, our Fantasy teams and rooting interests can and should take a back seat. Frankly, it's encouraging that it's actually happening that way.
Trail Blazers guards Damian Lillard and C.J. McCollum have been pushing for Anthony to join...

Anthony reportedly gave the Knicks an expanded list of teams he'd waive his no-trade clause...

The Suns will also receive a second-round pick in the deal
Kerr noted Warriors are deeper than the NBA championship team of last season

The Dubs will make a decision as a team on visiting the White House, but Steph would vote...

Wolves are an up-and-coming NBA squad, but this region knows heartache too well