How Bruno Caboclo got here
The rapid rise of the draft's big surprise, Bruno Caboclo.
• 10 min read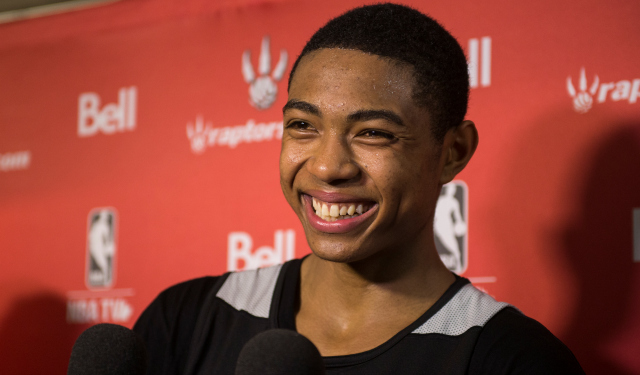 More Offseason Analysis: Coaching changes, news | Free Agency | Draft
Amjed Abdel-Ghani was at a birthday party and got a text from his brother. A kid named Bruno got drafted, it said. "The Durant of Brazil." Shocked, Abdel-Ghani messaged his trainer and an old coach, and was sent back a screenshot as visual evidence. The Toronto Raptors had selected Bruno Caboclo with the 20th pick in the 2014 NBA Draft. 
"We were all just going crazy," Abdel-Ghani said.
Not even a year and a half earlier, Caboclo played alongside Abdel-Ghani at Score Academy in Raleigh, N.C. The 17-year-old barely spoke any English when he arrived in January of 2013, by way of Pirapora do Bom Jesus, a small town near São Paulo. His teammates had fun playing with him. They soon found out he cared about the team, worked hard and would crash the boards for putback dunks when they missed. There was talk he could be a low-Division I or high-Division II NCAA prospect. They could picture him playing in the NBA after college. 
It's pretty normal for a prospect to pass through the state of North Carolina on his way to the league, but no one has taken a road quite like Caboclo, the most stunning first-round pick in recent memory.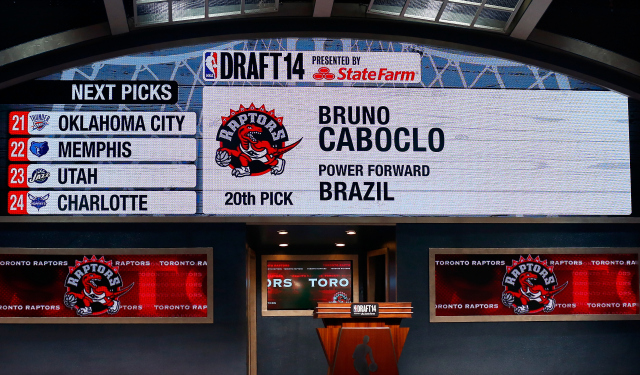 Rafael Franco was in his car and got a phone call from a friend. Dave Hanners, a New Orleans Pelicans assistant coach, told him he wouldn't believe it: Bruno got picked at No. 20. Franco said he must be kidding. Hanners assured him it was true, and Franco started crying. He knew this meant a guaranteed contract in the NBA. He knew this meant Caboclo's life would change completely. 
Franco, the founder and head coach of Score Academy, remembered getting a tip about Caboclo from a friend he worked with in Brazil. Caboclo was playing for Gremio Recreativo Barueri, a social club that invites kids from local public schools to play sports. Franco was told he was young, athletic and could be good, but had lots to learn. Caboclo couldn't watch the NBA then, as his family didn't have cable.
"I didn't have any small forwards, so I said, 'OK, we'll take him, we'll see what he can do,' " Franco said. "He had no money, his parents are really poor. His mom is a maid, his dad is a security guard and a driver, a truck driver. So they don't have much. So we pay all the way for him to come over here and be with us."
The first thing Franco noticed was that he was coachable. Having only played basketball since the age of 13, Caboclo needed to be a quick learner. When he was shown a new drill or a new move, he'd do it immediately.
In his first game, against top-five-ranked junior college Vincennes University, the 6-foot-9 forward with an almost 7-7 wingspan stayed on the perimeter. He missed three-pointer after three-pointer. Franco told Caboclo he had to be aggressive and had to rebound, and the scoring would come. He was temporarily banned from shooting threes. The strategy worked, then he started taking them again.
"He would shoot threes more than I would, and I'm like 6-4, 6-5," Abdel-Ghani said. "You'd leave him up top, he'd shoot the open three and knock several down in a game. He can post up, one-dribble drive, draw contact. He's really lanky. He'd get several blocks a game, we would just laugh when he'd block somebody. It just looked too easy for him."
Caboclo had never been in North America before. Suddenly, competing against prep schools, he was traveling around the country. "You could see the joy on his face," Franco said. In Bradenton, Fla., to play IMG Academy, he took photos of the ocean with his shirt off despite 65-degree weather. In Indiana, he and the other Brazilians on the team were "like little kids" when they saw snow for the first time, Abdel-Ghani said. In Washington, Caboclo posed outside the White House. Every time he got on the bus, he thanked his coach, who had initially scared him.
"When he got here, he was very shy," Franco said. "He didn't say much. But when we started playing against high-level competition and he was beating those guys, he started getting his confidence. He started saying, 'Coach, I want to make it to the NBA.' "
Eighteen Division-I schools recruited him while he was at Score Academy, according to Franco. Alan Stein, the strength-and-conditioning coach for basketball powerhouse DeMatha High School, said he and DeMatha head coach Mike Jones were "blown away," impressed with his physical gifts and on-court savvy. Abdel-Ghani noticed players on other teams approaching Caboclo after games, asking where he'd be playing the next year. He struggled to communicate with them, and that language barrier would have gotten in the way of a US education. More importantly, he wanted to support his family. 
Heading back home in April of 2013, Caboclo signed a contract with Pinheiros, a professional club with a senior team in the NBB and a junior team in the LDB. Coaches told him his attitude had changed.
"He was kind of cocky, to be honest with you," Franco said. "Trying to beat everybody and saying stuff to the guys, he'd talk during the game. He changed in a good way. He was more confident. I think that was a good part for him. I think right now he will see somebody better than him on the team and he will try to beat that guy to get his spot. That's how competitive he is."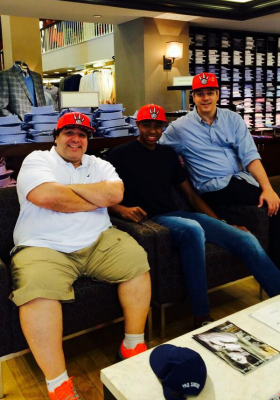 João Fernando Rossi was in a New York City taxi with Caboclo and his adviser, Eduardo Resende, and they saw a tweet from a Brazilian journalist named Fábio Balassiano. That's how they learned he had been chosen a round earlier than expected.
"We were very excited, started screaming in the cab," Rossi, Pinheiros' sports director, said. "The taxi driver could not believe what was happening."
The phone started ringing and e-mails started coming in. Caboclo had goosebumps. He dialed home, but no one was awake. "It was crazy," Resende said. Raptors general manager Masai Ujiri called at around 2 a.m., after they'd checked into their hotel. They were at a pizza place. When Caboclo reached his family the next day, his dad said reporters had been asking for interviews. 
Rossi remembered a scout, José Luiz Marcondes, telling him about Caboclo's potential when he played for Gremio Recreativo Barueri. He remembered meeting with him and his parents near midnight at their house, and Caboclo's mother and father endorsing their plan to develop him. Rossi remembered him happily taking photos with kids at games, and "practically sleeping in the gym."
Clips of Caboclo at Pinheiros made Toronto director of scouting Dan Tolzman question what he was seeing. It's not every day you come across a perimeter player with JaVale McGee's wingspan.
"You'd watch the film and almost think the proportions are wrong or something," Tolzman said. "It's just like, there's gotta be the aspect ratio off, because he's just so long. But then you see that the length would keep him in the mix for balls that he had no reason being around. Just like tipping rebounds, blocking shots, that kind of stuff, and you're like, 'Holy cow, there's something to this.' "
Caboclo was on the Raptors' radar because he had won MVP at Basketball Without Borders last July. They watched the little tape that was available, and saw he was putting up some impressive stat lines in extremely limited minutes for Pinheiros' junior team. They sent Patrick Engelbrecht, their director of global scouting, to an LDB tournament at the end of December. It was hard to get a read on Caboclo against that level of competition, but Engelbrecht came back and said that he looked really good and would probably be worthy of a second-round flyer. 
Injuries on the senior team meant increased opportunity for Caboclo against grown men, and Toronto kept monitoring him. Ujiri and assistant general manager Jeff Weltman flew over to evaluate him up close, and discretely laid the groundwork for their eventual selection.
"[They] were really impressed with him to the point where it was just like, hey, maybe this is more of a flyer pick in the second round," Tolzman said. "It was like, let's kind of put the wheels in motion for maybe keeping him in and trying to get him for ourselves."
The Raptors had a few more trips here and there after that, and Resende tried not to let Caboclo know when there were scouts in the gym. They didn't want to be noticed, anyway. Other teams, including the San Antonio Spurs, Houston Rockets and Dallas Mavericks, had people on staff who'd seen him at Basketball Without Borders. Phoenix Suns point guard Leandro Barbosa played for Pinheiros while recovering from an injury, mentoring younger players like Caboclo. When the roster for the Hoop Summit was released in late March, there was some buzz among international scouts that his name should have been on there. 
"That boils down to four or five teams that knew him 'cause they happened to be a part of those events," Tolzman said. "As far as the other teams go, the Brazilian league is not a highly scouted league, and unless a guy is putting up ridiculous statistics, it's not going to draw a whole lot of attention."
When Caboclo was included on the list of early-entry candidates for the draft at the end of April, Pinheiros had already been eliminated from the playoffs. Toronto worried that more teams would catch on, but it didn't really happen. It was only on June 17, the deadline for international players to withdraw, that the Raptors heard other teams were starting to do more research, though most hadn't seen him in person. Rossi said more than 10 franchises requested information, and European clubs had interest, too.
Leading up to the draft, Caboclo left home to get away from World Cup madness. He spent his time in a gym in Houston, and Toronto sent a small contingent. Coach Dwane Casey got on the court with him, director of sports science Alex McKechnie evaluated him.
"It was basically like a private draft workout at that point," Tolzman said. "I think we were the only ones who knew he was even in the United States."
Everyone agreed Caboclo was legit. He had a long way to go, but all the homework the Raptors had done showed them his work ethic, preparation and talent were off the charts. They didn't know they'd take him at No. 20, but were sure that his mentality and his body were a rare combination.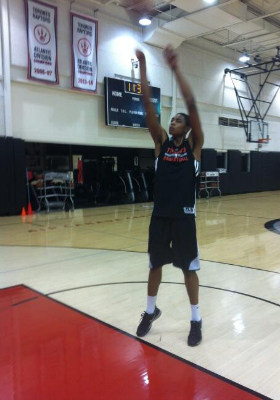 "We were just lucky enough to get to see him early and get to know him and get comfortable with him," Tolzman said. "He was kind of like hidden in plain sight."
On the draft broadcast, ESPN's Fran Fraschilla said Caboclo was "two years away from being two years away." Ujiri didn't argue the statement, and said he didn't care about the criticism that came with such a surprising decision. The team liked Caboclo's upside, didn't want to lose him and was willing to be patient.
"It's an outright gamble," Ujiri said, though knowing about him as a person goes a long way toward explaining why Toronto did it.
The night he got drafted, he went into Resende's room at their New York hotel. Caboclo told him he recognized that he was given a great responsibility. Making the NBA is one thing, but he had to get better and better. The next day in Toronto, he found out he could use the Air Canada Centre practice court whenever he wanted. He was there at 11 p.m. 
Rossi described his growth at Pinheiros as "absurd" and "exponential," predicting he'd improve even faster with the Raptors. Tolzman said Caboclo is more skilled than he's getting credit for, and perhaps not as far away as people think. 
"The difference between him and hundreds and hundreds of kids that show up every day is that he was determined," Franco said. "When he saw the opportunity, he just grabbed it and didn't let it go for nothing. He was appreciative of everything people did for him and he didn't take it for granted. He just worked hard and he tried to make it. And he made it."
CBS Sports HQ Daily Newsletter
Get the best highlights and stories - yeah, just the good stuff handpicked by our team to start your day.
Please check the opt-in box to acknowledge that you would like to subscribe.
Thanks for signing up!
Keep an eye on your inbox for the latest sports news.
Sorry!
There was an error processing your subscription.
SportsLine's Mike McClure, a DFS pro with almost $2M in winnings, gives optimal lineup adv...

The NBA is still reportedly hoping the new agreement with the NBPA will allow the new limit...

Rockets vs. Lakers should be an entertaining game between two highly flawed teams
After three titles in four years, this Golden State team still plays with something to pro...

Recapping the news, scores and highlights from Friday's NBA games

Kawhi was unquestionably the best player on the floor in a big-time win over the Celtics