LeBron better than Jordan? Let's not get carried away
Jim Boeheim's assertion that LeBron James has surpassed Michael Jordan as the greatest player he has ever seen only illustrates the latest overreaction when it comes to LeBron's place in the game and re-opens an argument that is best left for another day.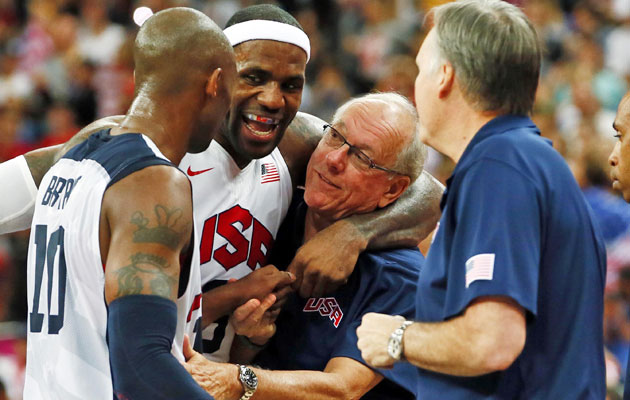 LeBron James and Jim Boeheim just helped Team USA win its second consecutive gold medal in London. (US Presswire)
The visceral disdain for LeBron James -- some of it admittedly expressed by this writer -- was over the top and too much. It was too bitter, too angry, too raw.
Of course, the opposite has now happened. The pendulum has swung all the way back -- overswung, like Charles Barkley in a tee box -- and clobbered us all with our own pro-LeBron slobber.
The latest genuflection to King James comes from Team USA assistant coach Jim Boeheim, and we must inoculate ourselves against these comments with the proverbial grain of salt. Boeheim is a college basketball coach, and thus is prone to hyperbole -- or rather, exists for the sole purpose of spewing hyperbole.
I recommend a grain of sea salt, by the way. It's better for you.
Anyway, Boeheim says he's no longer convinced that Michael Jordan was the best basketball player he ever saw -- as if Boeheim is the sole arbiter of basketball greatness. Though I suppose he's the sole arbiter of the basketball greatness he has personally witnessed with his own bespectacled eyes, and like anyone else, has a right to his opinion.
From Coach Boeheim, on Colin Cowherd's radio show:
"He's a leader. He gets on the court, he tells people what to do … this guy can guard five [positions] … put him on anybody, he can guard him. I always felt Michael Jordan was the best player I've ever seen … I didn't think it was close … and I'm not so sure anymore … this guy is 6-9, 260 pounds and he's getting better … I know we've had great, great players through the years. He's like Magic Johnson with Michael Jordan-type skills as well."
There's nothing technically inaccurate in what Boeheim said -- except the part about "Michael Jordan-type skills." Nobody who has ever lived possessed Michael Jordan-type skills, with the lone exception of Michael Jordan. Not even Kobe Bryant, who is the closest I've seen in terms of a perimeter/midrange game since I've been watching the NBA.
There's also no denying the incredible turnaround James has made in the past two years when it comes to his image and his place in the game. He went from "The Decision" and all the loathing that inspired ... to epic failure in the Finals against Dallas ... to epic success in the Finals against the Thunder ... to capping off his first championship with his second gold medal in London. And he did it all in a way that came across as genuine and humble -- dare I say, likeable -- while recognizing that fighting the world and trying to prove the ne'er do wells wrong wasn't going to get him anywhere.
The overwhelming, across-the-spectrum approval of LeBron -- his game, his demeanor, his place in the sport -- was bound to happen in our knee-jerk, 30-second news cycle kind of world. It fits the athlete mantra, which says the media and pundits will build you up for the sole purpose of tearing you down. Except the opposite is true now with LeBron: the tearing down came first, and now comes the building back up.
But to suggest that, after one championship at age 27, James has surpassed Jordan as the greatest player a renowned basketball authority has ever seen? It is both silly and predictable -- and unnecessary. Bryant enters his 17th season in a few months, and only by virtue of two brilliant acquisitions by Mitch Kupchak appears to have one more legitimate shot at a sixth title to equal Jordan. Seventeen years. A lot can, and will happen for (and to) LeBron if he plays that long. Let's just enjoy his talent and see how it plays out, shall we?
The irony here -- and I'm confident James would say this, point-blank, if asked -- is that a significant aspect of James reinventing himself had to do with letting go of the comparisons to Jordan that had burdened him since he was a teenager. He shoots fewer 3s and long 2s than he used to, isolates at the end of games less than he used to, and has learned to exploit his true gifts -- the size, speed and strength that allow him entry to the lane at virtually any time of his choosing.
In that realm -- athletically -- James is superior to virtually any player under 7-feet who has ever played. But when you needlessly resurrect the LeBron-Jordan narrative, you're opening a Pandora's Box that James only recently was successful in closing -- thus catapulting himself to his own unique brand of success.
With all due respect to Coach Boeheim and anyone else who thinks now would be a good time to resurrect an old, unnecessary argument, I urge restraint. Let's just leave it alone, for now.
Kevin Durant says he doesn't agree with what President Donald Trump agrees with

Evaluating where the future Hall of Famer might land up if he is freed from Chicago's rebuilding...

Adam Silver said his piece with the schedule out; we address that and what the slate looks...
The Hawks and Sharecare reportedly agreed to terms on a five-year deal

A look at the context of the schedule and who plays who when, and how far they travel during...

Durant took on rapper Lil Dicky and actually might have lost