NBA Trade Tracker: Blazers trade Gerald Wallace to Nets
Blazers trade Gerald Wallace to New Jersey Nets for Okur, Shawne Williams, and a first round draft pick.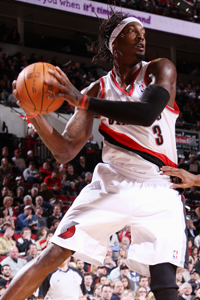 Gerald Wallace is headed to New Jersey in a Blazers cash dump.
(Getty Images)
Ken Berger of CBSSports.com confirms a 
Yahoo! Sports report
that the Blazers have traded Gerald Wallace to the New Jersey Nets for Mehmet Okur, Shawne Williams, and a 1st round pick, which is top-3 protected for an unspecified number of years. Berger reports that two sources indicate the deal is agreed to in principle, while another stipulates that there are "still some details to work out." Sounds like it's cleared from both sides, though.
Wallace will be an unrestricted free agent this summer as will Okur. The move represents a salary dump for the Blazers who are also involved in talks to trade Jamal Crawford. The Nets, meanwhile, continue to stockpile assets for a prospective trade to acquire Dwight Howard in the futurel, despite Howard waiving his Early Termination option which will keep him under contract with the Magic through the 2012-2013 season. 
Trail Blazers guards Damian Lillard and C.J. McCollum have been pushing for Anthony to join...

Anthony reportedly gave the Knicks an expanded list of teams he'd waive his no-trade clause...

The Suns will also receive a second-round pick in the deal
Kerr noted Warriors are deeper than the NBA championship team of last season

The Dubs will make a decision as a team on visiting the White House, but Steph would vote...

Wolves are an up-and-coming NBA squad, but this region knows heartache too well