Phoenix Suns release Michael Beasley
The Phoenix Suns released Michael Beasley after a marijuana possession earlier this offseason.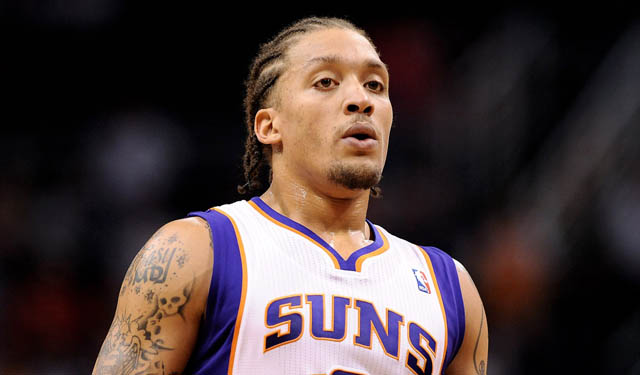 The Phoenix Suns decided to take a chance on Michael Beasley four years after he was the No. 2 pick in the 2008 NBA Draft. At the time of his entrance into the NBA, Beasley was considered one of the best freshman college players in recent memory and was thought about as a possible top overall pick over Derrick Rose. The Chicago Bulls made the right choice with the selection of Rose at No. 1 and Beasley was selected right after by the Miami Heat.
Since those initial days of potential and promise, Beasley has spiraled downward in his NBA career. His play has declined in each of his five seasons and he found himself as an unrestricted free agent in 2012 when the Phoenix Suns signed him for $18 million over three years. Just one year after that contract was signed, the Suns have released Beasley from his contract and will receive a bump in salary cap room for the next two seasons. From the Suns:
The Phoenix Suns waived forward Michael Beasley today pursuant to a termination agreement between the club and him. In accordance with that agreement, the compensation owed to him by the team will be reduced, and the Suns' salary cap room will be increased for both the 2013-14 and 2014-15 seasons.

"The Suns were devoted to Michael Beasley's success in Phoenix," said Suns President of Basketball Operations Lon Babby. "However, it is essential that we demand the highest standards of personal and professional conduct as we develop a championship culture. Today's action reflects our commitment to those standards. The timing and nature of this, and all of our transactions, are based on the judgment of our Basketball leadership as to how best to achieve our singular goal of rebuilding an elite team."

"We have high standards for all of our players," said Suns General Manager Ryan McDonough. "We expect them to represent the team and the community in a positive manner both on and off the court."

Beasley signed a three-year contract with Phoenix as a free agent on July 20, 2012, and in his one season with the Suns, played in 75 games with averages of 10.1 points and 3.8 rebounds.
The discussion of high standards for Suns' players can most likely be linked to a recent arrest of Beasley by the Scottsdale police department in Arizona when he was pulled over for a traffic violation and arrested on the suspicion of marijuana possession, his fourth plublic run-in with marijuana since entering the NBA in 2008.
Beasley was traded from the Miami Heat to the Minnesota Timberwolves after two seasons in the NBA in order to clear cap space to sign LeBron James and Chris Bosh. It was supposed to be a fresh start for the forward as he teamed up with his old friend Kevin Love and came to a franchise in desperate need of a star player. After a year under Kurt Rambis in which Beasley took a lot of shots and averaged 19.2 points, Rick Adelman took over. During that season, Beasley fell out of the rotation due to problems playing team basketball over gunning for his own statistics.
The Wolves decided to opt out of offering him a qualifying offer, making Beasley an unrestricted free agent in 2012. In what looks like will be his only season with the Suns despite the three-year contract, Beasley had a horrendous time finding his shooting touch and played the worst basketball of his career. He shot a career worst 40.5 percent from the field and actually finished with more shot attempts (766) than points scored (759).
T.J. Warren gets paid big money by the Suns in a four-year deal

Melo didn't hold back on his feelings about President Donald Trump and urges for help in Puerto...

The Wizards star says the NFL won't change until important players like Brady and Rodgers speak...
Popovich spoke at length about sports, race, culture, and politics during Spurs media day on...

Carmelo Anthony finds the idea of coming off the bench very funny

Several teams spoke about Trump's recent comments about protests and the Warriors' White House...