Report: Anthony Davis trademarks unibrow catchphrases
Anthony Davis, the presumptive No. 1 overall pick in the 2012 NBA Draft, has reportedly trademarked phrases related to his signature unibrow.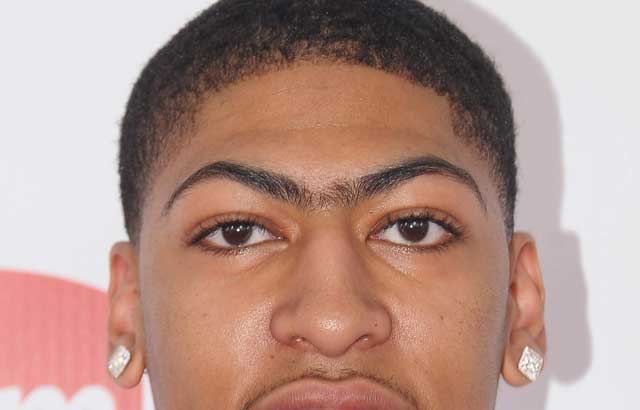 Anthony Davis somehow trademarked unibrow catchphrases.
(Getty Images)
Say this for Anthony Davis: His forehead wingspan is off the charts.
The presumptive No. 1 overall pick in Thursday's NBA Draft has reportedly trademarked his signature unibrow so that outsiders cannot profit off the imagery of his face-length, bird-shaped eyebrow.
Davis, known for his connected eyebrows, trademarked the phrases "Fear The Brow" and "Raise The Brow" earlier this month.

"I don't want anyone to try to grow a unibrow because of me and then try to make money off of it," Davis told CNBC. "Me and my family decided to trademark it because it's very unique."

Davis said that people frequently tell him to cut it, but Davis said he won't because "everyone's talking about it."
Well then, this guy is seeking to protect his upper facial hair just like he defends the rim. More power to him.
Snickering aside, given the level of fame that Davis is about to achieve once he's selected as the No. 1 overall pick by the New Orleans Hornets, he would potentially be throwing away big money if he didn't do something like this. Should he develop into a franchise-type player like everyone is expecting, there's no telling how far and how long he can milk his ear-to-ear curiosity. 
If everyone's clowning him about it, Davis might as well laugh all the way to the bank.
Noah was reinstated from his 20-game suspension on Monday, but is yet to play for the Knic...

In his first season with the Cavs, Rose has not played since Nov. 7

Keep it right here for all your Friday NBA scores, updates and highlights
Russell has not played since injuring his knee against the Jazz on Nov. 11

Isaiah Thomas loves revenge games and he wants one against the Celtics in the playoffs

SportsLine's advanced computer model simulated Pelicans-Nuggets 10,000 times, with surprising...